West Bengal Maps
Facts About West Bengal
West Bengal is the fourth largest state in India by population. The population of West Bengal is 91,347,736.

West Bengal literacy rate is 77.08%, which is one of the highest literacy rates in India.

The population density of the state of West Bengal is 1000 per SQ. km.

During the British Era, Kolkata was the capital of India before the construction of Delhi capital.

West Bengal state is the sixth-largest contributor to India's net domestic product.

West Bengal has given many great leaders and great persons, includes Netaji Subhash Chandra Bose, Rabindranath Tagore, Khudiram Bose, Matangini Hazra, Maulana Abul Kalam Azad, and much more.

All India Trinamool Congress, Indian National Congress, Left Front Alliance (The Communist Party of India, CPI(M) or Marxist), Bharatiya Janata Party, and Aam Aadmi Party.

Kolkata Metro is the oldest metro in India, which was started on October 24, 1984.

West Bengal has a good number of popular tourist attractions, some of them are, Victoria Memorial, Eden Gardens, Indian Museum, Darjeeling Himalayan Railway, Tiger Hill, Howrah Bridge, Peace Pagoda (Darjeeling), Kalighat Kali Temple, and much more.

Hinduism is the most popular religion in the state of West Bengal with a population of 70.53%. While Islam is the second largest religion in West Bengal with a population of 27.01%.

Durga Puja, Poila Baishakh, Eid ul-Fitr, Kali Puja, Muharram, Rathayatra, Laxmi Puja, Christmas, and Saraswati Puja are the most popular festivals in West Bengal.
West Bengal Map
West Bengal Districts Map
| | | | | | | |
| --- | --- | --- | --- | --- | --- | --- |
| Sl.NO | District | Population | Increase | Sex Ratio | Literacy | Density |
| 1 | North Twenty Four Parganas | 1,00,09,781 | 12.04% | 955 | 84.06% | 2445 |
| 2 | South Twenty Four Parganas | 81,61,961 | 18.17% | 956 | 77.51% | 819 |
| 3 | Barddhaman | 77,17,563 | 11.92% | 945 | 76.21% | 1099 |
| 4 | Murshidabad | 71,03,807 | 21.09% | 958 | 66.59% | 1334 |
| 5 | Paschim Medinipur | 59,13,457 | 13.86% | 966 | 78.00% | 631 |
| 6 | Hugli | 55,19,145 | 9.46% | 961 | 81.80% | 1753 |
| 7 | Nadia | 51,67,600 | 12.22% | 947 | 74.97% | 1316 |
| 8 | Purba Medinipur | 50,95,875 | 15.36% | 938 | 87.02% | 1081 |
| 9 | Haora | 48,50,029 | 13.50% | 939 | 83.31% | 3306 |
| 10 | Kolkata | 44,96,694 | -1.67% | 908 | 86.31% | 24306 |
| 11 | Maldah | 39,88,845 | 21.22% | 944 | 61.73% | 1069 |
| 12 | Jalpaiguri | 38,72,846 | 13.87% | 953 | 73.25% | 622 |
| 13 | Bankura | 35,96,674 | 12.65% | 957 | 70.26% | 523 |
| 14 | Birbhum | 35,02,404 | 16.15% | 956 | 70.68% | 771 |
| 15 | Uttar Dinajpur | 30,07,134 | 23.15% | 939 | 59.07% | 958 |
| 16 | Puruliya | 29,30,115 | 15.52% | 957 | 64.48% | 468 |
| 17 | Koch Bihar | 28,19,086 | 13.71% | 942 | 74.78% | 832 |
| 18 | Darjiling | 18,46,823 | 14.77% | 970 | 79.56% | 586 |
| 19 | Dakshin Dinajpur | 16,76,276 | 11.52% | 956 | 72.82% | 75 |
West Bengal Forest Map
West Bengal Physical Map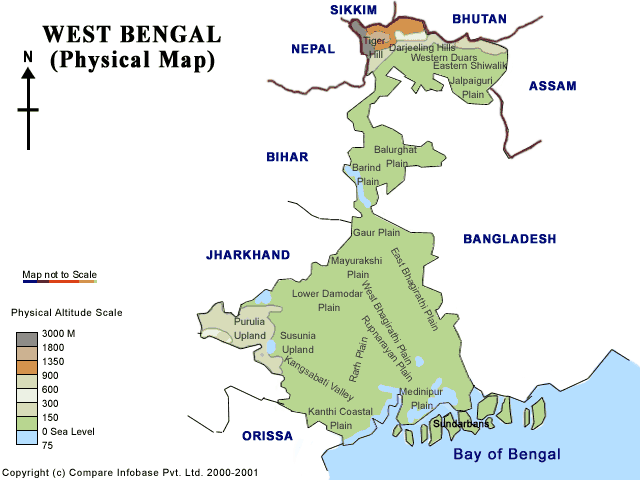 West Bengal Rivers Maps
West Bengal Railway Map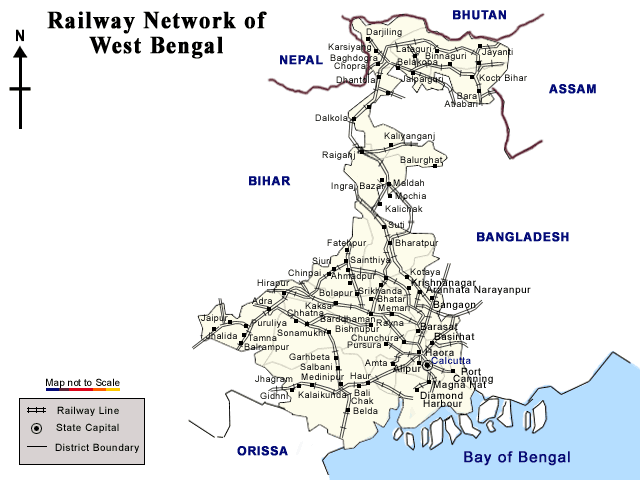 West Bengal Tourist Map
West Bengal Soils Map
West Bengal Police Station Map
West Bengal Water Resources Map
Read about other maps
Comments
comments