Usha Uthup
Usha Uthup
Indian playback singer
Usha Uthup is an Indian pop, jazz and playback singer who sang songs in the late 1960s, 1970s and 1980s. Darling, which she recorded with Rekha Bhardwaj for the film 7 Khoon Maaf, won the Filmfare Award for Best Female Playback Singer in 2012.
Spouse: Jani Chacko Uthup
Movies and TV shows: 7 Khoon Maaf, Indian Idol, Pothan Vava
Children: Sunny Uthup, Anjali Uthup
Overview
Usha Uthup was born 7 November 1947 (Age 69 Years) in Mumbai, India. Usha Uthup is an Indian pop, jazz and playback Singer. She Rose to Famous for a Song Darling on the Film 7 Khoon Maaf, which song was nominated her Filmfare award for best female playback singer. She was started her singing career in 1974 with the movie song Love is Just around The Corner on the film Chattakkari. Usha Uthup Also an Actress, who acted in Tamil, Malayalam, English, Kannada and Hindi Movies & Television Show. Her debut Tamil film was Melnaattu Marumagal in 1975. she has acted in Several Films in different languages. Usha Uthup also appeared in some Television Serials & Reality show. She began her Television Career in 2004 with the Sony TV Show Indian Idol From 2004-2006.
Early Life of Uthup
Usha Uthup was born on November 8th 1947.She s a popular Indian pop singer. She was well known for popular hits in the late 1960s,1970s and 1980s.She has sung in 15 Indian languages including Hindi, English, Punjabi, Bengali, Assamese, Oriya, Gujarati, Marathi, Konkani, Malayalam, Kannada, Tamil and Telugu. She can also sing in several foreign languages including Dutch, French, German, Italian, Sinhalese, Swahili, Russian, Nepalese, Arabic, Creole, Zulu, and Spanish.
Usha Sami was born in a Tamil brahmin family that hailed from Tamil Nadu and Kerala, in Madras(now Chennai) in 1947. Her father Sami Iyer, later became the police commissioner of Bombay. She has three sisters Uma Pocha, Indira Srinivasan and Maya Sami, all of whom are singers and two brothers, one of whom is named Shyam. She was the fifth of six children. As a child, she lived in the police quarters at Lovelane in Byculla in Bombay and attended a local school.
When she was in school she was thrown out of music class because she didn't fit in with a voice like hers. But her music teacher recognized that she had some music in her that would give her clappers or triangles to play. Even though she was not formally trained in music, she grew up in an atmosphere of music. Her parents used to listen to a wide range from Western classical to Hindustani and Carnatic including Kishori Amonkar and Bade Ghulam Ali Khan on radio and she used to join them. She used to enjoy listening to Radio Ceylon.
Her next door neighbour was S.M.A. Pathan, who was then the deputy commissioner of police. His daughter, Jamila, inspired Usha to learn Hindi, wear salwar kameez and take up Indian classical music. This fusion approach helped her to pioneer her unique brand of Indian pop in the 70s.
Background
Usha Uthup was born on November 8th, 1947, in Mumbai. She belonged to a Tamil Brahman family, and had an inclination towards music since childhood. As a child however, she did not fit into a regular music class, due to her different and unique voice quality, which according to those times was not considered appropriate. That however did not deter her, and she continued to make stage appearances and gained immense popularity.
Professional Career of Usha Uthup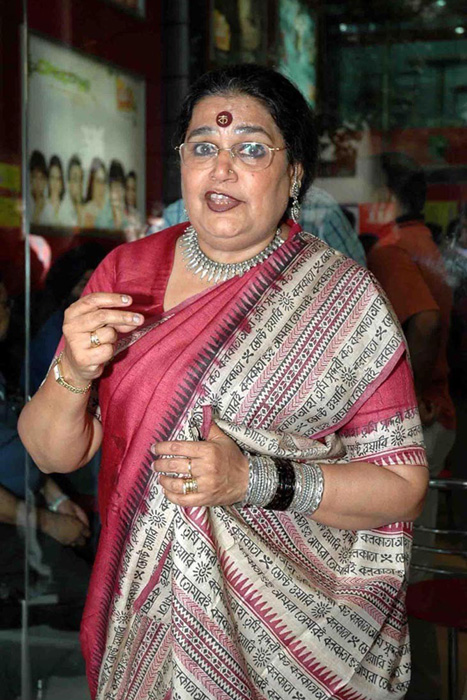 Usha Uthup started her professional career at the age of 20 by singing in nightclubs in Chennai and Calcutta. After that, she had got an offer to sing a song 'Dum Maro Dum' in the film Hare Rama Hare Krishna. She has sung many songs for R D Burman and Bappi Lahiri like 'Shaan se', 'Don't worry Kolkata', 'One Two Cha Cha Cha', 'Hari Om Hari', 'Ramba Ho Ho', all were major hits.From then on, she has sung and popularized in many languages with her sizzling voice. She enthralls listeners with her songs and charms audiences in concert venues even today. She is also a popular stage performer with very good fans all ovber the world. She has got several awards over the years like Rajiv Gandhi Purashkar for National Integration for quality music, Mahila Shiromoni Purashkar for international peace, and Channel award for outstanding achievement.
She is also a social worker and sings for many charitable causes like The Red Cross, SPASTIC society of India, Mother Teresa related charities, cancer institutes, schools for the blind, old age homes, government charity drives and various drought and flood relief funds. Moreover, she has also worked frequently and significantly for service organizations like the Rotary, Lions, Jaycees, Giants, and SPCA etc. in National and International levels. She has sung for Prime Ministers and Presidents alike. Dignitaries like Indira Gandhi, Jomo Kenyatta, Daniel Arap Moi and Nelson Mandela have all been her admirers.
Awards and Recognitions of Usha Uthup
Recipient of the Padma Shri award the fourth higest civilian award presented by the Government of India.
The best female playback singer award conferred by the film fare awards for the song "One Two Cha Cha Cha" from the movie Shalimar in the year 1978.
Recipient of Mahila Shiromoni Purashkar award for international peace.
Channel [V] award for outstanding achievement.
Read about other singers
Comments
comments