Tom and Jerry
Tom and Jerry are back. The animated cat-and-mouse duo known for their cartoon violence star in half-hour episodes that are split into two segments. Much of the plot what there is of it is familiar to people who have enjoyed Tom and Jerry since their earliest short films in 1940.
Background Of Tom and Jerry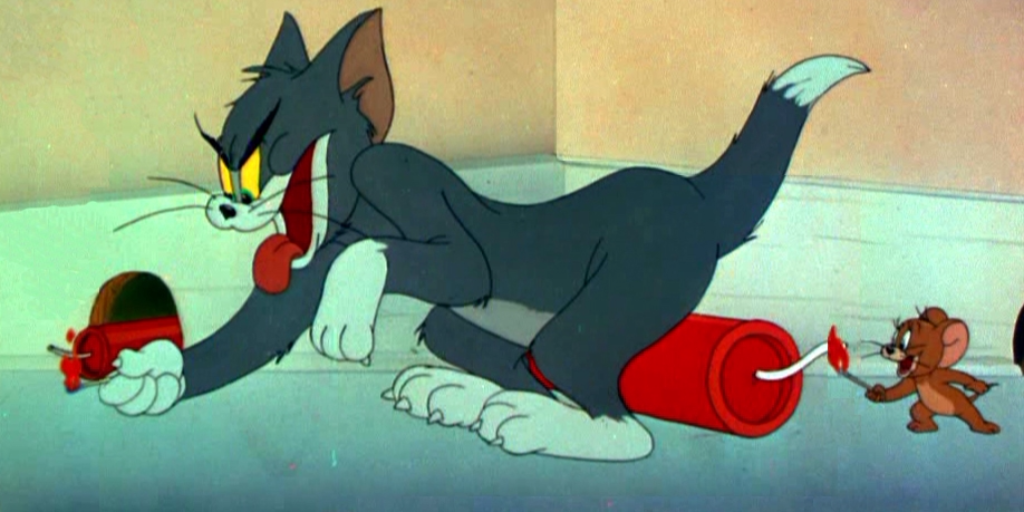 Joseph Barbera, a storyman, and character designer paired up with an experienced director, William Hanna to create a cat-and-mouse cartoon. The first cartoon was titled 'Puss Gets the Boot' and it released in theaters on February 10, 1940. Having lost to another MGM cartoon at the Academy Awards, Hanna and Barbera held a contest to give the cat and mouse a new name and look. Animator John Carr won the contest, with his suggestion of Tom and Jerry. The series went into production and eventually, Hanna and Barbera went on to direct only the cat-and-mouse cartoon, for the rest of their tenure at Metro-Goldwyn-Mayer (MGM).
The main protagonist, Tom was a blue-grey longhair cat while Jerry, the second protagonist, was a small & brown, house mouse. The physical appearances of both Tom and Jerry were evolved over the years. The series developed into a quicker, more energetic tone. Though the original theme of the series, cat chases mouse, remained the same, Hanna and Barbera came up with numerous variations on this theme. The final shot of Hanna and Barbera was 'Tot Watchers', which released on August 1, 1958, after the MGM cartoon studio closed down in 1957. Later, Hanna and Barbera opened up their own television studio, Hanna-Barbera Productions, in 1957 and went on to produce various famous TV shows and movies.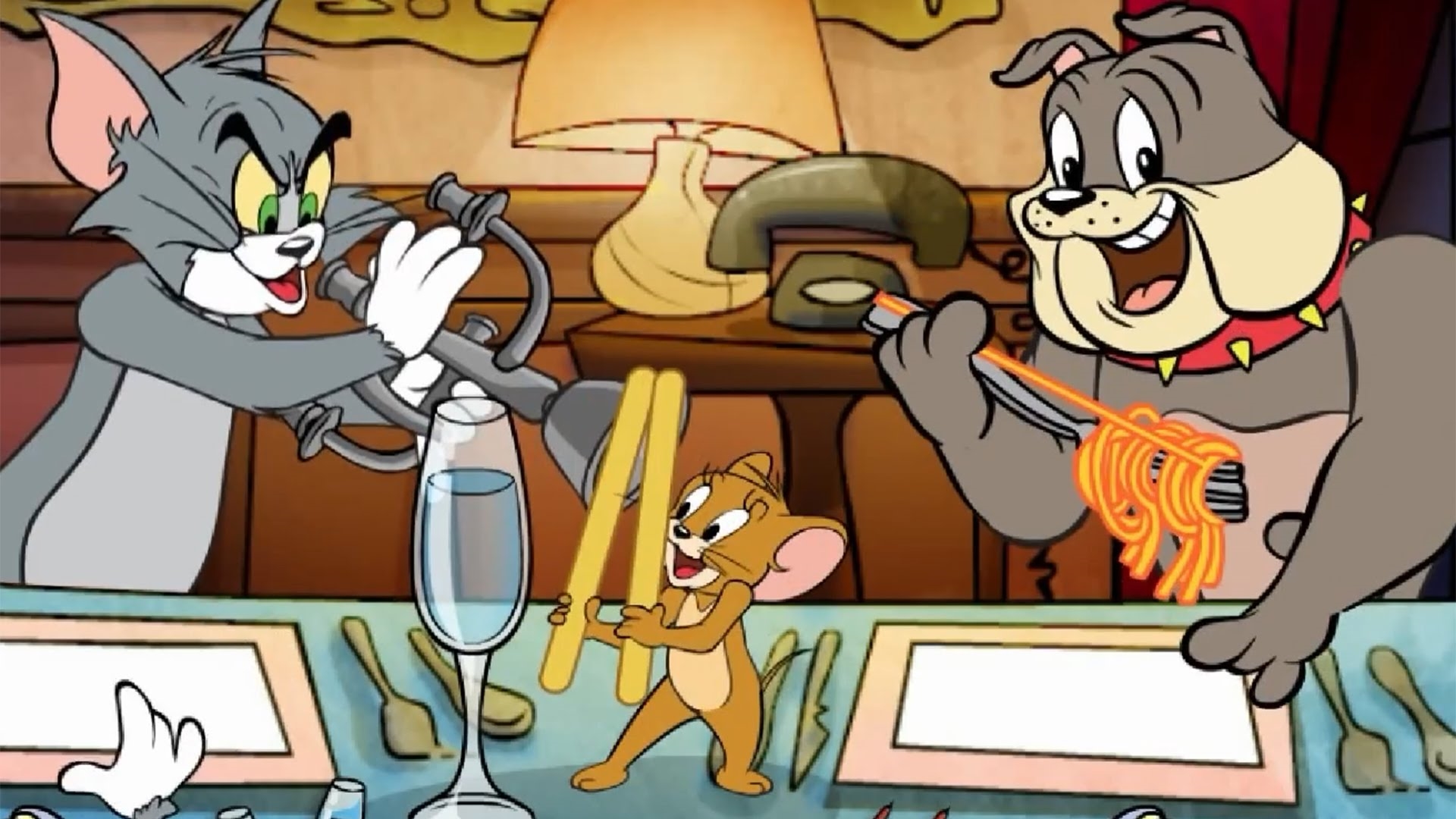 In 1960, Czech-based animation director, Gene Deitch from Rembrandt Films was contracted by MGM to produce new Tom and Jerry shorts. A total of 13 shorts were released under this contract. These episodes were not very favorably received by the general audience. In early 1963, Chuck Jones, who was fired from Warner Bros. Cartoons, started his own animation studio and produced a total of 34 Tom and Jerry shorts. The main characters were given a changed appearance, with Tom getting thicker eyebrows, a less complex look, sharper ears, and furrier's cheeks. Jerry got larger eyes and ears, a lighter brown color and a sweeter Porky Pig-like expression. The year 1965 saw the Hanna and Barbera cartoon series airing on television, in heavily edited form.
The Jones series featured Mammy Two-Shoes. Eventually, she was replaced by a fat White Irish woman, as in 'Saturday Evening Puss'. The series were translated into various foreign languages since it had almost no dialogues. It started broadcasting in Japan in 1964. Since then, Tom and Jerry's cartoons have been airing on television every day in India, Germany, South East Asia, the Middle East, Kazakhstan, Pakistan, Argentina, Mexico, Columbia, Brazil, Venezuela, other Latin American countries and in eastern European countries.
The Original "Tom and Jerry"
Actually, Tom and Jerry didn't start out as a cat and mouse. From 1931 to 1933 there was a series of cartoons featuring two humans called "Tom" and "Jerry." This series was produced by the Van Beuren studio in New York. The shorts were filled with wild surreal humor similar to the early Fleischer cartoons  and silent Felix the Cat cartoons. When the cartoons were later sold to TV, the characters were renamed "Dick and Larry" to avoid confusion with the now famous cat and mouse. Of some interest was one of the writers on that old series. Joe Barbera.
Tom and Jerry Timeline
Hanna-Barbera 1940-1958
Tom and Jerry's appearance has altered down the years but the first thing to change about them were their names. When they made their debut in February 1940 short Puss Gets the Boot, they were called Jasper and Jinx and only became Tom and Jerry after Hanna-Barbera offered studio employees a $50 prize to come up with the best name. While Jerry's physical appearance has changed relatively little since he was created, Tom started out with a noticeably rounder face and shaggier fur than the cat we know today. These early years with Hanna-Barbera were in many ways a golden era for Tom and Jerry. The studio produced a total of 114 meticulously hand-drawn animated shorts between 1940 and 1958, picking up seven Academy Awards in the process.
Gene Deitch (1961-1962)
The next phase of Tom and Jerry's lives was spent behind the Iron Curtain. Director Gene Deitch created 13 shorts with his Czech team, many of whom were credited with westernised versions of their names in order to avoid any perceived link with Communism. Budgets were tight but the series was a commercial success, becoming the highest-grossing animated short film series of the time. Critical reaction was less positive, with no Academy Award nominations forthcoming and the quality of both the animation and soundtrack often disparaged. The cartoons introduced a new character, Tom's owner Clint Cobbler, whose particularly cruel treatment of the poor cat meant Jerry often had a relatively easy time of it.
Chuck Jones (1963-1967)
The man behind Looney Tunes' Wile E Coyote and Roadrunner brought his distinctive style of animation to the 34 character-driven shorts made between 1963 and 1967. Tom and Jerry even inherited some of the physical traits of Jones's other characters, with Tom given Wile E-style bushy, knitted eyebrows and a more streamlined look, while Jerry got bigger ears and cuter facial characteristics reminiscent of Porky Pig. Jones's Tom and Jerry cartoons also launched the recognisable theme tune that is used to this day, as well as the classic title sequence that sees a hissing Tom replace MGM's trademark roaring lion.
Hanna-Barbera's The Tom and Jerry Show (1975-1977)
Tom and Jerry returned to their original home for TV series The Tom and Jerry Show, but in a rather different form. Not only were their 48 new seven-minute adventures packaged up with other cartoons but strict new rules against violence in kids' television meant the former sworn enemies were now best friends who went on adventures together. As if to signify this change in character, Jerry was often seen sporting a new accessory – a red bow-tie.
Filmation (1980-1982)
The duo were back to their natural cat-and-mouse antics in another TV series, The Tom and Jerry Comedy Show, which again interspersed their adventures with those of other animated characters, including Droopy, Barney the Bear and Tom's former canine foe Spike.
Tom and Jerry Kids (1990-1994)
As if being turned into best pals during the 70s wasn't humiliating enough, the 90s saw Tom and Jerry as baby versions of themselves. They still got to chase each other but Jerry was again forced to wear his bow-tie while Tom sported a red cap. Spike and his son Tyke and Droopy and his son Dripple also made appearances.
Warner Bros Tom and Jerry Tales (2006-2008)
A 2001 TV special  The Mansion Cat and a 2005 stand-alone theatrical short The Karate Guard were followed by Warner Bros' 13-part series of half-hour shows, each featuring three adventures that echoed the slapstick chase style of the originals.
About Tom and Jerry Character
John Carr was an animator who won a competition to name the cat and mouse.
The real hero of the Tom and Jerry saga was a chap called John Carr. He was the humble animator who won a studio-wide competition to come up with permanent names for the cat and mouse. His suggestion of Tom and Jerry apparently won him $50 – and helped define two cartoon immortals. We hope he spent his winnings wisely.
Tom and Jerry are as American as apple pie.  Except, that is, for a period in the 60s when the cartoons were made in Czechoslovakia. The 13 Czech episodes were very different in tone, with harder-edged violence, eerie, echoing sound effects and an often strange atmosphere that continues to divide opinion to this day. Though as lovers of the bizarre and surreal, we think they're ace.
The Tom and Jerry show wasn't the first time that Tom and Jerry appeared in a cartoon. Both had cameos in the Puss Gets the Boot cartoon. When the duo started together in Tom and Jerry, the premise of the show played off the adversarial relationships that cats and mice have in real life. Except in this story, Tom rarely ever tried to consume Jerry. That wasn't really the point of the cartoon. The focus was always the chase and the comedy and entertainment that it provided for viewers.
Though Tom was the bigger animal of the two and a predator by nature, his size and basic instincts didn't win out over Jerry's smarts. Jerry would use his wits to out-duel Tom. Now, there would be times when Tom would get the best of Jerry but only rarely. There would also be times when neither would come out on top. These ended being draws but entertaining ones no less.
Even though Tom and Jerry were rivals, they had a soft place in each of their heart's for each other. If either of them were ever truly in danger, the other would come to the rescue, although the chase would eventually resume.
Scene from the cartoon movie Casanova Cat with Toodles Galore and Tom
Throughout the series, there were several female characters that Tom was interested in romantically. They included Toots, from Puss n' Toots and another character by the same name, who appeared in The Zoo Cat. Toodles Galore, however, was his most notable love interest.
There would be a few times when Tom would apparently die, only to show back up in the next episode. He would never stay dead for long.
Surprisingly, even though Tom and Jerry were the main characters of Tom and Jerry, they rarely ever spoke. The show's supporting characters had much more to say then the show's stars.
There were some people who felt that the Tom and Jerry show was too violent, although there were never any gruesome or gory scenes. What would pass for controversial then wouldn't come close to doing so now? The show was popular amongst children, both older and younger. Many of today's, older adults are still fans of the show. It holds a special place in their hearts. Younger children and teens are also being acquainted with the show via reruns and the most recent series, Tom and Jerry Kids.
Facts About Tom And Jerry
Did you know that Tom and Jerry were not called Tom and Jerry in their first outing in 1940? Tom was actually called Jasper and Jerry was called Jinx.

The name Tom and Jerry came up from an animator John Carr. He won a studio-wide competition to come up with permanent names for the cat and mouse. And for this, he was given a prize of $50.

 Tom and Jerry have always been criticized because of having so much violence. But the truth is that there was never any blood or gore.

Tom and Jerry were never silent characters. They both uttered lines throughout the decades, and in the 1992 movie, they couldn't keep their mouth shut.

Tom and Jerry became the highest-grossing animated short film series of that time, overtaking Looney Tunes.

Music plays a very important part in the shorts, emphasizing the action, filling in for traditional sound effects, and lending emotion to the scenes. It was because of this music that we understood everything even Tom and Jerry weren't speaking anything.

Tom and Jerry began appearing in comic books in 1942, as one of the features in Our Gang Comics. 

In 1975, Tom and Jerry became friends in a very special series in which we saw them traveling the world competing in sports, solving mysteries, etc. Luckily, it didn't last.

On October 1, 1992, the first international release of Tom and Jerry: The Movie was held.

In the last episode of Tom and Jerry, they both end their lives. Tom is about to commit suicide on the railway track, and then he is joined by jerry.
enjoy
Comments
comments