Thirunageswaram temple Kumbakonam
Thirunageswaram temple Kumbakonam
This temple is situated about 6 km from Kumbakonam, Tamilnadu, South India. It is a temple mainly for Lord Rahu one among the Nava Graha.The main presiding deity of Thirunageswaram Rahu Temple is Lord Naganathaswamy (Lord Shiva) and his consort Giri Gujambika (Goddess Parvathi) who is enshrined with Goddess Lakshmi and Goddess Saraswati by Her side,  but people come in huge numbers mainly to pray to Lord Rahu to get relieved of their sins. Poudiga Purana contains the fact that Lord Siva once told his consort Umadevi about Shenbagaraniyam, now called Thirunageswaram and its renown. This temple is one where Lord Siva was worshipped by Raaghu Bhagavan and got relieved of a curse. It is believed that by doing milk abhishekam here for Rahu during Rahu kalam the delay in getting married, childlessness, troublesome married life, ill-effects of Kalasarpa Dosha and Sarpa Dosha are all cured
Architecture and History of the temple
This temple is considered most sanctified by its presiding deity (Moorthy) location (sthalam) and sacred water (theertham), and most benevolent because Saiva saints Thirugnana Sambanda Swamigal, Thirunavukkarasu Swamigal and Thiru Sundaramoorthy Swamigal have sung in praise of Lord Siva here, besides being the most worshipful place of legendary fame Saiva saint Sri Sekkizar Swamigal who brought out the sacred Saiva text 'Peria Puranam'. This place is one of the 127 worthy places of divine worship spread over the southern bank of River Cauvery.
The temple is really big. There are four gopuras at the four entrance which our really huge with explicit idols. The gopuras are colorful. The car park area is actually inside the temple compound. Only if you have a clear look you can find that out. If we look on the whole each entrance from inside will look like an entry to a separate temple.
Once in the car park get down and first you come across the Soorya Pushkarani the temple tank which is surprisingly filled with water even in the driest seasons. Wash your legs here before you enter the temple.
In the entrance through the main door, we see many vendors selling flowers and god idols and other offerings to the god. Then comes the mandapa where they will display the timing of the next milk abishekam for Lord Rahu.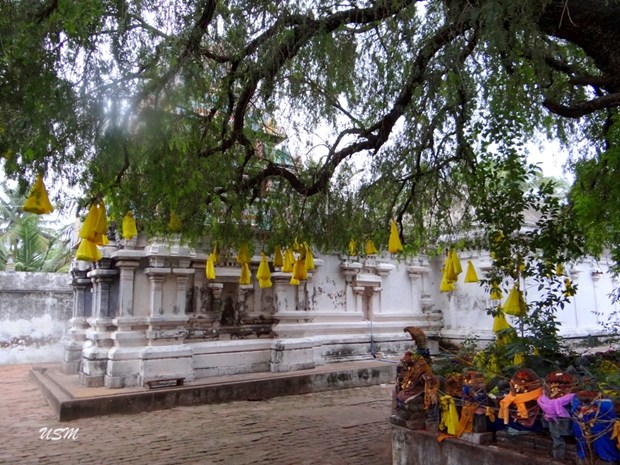 Here is a time table which you can follow to plan your visit to the temple
Day
Timing
Monday
7:30 – 9:00 am, 5:30 pm
Tuesday
 9:30 am, 11:30 am , 3:00-4:30 pm, 5:30 pm
Wednesday
9:30 am, 11:30 am, 12:00 – 1:30 pm, 6:30 pm
Thursday
9:30 am, 11:30 am, 1:30 – 3:00 pm, 5:30 pm
Friday
10:30 – 12:00 pm, 5:30 pm
Saturday

Sunday

9:00-10:30 am, 5:30 pm

9:30 am, 11:30 am , 4:30pm-6:00 pm
The main god here is lord Shiva and for his darshan, we have to stand in a queue and I don't think there is any special darshan for him. Once you pray to lord Shiva and come out of the main praharam and go around the temple we have as usual the temple of lord Ganesh. But on the wall along with lord Ganesh, there is also an idol for sage Agastyar and a small temple of lord Ganesh. On going further we come across the temple for Lord Rahu
Here Rahu is seen with his two wives goddess Nagavalli and Nagakanni sitting beside him to the right and left. It is for this god for whom everyone comes to pray here. It is really great to see milk abishekam done to this lord so at the time of milk abishekam they have stopped free darshan. You can get Rs 100 or Rs 250 ticket to have a good darshan of the milk abishekam more so with the Rs 250 ticket as you can have a very close darshan for they make you sit just in the front area of the Lord. The specialty of this milk abishekam is when the milk is poured on the Lord in Rahu Kalam time the milk turns blue and this can be seen with our naked eyes
On going further is a temple for goddess Mahalakshmi with the Kubera well in front of her and it is believed that people who put money into the well will be blessed with many an amount multiplied by the amount you put inside. Then at the back, we have the idols of Lord Vishnu, Brahma, and goddess Durga ad Arthanatheeswarar.
The temple of Chandikeswarar is also quite big and that of Bairavar also.
All along the outer wall is a huge temple corridor probably built by those day kings to sit and watch any festival celebration around the temple.
The architecture is similar to any other temple of Tanjore. The architectural cut and chiseling of the idols is so meticulous that even cutting done by machines today cannot surpass the finish they have given
Also, there is a temple for Lord Muruga along with his consorts Valli and Deivanai.
Once we come around the temple next to the temple of Lord Shiva is a temple for goddess Shakthi.
Temple occupies an area of 630 feet South-North and 800ft East-West with adjacent sub lanes and four major streets around. There are four gateways with Gopuram in the big and high compound walls of the temple. Near to the compound walls, there is the broad pathway (Praharam) with a flower garden on the Northern side. On entering the Eastern gate way, one can find the Vinayaga temple, Balibeedam, Nandeeswarar Mandabam and Thwaja Sthambam (Flag post). On the southern side, there is the water head with four Mandaps on around with a 100 pillar Mandap in a temple-car style. There are artistic features on its eastern wall. On remaining Area there is a big Car Parking available for the devotees. thirunageswaram temple thirunageswaram temple pooja time thirunageswaram temple contact thirunageswaram temple phone arulmigu thirunageswaram temple contact temple thirunageswaram
The temple structure begins at the Central Gopuram with a long Praharam (pathway) immediately thereafter. There is continuous Mandap structure and in its South-West Corner, there is Sri Raaghu Bagavan Sannathi. thirunageswaram raghu temple thirunageswaram raghu temple pooja time contact thirunageswaram raghu temple
Next, to this long Prakasam, we see front Mandapam where decoration of the Lord and other functions are held. This mandap was constructed by Govinda Dikshidar who was the Chief Minister to King Achuthappa naiker of Thanjavur in 16th Century. In the frontmandapb on the eastern side, a beautiful artistic pillar with "older and nine horses" design and similar pillars are found on the southern side (at the place of the raised plat form). There is a beautiful Mandab on the northern side with 'Yalli face' pillars where decoration of the idols taken on procession is made. In its western walls, during the renovation works done in 1929, artistic features have been engraved in a magnificent fashion, with the description of the five Moorthi's adorning the place. In the path way to Sannathi, the art work depicting Veda nayakas, King Sambumali and penance pose of Ambal attract One's attention.The Dwarapalaga Sudhai work (made of Chunam clay) on each side at the entrance to the Swami Sannathi is charmingly big and so well styled that one loses himself at first sight.
There is the Shenbaga tree in which people have tied cradles and the sacred yellow thread for getting and child and to remove any obstcale in their marriage.
There are twelve sacred water heads in this place, namely, Suriya Pushkarani, Gowthama Theertham, Parasara Theertham, Indira Theertham, Prugu Theertham, Kannuva Theertham and Vasishta Theertham. Suriya Pushkarani is inside the temple compound and is very sacred. The theertham is built in Chola style and is in square shape with 'double-bat' roofing. Legend says that the mythological serpents Aadi Seshan, Dakshan and Kaarkotakan worshipped Shiva here.  A dip in Soola Theertha is said to cure one of diseases and give prosperity.
Naganatha Swamy Temple was believed to be built by Gandaraditya Chola, son of Parantaka Chola.The Kings Bhagiratha, Nala and the sages Gautama, Parashara have believed to be worshiped Lord Shiva at this temple. Lord shrine of Lord Ganesha was believed to be installed by Sadasiva Brahmendra, a saint, a composer of Carnatic music and an Advaita philosopher. The presiding deity Naganatha Swamy of this temple is admired in Tevaram, the 7th century Tamil Saiva canon. The Dwarapalakas (door keepers) of Naganatha Swamy Temple are made out of Chunam clay (lime plaster).
The wonderful halls of Naganatha Swamy temple are built by Govinda Dikshitar, the minister of three successive Nayaks of Thanjavur. naganathaThe entrance of the temple are adorned with excellent arts depicting Veda Nayakas. And the temple contains Bali Peetam, Nandikeshwara hall and the holy flag post.
Pooja Timings
Ushathkala Pooja – 06.00 AM
Kalasanthi Pooja – 09.00 AM
Uchikala Pooja – 01.00 PM
Sayarakshai Pooja – 05.00 PM
Irandamkala Pooja – 07.00 PM
Ardha Jama Pooja – 09.00 PM
Festivals
Brahmotsvam Festival – November or December
Kandasashti Festival – October or November
Shivaratri Festival – February or March
Navratri, Vijayadashami – September or October
POOJA OFFERINGS:
Rahu is attired with blue and is offered with urid dhal (black gram) and mantharai flower. It is believed that offering the above to Shri Ragu Bagavan will bring victory in all leads of life. Milk abishekam is done to Sri Rahu Bagavan.
AUSPICIOUS TIMES:
During Pradhosams of every month, special abishekam will be performed to Nandikesvarar. Apart from Rahu kalams , milk abishekam will be performed to Rahu during the following times morning 9.30 a.m and 11.30 a.m, evening 5.30 p.m. During Rahu peyarchi – which occurs once in one and half years, this festival is celebrated with great show and pomp, special homam , abishekam are performed. On every Sunday and on some very special occasions devotees bring milk here and offer it to the God.
Comments
comments