Thinnest laptop – Hp Slim
Thinnest laptop – Hp Slim 
HP has launched the Spectre 13 in India, a laptop that's claimed to be the thinnest in the world by the US-based firm. With a thickness of 10.4mm, it's thinner than both the 12-inch MacBook and 13-inch MacBook Air. It has been priced starting at Rs. 1,19,990 in India.Apart from svelte dimensions, the company has decided to go all out with its latest top-end laptop, and the Spectre 13 is the first to sport its new logo for the premium range. The laptop was first unveiled back in April.
Built using carbon fibre and aluminium for lightweight durability, the HP Spectre 13 bears a two-tone finish with a copper-coloured spine. It comes with three USB Type-C ports, and sports a 13.3-inch full-HD WLED-backlit IPS display that's complete with a 0.4mm Corning Gorilla Glass 4 layer.
Design and Features
The outer silhouette of the Spectre 13 screams MacBook Air, but the same can be said of most ultrabook-style laptops from the past couple of years. Where the Spectre 13 differs is in its dark brushed-metal lid, which nicely sets off the lighter brushed-metal interior. Combine that with the jet-black screen bezel, it leaves you with a tri-toned laptop. I'd admit to being partial to monochromatic designs, but the Spectre 13 is still sharp-looking.
It's an interesting evolution from the first time we saw the Spectre brand from HP, in the form of the 2012 Envy Spectre 14. That unique laptop design featured a flat black lid covered with an outer layer of Gorilla Glass, as well as an awkward Gorilla Glass overlay on top of the wrist rest. We haven't seen that exact combination since (although a handful of laptops since have tried the glass lid look), but now the Spectre brand pops up occasionally in HP's catalog to represent something high-end, but perhaps a bit edgier than HP's other premium brand, Envy.
While it's not fundamentally different from other HP keyboards, or even from other 13-inch slim laptop keyboards, typing on the HP Spectre 13's backlit keyboard is just short of fantastic, thanks to the right combination of key size, depth, and spacing. The keys are large and widely spaced, and important keys — Enter, Shift, Tab, and so on — are very generously sized. There's little dead space to the left and right of the keyboard, something that always bothers me on laptops of any size.
The standout feature on this system is an extra-wide touch pad. It's as wide as I've seen on a laptop, measuring 2.6 inches high by 5.5 inches wide. So far, so good. But, the extra room on either side isn't exactly the same as the middle of the pad. Instead, the wings, aka control zones, have a slightly different color and rougher texture than the rest of the touch pad.
So, what does a control zone do? They're designed to make it easier to interact with Windows 8, as Microsoft's current operating system is built with a touch screen, not a touch pad, in mind. That means simple things, such as accessing the Charms bar or app switcher, are a hassle if you're using a touch pad or mouse rather than a touch screen.
Click on the right control zone and you call up the Charms bar without having to swipe it in from the right edge of the touch pad. Then scroll your finger up and down the zone and you can select the different Charms bar options. Repeat that with the left-side Charms bar and you get the same effect, but for the app switcher. Just be sure to click near the bottom of the pad, where the hinge allows it to fully depress. Tapping does nothing, which I found counterintuitive.
Frankly, the bigger benefit is from having more surface area to navigate on, and the special control-zone functions are a thin overlay at best. Still, I'll take a bigger touch pad over a smaller one any day, and it's definitely interesting to see HP try and make up for some of the obvious flaws in Windows 8.
Ports and connections              HP Spectre 13 ultrabook
Video                                       HDMI and Mini DisplayPort
Audio                       Stereo speakers, combo headphone/microphone jack
Data                                           2 USB 3.0, SD card reader
Networking               Ethernet, 802.11ac Wi-Fi, Bluetooth
Optical drive                                              None
Connections, Performance, and Battery
With two video outputs, the Spectre 13 already has a leg up on most other ultrabooks. There are only two USB ports, but the Wi-Fi is of the faster 802.11ac variety, as in the latest MacBooks (note, however that 802.11ac is a $20 optional upgrade).
HIGHLIGHTS
HP Spectre 13 is 10.4mm thick, and thinner than the MacBook.
It weighs in at 1.11kg, with a carbon fibre and aluminium build.
The Spectre 13 was globally unveiled in April.
HP SPECTRE 13 REVIEW
Review about  Display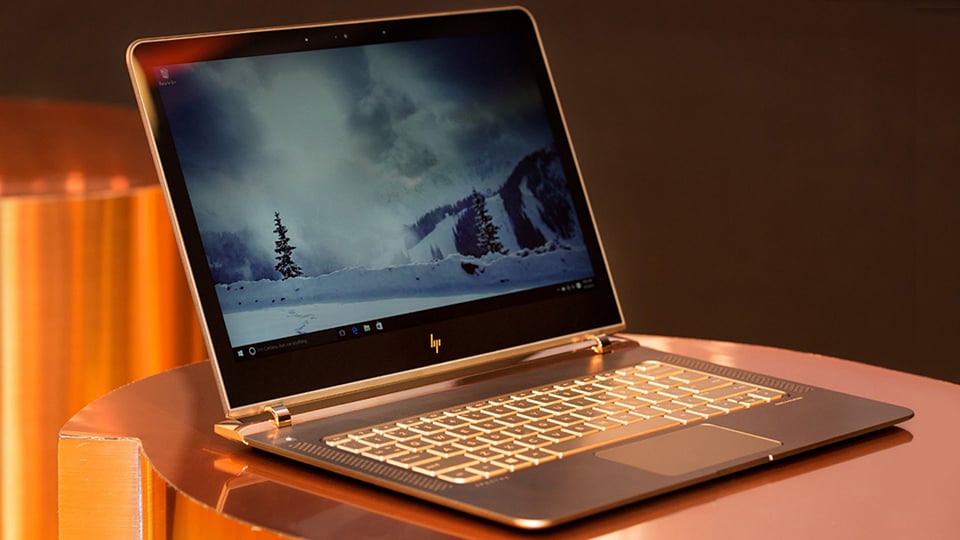 Its 13.3-inch display is excellent, with a bright, colourful image that is so crisp and sharp that we initially assumed it must have a pixel-packed Retina display similar that of Apple's MacBook Pro.
In fact, it turns out to be a 1920 x 1080 resolution – which makes more sense given the Spectre's £999 price tag – but it's certainly one of the best displays we've seen on a laptop costing less than £1000. HP only refers to it as a 'Radiance' display, but the brightness and all-round viewing angles are what we'd expect from an IPS panel.
And, just to show off that excellent display, HP even bundles a copy of Adobe Lightroom so that you can admire your holiday snaps in all their glory.
The screen is touch-sensitive, but that seems almost irrelevant once you get used to that extra large trackpad. Measuring a full 140 x 67 mm, it's the largest trackpad we've ever seen on a laptop. The surface of the trackpad has a very smooth finish that feels pleasantly tactile, and it responds very smoothly to the various multiple-finger gestures that are available.
Review about  Trackpad
There's a special control panel for the trackpad that allows you to divide it into three sections, with narrow 'control zones' on the far right and left edges that can be used to mimic touch-screen controls such as a left-click to activate the Windows 8 'charms'. This reviewer generally prefers the trackpad on my MacBook Air to that of most Windows laptops, but HP's twist on the trackpad theme could teach even Apple a few tricks.
 Review about  Spece and Performance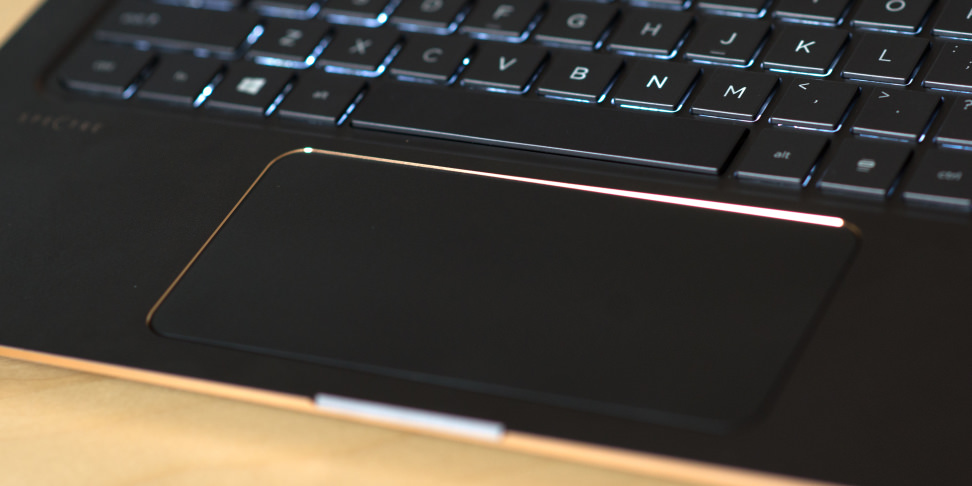 The Spectre 13 is currently only available in a single configuration, priced at £999 with a dual-core Intel Core i5 running at 1.6 GHz, 8 GB of memory and 256 GB solid-state drive. The Spectre 13 outgunned the similarly-priced MacBook Air when it came to PCMark 7 performance.
That combination achieved a respectable mid-range score of 5006 points when running PCMark 7, compared to around 4200 points for the recently updated 13-inch MacBook Air.
The Home and Work suites on PCMark 8 didn't fare quite so well, though, with scores of 2260 and 2651 points.
Gaming performance is poorer too, as the integrated HD Graphics 4400 couldn't sustain decent framerates until we dropped resolution right down to 1280 x 720 pixels, where it then averaged a more a playable 31 fps in our Stalker: Call of Pripyat casual gaming test.
But, to be fair, there's always a trade-off between performance and portability with Windows Ultrabooks such as this, and the Spectre 13 was still adequate for routine tasks such as web browsing and running Microsoft Office. Unfortunately, the other trade-off is reduced connectivity, with one pair of USB 3.0 ports and lack of ethernet.
Review about Battery Life
However, the Spectre 13 compensated with usable battery life, giving us 7.5 hours (450 minutes) of streaming video via the BBC iPlayer, even if the 13-inch MacBook Air can manage over 12 hours here.
Comments
comments