Sutherland Falls
Sutherland Falls
Sutherland Falls is a waterfall near Milford Sound in New Zealand's South Island. At 580 metres the falls were long believed to be the tallest waterfall in New Zealand.
Address: Fiordland National Park 9679, New Zealand
Number of drops: 3
Longest drop: 814′
Total height: 581 m
Average flow rate: 11 m3/s
Information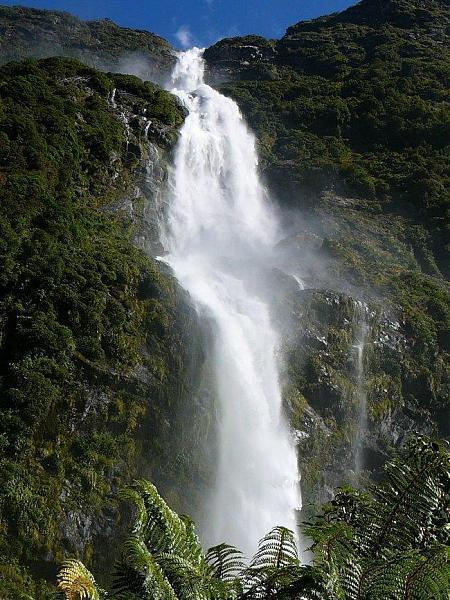 The Falls appears first as a sparkling glimpse through the trees. As we approach, a low rumble turns into a roar until at last we are confronted by its full height as it falls in three stages in leaps of 249.4m, 228.9m, and finally 103m into the huge pool at its base. A sign just over half a kilometre from the Falls informs us that we are now as close to them as they are high, yet we already feel they are about to engulf us with their presence. The last hundred metres up to the rim of the boulder-strewn pool at the waterfall's base is like entering a domain of sheer power. It looks nothing like the genteel tourist photos I have seen of this place, in comparison the waterfall on my visit is probably surging with 10 times its normal flow.
The penetrating mist is driven towards me by a lashing wind, my raincoat a pitiful defense against the relentless moisture. I attempt to take photos but the lens becomes opaque the moment I take off the cap. You cannot talk to your buddy, the noise at this spot is louder than a 747 taking off.  I watch other hikers come and go, awestruck but unable to withstand more than a minute under this mantle of pounding energy.  They shriek and run back down the track. I attempt a few close up photos before finally joining them.
History of Sutherland Falls
Scottish backwoodsman Donald Sutherland was looking for a viable route between Milford Sound and Lake Wakatipu on 10 November 1880 when he glimpsed falling water in the distance through trees. He was the first European to see the falls which now bear his name.
Dropping 580 m from Lake Quill to the Arthur Valley in three great leaps, Sutherland Falls were for a time claimed by New Zealanders as the highest in the world. In fact Venezuela's Angel Falls are 979 m high, with an uninterrupted drop of 807 m.
Born in Wick in the far north of Scotland in the early 1840s, the footloose Sutherland served in several armies and merchant navies before fetching up in Milford Sound with his dog in 1877. Unsuccessful as a prospector and unfulfilled as an explorer, he improved his fortunes in 1890 by marrying Elizabeth Samuels, a shrewd and resourceful widow. The couple built the Chalet at Milford Sound to accommodate the intrepid tourists who walked the newly opened Milford Track in increasing numbers each summer.
The Chalet outlasted its founders. When Donald died suddenly in 1919, his corpse lay unburied for five weeks until the next visit by a government steamer because it was too heavy for Elizabeth to move. Undeterred, she stayed on at Milford Sound, sold the Chalet to the government in 1922 for £1000 (equivalent to $94,000 in 2014), and died the following year. The Chalet was replaced by a new government hostel in 1928.
Location & Directions
Coordinates:   -44.8019, 167.7308
Elevation:   3100 feet
Sutherland Falls can only be accessed on foot via the popular Milford Track. Power hikers could potentially hike to the falls in one day, but the 14 1/2 mile (one way) walk from the passenger ferry in Milford Sound would push most people's limits so its best to stay overnight when hiking to the falls. Vistas from the air are also common, with many scenic flight services being available in the nearby city of Te Anau.
Best Time to Visit
In the spring or early summer, when the falls are roaring. By August the falls have typically dwindled to a trickle, and by the end of summer they often dry up altogether. Check out the Yosemite Falls webcam to see how much water is currently flowing over the falls.
Top WaterFalls in the World
Sutherland Falls is a waterfall near Milford Sound in the Fiordland National Park, New Zealand. Amongst the tallest waterfalls in the world, it has a steep slope. The water plunges in three cascades; the upper is 229 meters (751 ft.) tall, the middle – 248 meters (813 ft.) and the lower – 103 meters (338 ft.), in a total vertical fall of 580 meters (1902 ft.). Sutherland Falls are fed by a small circular lake, named Lake Quill, which occupies a small rock basin that was formed by ice-action during the Ice Age, and spills almost directly down a near-vertical mountain-wall into a valley. Its most beautiful angle is taken from above on a helicopter flight, when you can see the lake behind the waterfall framed with snow-capped mountains in the cold seasons.
Yosemite Cabins Near Wildflowers
The first spring wildflowers are now emerging in Yosemite's lower elevations. Lupines, redbuds, fiddleheads, and others are popping out in the bottom reaches of the canyons, and before long azaleas, monkeyflowers, paintbrushes, and other striking herbs will be putting on a rich color show. The great thing about a mountain landscape such as Yosemite is you can savor wildflowers from late winter all the way to mid-autumn–just by tracking the staggered bloom from low-elevation gorges to timberline meadows Whatever time of year you're appreciating our Scenic Wonders Yosemite cabins, you'll enjoy the evergreen majesty of the park's magnificent native conifers.
The west-slope Sierra Nevada supports some of the world's most breathtaking forests, home to such titanic cone-bearing trees as sugar and Jeffrey pines, giant sequoias, incense-cedars, red firs, and mountain hemlocks. Some of these noble mountain veterans frame the views from our rentals' patios and living-room windows. It's not uncommon for a Yosemite visitor to commence a visit ogling the epic sweeps of terrain and the misty careens of waterfalls–only to end up crouching over petite blooms of shooting stars or groundsels, or scrutinizing the numbers of needles per bundle in a wide-boughed pine. This is a kingdom of plants like few other corners of the globe–and one of our Scenic Wonders Yosemite cabins is the perfect spot from which to appreciate the wild gardens.
Read about other falls
Comments
comments