Save the tigers
Tigers are one of the most gorgeous and majestic among all wildlife. But of late there is a lot of decrease in tiger population. This is mainly due to poaching, natural disease, loss of its natural habitat and human-tiger conflict.
Areas where the tigers live
The common areas where the tigers are present is
India – it constitutes 2/3rd of the tiger population
Nepal
Russia
Bhutan
Bangladesh
Malaysia
Srilanka
Indonesia
Physical appearance of the tigers
Tigers are generally massive and muscular. The body is muscular with a big head powerful forelimbs and a long tail. The colour of the tiger varies from brown to orange with dark black stripes on their body. The stripes are unique for each tiger just like fingerprints for human beings. The stripes are usually for camouflage when they hunt in fields. They have small ears, an eye with yellow irises and long whiskers.
Males vary in total length from 250 to 390 cm (98 to 154 in) and weigh between 90 to 306 kg (198 to 675 lb) with skull length ranging from 316 to 383 mm (12.4 to 15.1 in). Females vary in total length from 200 to 275 cm (79 to 108 in), weigh 65 to 167 kg (143 to 368 lb) with skull length ranging from 268 to 318 mm (10.6 to 12.5 in). In either sex, the tail represents about 0.6 to 1.1 m (24 to 43 in) of total length.
A variation in the colour of the tiger is the white tiger. This is not albinism this is because of mutation of an amino acid. Its recessive and is born only if both the parent carries the recessive gene. These tigers usually have blue eyes and generally, is born out of inbreeding mostly in captivity. They are also born with a lot of congenital anomalies and their survival rate is far too low compared to the orange tigers.
The tiger's teeth  are 30 in number and the canine is about 9 cm each and razor sharp. The claws are 5 inches in length and are retractable.
Habitat of the tiger
Tigers like to live in swamps, grasslands,and rainforests. Usually where Tigers live there are trees, bushes, and clumps of tall grass. It shades the Tiger from the sun when it's extremely hot. Not only does this protect them from the sun, it also helps them to camouflage with their surroundings and surprise their prey. Unlike other cats, Tigers love the water and are very sensitive to heat. Tigers are very powerful swimmers. Most Tigers will soak in water usually after making a kill.
Unlike the lion, the tiger likes to live in a place where there is a lot of trees and bushes since it has to hunt alone unlike the pride work of the long. Also, tigers need some caves or hollow space  for it to live so they are found in places where there are lot of rocks or boulders
Hunting by the tiger
Tigers are excellent hunters. Unlike the lion which works as a pride they hunt solitarily. Tiger is generally a solitary animal except during the mating season and when they have almost grown cubs. They usually camouflage themselves during hunting. They approach their prey as close as possible before they go for the actual catch. The failure rate is 2 out of 20 hunts
Sambar deer, chital, barasingha, wild boar, gaur, nilgai and both water buffalo and domestic buffalo, in descending order of preference, are the tiger's favoured prey. They also prey on other predators like the wild dogs and leopards. Even small animals like the monkeys are hares are there on their menu. They rarely hunt full grown elephants and rhinos but the small ones are targeted.
Tigers living close to human settlement may prey on cattle and livestock and very debilitated ones may become man-eaters as well
Tigers usually hunt in total ambush. They attack their prey from behind cling on to them and bring the prey down and finally kill by strangulating it in its throat.
They usually eat their diet in total isolation and hide the leftovers and visit the spot later for a second meal.
They hunt at a speed of 50 miles per hour and their claws and teeth aid  in tearing open their diet
Tiger mating
The female tiger usually enters the season at around 21/2 years but it becomes sexually mature only around 3-4 years. Male attains sexual maturity little late around 4-5 years. It's the female once it enters into heat calls out to a male. This it does by roaring, moaning and urinating. By smelling her scent and responding to her calls the male partner arrives. But due to the dwindling tiger population sometimes the tigress may not get her mate. In such cases, her oestrous or heat subsides without mating
Oestrus refers to the time in which a female tiger is receptive and likely to conceive. She will enter oestrus once every three to nine weeks and is in optimal conception state for three to six days of this period. The frequency of the oestrus period in females differs from one part of the world to the other. For example, females may enter oestrus throughout the year in tropical areas, while they may only be receptive to mating in the cooler months in more temperate areas.
Once the male partner arrives if he likes her he purrs. The tigress is extremely cautious when approaching her male partner in the beginning. But once she knows that he is receptive she rolls on her back. a sign to show that she also likes him. Then the actual mating takes place. Each lasts for 10-15 seconds and they mate several times a day.
The coital act is the tigress moves closer to the male and rubs her face. Most of the times when the tigress comes closer, the tiger gets up and is ready. At times a gentle nudge also does the trick. The tigress lies on her belly and the tiger mounts her. The tigress moves her tail to one side. When the actual entry happens, the tiger grabs the tigress by the scruff of her neck. This period lasts for about 10-15 seconds. The end is signalled by a loud roar. The tigress turns her head and takes a swipe at the tiger with her forelegs. The tiger instinctively takes evasive action. The tigress then rolls over her back to facilitate penetration of the semen.
Tiger cubs
Tiger cubs are born after a gestational period of 3 1/2 months. They are born blind and are completely dependent on their mother. They are usually hidden in a den for the next two months. At this part of time, their only food is mother's milk. Solid food is introduced only after 2 months when they venture out of their den. It's the tigress which takes care of the cubs. The male tiger leaves her once mating is over. The cubs remain with their mother for 18 to 24 months. During this time the mother teaches them hunting. They are allowed to hunt alone only when they are about 1 1/2 years. At two years of age, they leave their mother. The female cubs usually make a territory close to that of their mothers but the male cubs wander further away. This is natures way of preventing inbreeding so rarely the mother and sisters meet the boys of the family .Sadly, many tiger cubs die before they reach maturity. In fact, more than half of the tigers born will die before two years of age. The main threats to their survival include male tigers that want the female to be free of young ones so that she can mate, predators and starvation. Because these factors are usually only threats in the wild, tigers breed well in captivity.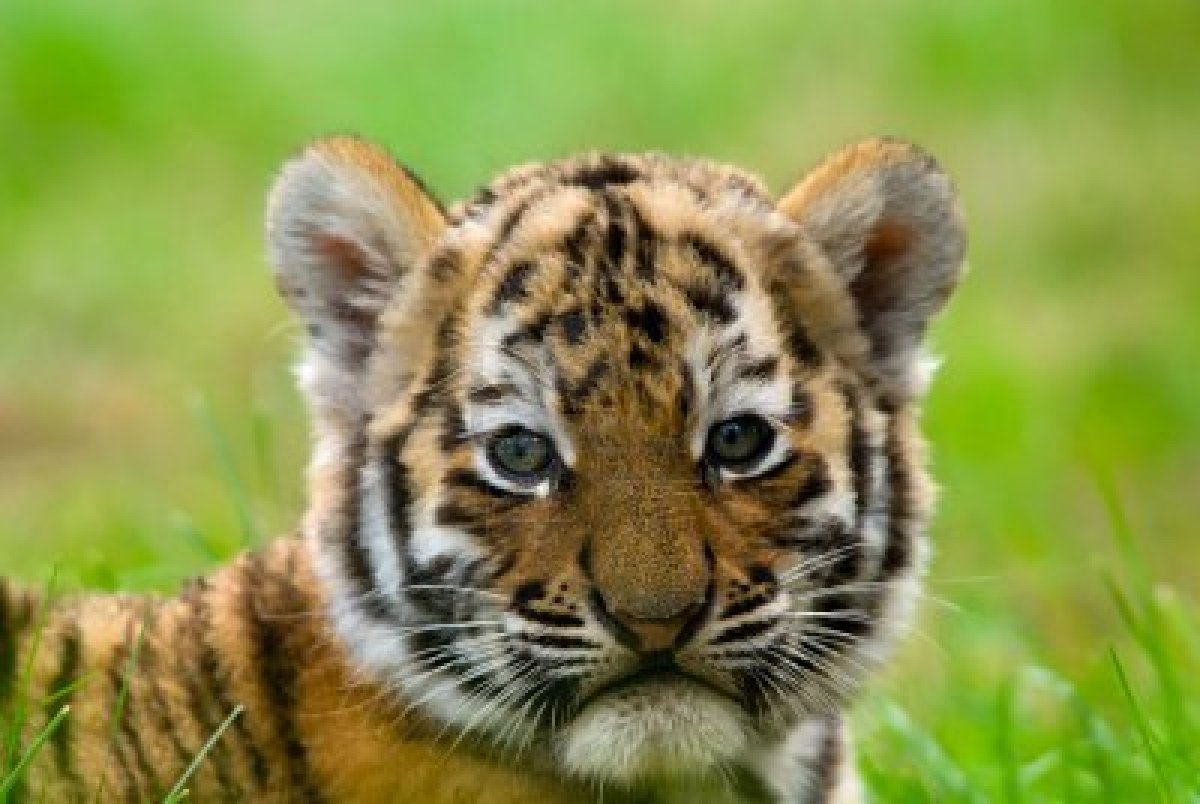 Illness in tiger
Both the tiger in wild and captivity are likely to develop an illness, Illness is similar to that like our domestic cats and treatment is almost similar. Tigers in captivity have a better chance to survive than the once in the wild as they get proper treatment than their wild counterparts The common illness in tigers is
1. rabies
2. feline AIDS
3. Feline leukemia
Man-eating tigers
Tigers are the animals which become man-eaters more commonly than other animals like leopards and lions. Tigers usually hunt their victims in broad daylight rather than lions and leopards which hunt in the night. Usually, the attack occurs in the tiger territory. In India man-eating tigers are mostly seen in the Sunderbans, This they say may be because of the salinity of the water and the tiger preying on the corpses that come floating in the flood of the river. Tiger wich generally takes plain water because of the increased intake of salt makes them more aggressive and irritable. Man is not a usual prey for the tiger but its man himself who makes a tiger maneater. Unusual confrontation in its territory, wounding a tiger are all causes for making it a maneater. Cubs born to a man-eating mother becomes a man-eater also.
Tiger reserves of India
State

Tiger Reserves

Year of Estd.
Total Area (km2)census
Assam

859                    167 tigers
2840
344

Arunachal Pradesh

Namdapha
Pakhui
Nagarjunsagar-Srisailam

1982-83
1999-2000
1982-83

1985                28
862
3568

Bihar
Chhattishgarh
Jharkhand
Karnataka

Bandipur
Nagarhole (extension)
Bhadra
Dandeli-Anashi

1973-74
1999-2000
1998-99
2007

866              406
643
492
875

Kerala
Madhya Pradesh

Bandhavgarh
Bori-Satpura
Kanha
Panna
Pench
Ratapani

1993-94
1999-2000
1973-74
1994-95
1992-93
2008-09

1162            308
1486
1945
542
758
674

Maharashtra

Melghat
Pench
Tadoba Andhari
Sahayadri

1973-74
1992-93
1993-94
2008-09

1677            190
257
620
569

Mizoram
Orissa

2750                 28
856

Rajasthan

Ranthambhore
Darrah
Sariska

1334                  45
392
866

Tamil Nadu

800                       229

Uttar Pradesh

Dudhwa
Katerniaghat (extension)
Pilibhit

1987-88
1999-2000
2008-09

811                       117
551
1089

Uttarakhand

1316                      340

West bengal

759                           80
2585

Karnataka

Biligiriranga Hills
Kudremukha

                            406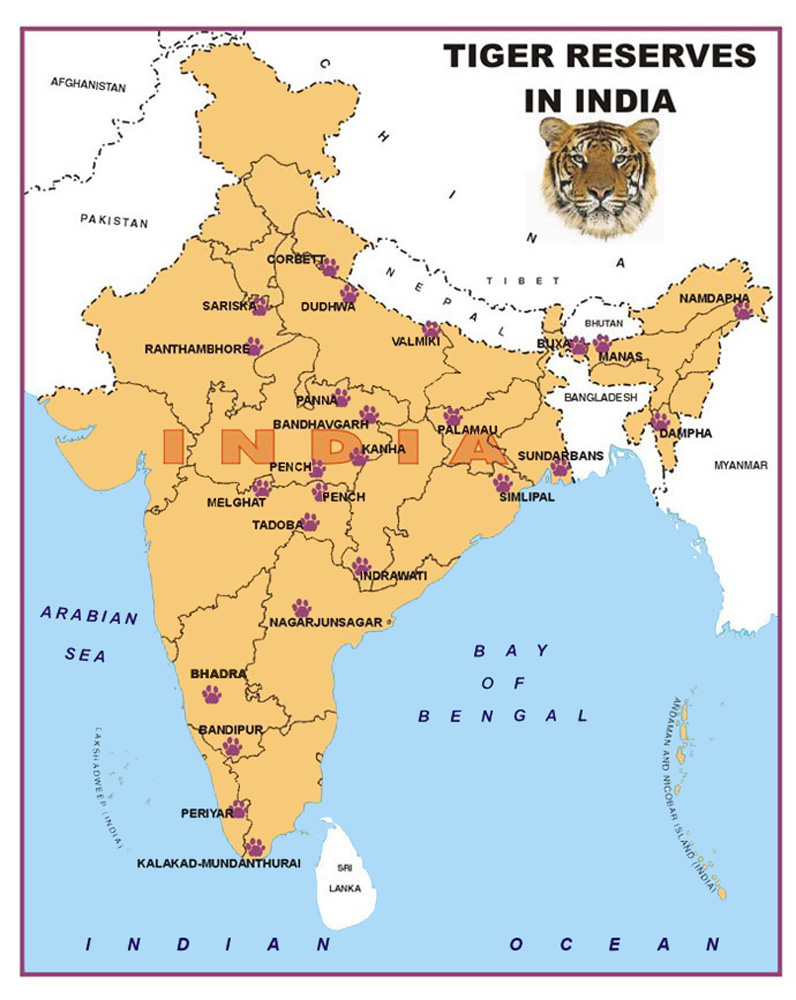 Endangered species
Until the 20th Century there were nine tiger subspecies that probably numbered over 100,000 animals. Depending on whether there are any remaining South China tigers—nobody has seen one in years—there are either 5 or 6 tiger subspecies remaining in existence; all are endangered. All tiger subspecies put together currently amount to fewer than 3,000 endangered tigers remaining in the wild.
Climate change is dangerous to tigers because it changes the jungles in which the tigers live. As the jungles have difficulty adapting to the changing temperatures, habitats for tigers decrease. Rising sea levels also erode coastal regions, which further encroach upon these habitats.Loss of habitat, however, is mostly due to human interference. As the human population grows, it needs the materials in the jungles and forests where tigers live. Cutting down trees for wood and harvesting other plants are acts of deforestation that greatly reduce the tigers' habitat. Humans hunt some of the tigers' prey species, which takes food away from dwindling tiger populations. The loss of habitat also leads to a reduction in prey animals, so the area can support fewer tigers.Poaching is also a huge detriment to the tiger population. Tigers are poached for trophies, such as teeth and fur, and for use in traditional medicines.The increase in human population also means that tigers come into contact with farm animals, and farmers sometimes illegally kill the tigers to protect their herds.
But the recent census of the tiger is more promising. After about 100 years it's now that the tiger population has shown a rise thanks to the strenuous effort taken by the various countries government in saving the tiger. So I request each and every person to give their part in saving the tiger or our future kids can see the tiger only on the net or in the book. SO "SAVE THE TIGER"
Comments
comments