Rajasthan Maps
Rajasthan
The State of India
Rajasthan is a northern Indian state bordering Pakistan. Its palaces and forts are reminders of the many kingdoms that historically vied for the region. In its capital, Jaipur (the "Pink City"), are the 18th-century City Palace and Hawa Mahal, a former cloister for royal women, fronted by a 5-story pink-sandstone screen. Amer Fort, atop a nearby hill, was built by a Rajput prince in the early 1600s.
Area: 132,139 mi²
Districts: 33 total
Population: 68.89 million (2012)
Capitals: Jaipur, Jodhpur (Judiciary)
Colleges and Universities: University of Rajasthan.
Rajasthan Districts Map
List of Rajasthan Districts
| | | | | | | | |
| --- | --- | --- | --- | --- | --- | --- | --- |
| S.NO | District | Sub-Districts | Population | Increase | Sex Ratio | Literacy | Density |
| 1 | Jaipur | List | 66,26,178 | 26.19% | 910 | 75.51% | 595 |
| 2 | Jodhpur | List | 36,87,165 | 27.74% | 916 | 65.94% | 161 |
| 3 | Alwar | List | 36,74,179 | 22.78% | 895 | 70.72% | 438 |
| 4 | Nagaur | List | 33,07,743 | 19.20% | 950 | 62.80% | 187 |
| 5 | Udaipur | List | 30,68,420 | 23.69% | 958 | 61.82% | 262 |
| 6 | Sikar | List | 26,77,333 | 17.03% | 947 | 71.91% | 346 |
| 7 | Barmer | List | 26,03,751 | 32.52% | 902 | 56.53% | 92 |
| 8 | Ajmer | List | 25,83,052 | 18.40% | 951 | 69.33% | 305 |
| 9 | Bharatpur | List | 25,48,462 | 21.29% | 880 | 70.11% | 503 |
| 10 | Bhilwara | List | 24,08,523 | 19.60% | 973 | 61.37% | 230 |
| 11 | Bikaner | List | 23,63,937 | 41.19% | 905 | 65.13% | 78 |
| 12 | Jhunjhunun | List | 21,37,045 | 11.67% | 950 | 74.13% | 361 |
| 13 | Churu | List | 20,39,547 | 6.01% | 940 | 66.75% | 147 |
| 14 | Pali | List | 20,37,573 | 11.94% | 987 | 62.39% | 164 |
| 15 | Ganganagar | List | 19,69,168 | 10.04% | 887 | 69.64% | 179 |
| 16 | Kota | List | 19,51,014 | 24.39% | 911 | 76.56% | 374 |
| 17 | Jalor | List | 18,28,730 | 26.21% | 952 | 54.86% | 172 |
| 18 | Banswara | List | 17,97,485 | 26.53% | 980 | 56.33% | 397 |
| 19 | Hanumangarh | List | 17,74,692 | 16.91% | 906 | 67.13% | 184 |
| 20 | Dausa | List | 16,34,409 | 24.09% | 905 | 68.16% | 476 |
| 21 | Chittaurgarh | List | 15,44,338 | 16.08% | 972 | 61.71% | 197 |
| 22 | Karauli | List | 14,58,248 | 20.55% | 861 | 66.22% | 264 |
| 23 | Tonk | List | 14,21,326 | 17.30% | 952 | 61.58% | 198 |
| 24 | Jhalawar | List | 14,11,129 | 19.55% | 946 | 61.50% | 227 |
| 25 | Dungarpur | List | 13,88,552 | 25.36% | 994 | 59.46% | 368 |
| 26 | Sawai Madhopur | List | 13,35,551 | 19.56% | 897 | 65.39% | 297 |
| 27 | Baran | List | 12,22,755 | 19.68% | 929 | 66.66% | 175 |
| 28 | Dhaulpur | List | 12,06,516 | 22.71% | 846 | 69.08% | 398 |
| 29 | Rajsamand | List | 11,56,597 | 17.18% | 990 | 63.14% | 248 |
| 30 | Bundi | List | 11,10,906 | 15.40% | 925 | 61.52% | 192 |
| 31 | Sirohi | List | 10,36,346 | 21.76% | 940 | 55.25% | 202 |
| 32 | Pratapgarh | List | 8,67,848 | 22.78% | 983 | 55.97% | 195 |
| 33 | Jaisalmer | List | 6,69,919 | 31.81% | 852 | 57.22% | 17 |
Rajasthan Tourists Map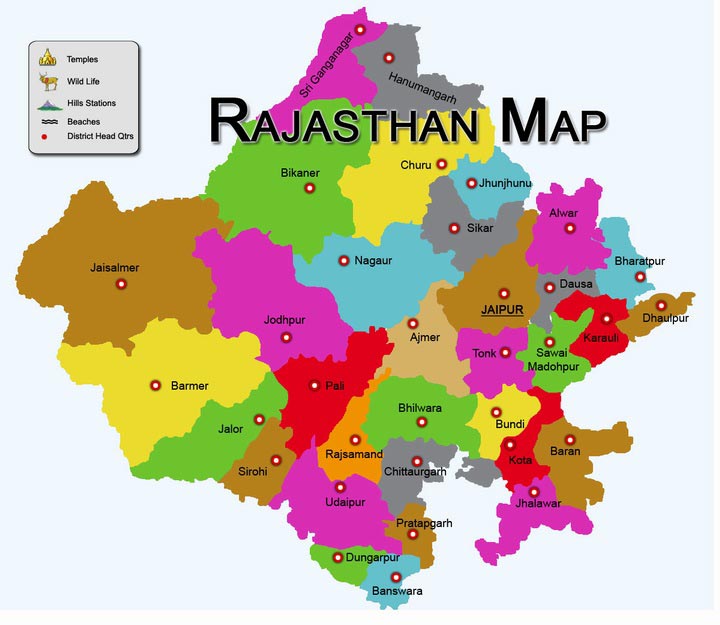 Rajasthan Road Network Map
Rajasthan Railway Map
Rajasthan Temples  Map
Rajasthan Industrial Map
Rajasthan Rivers and Wildlife Map
Rajasthan Division Map
Rajasthan Geography Map
Rajasthan Physical Regions Map
Rajasthan District Boundary Map
Rajasthan 
| | |
| --- | --- |
| Capital | Jaipur |
| Date of formation | 1. Nov. 1956 |
| Governor | Kalyan Singh |
| Chief Minister | Vasundhara Raje |
| Tourist attractions | Mount Abu, Jaipur Palace, Hawa Mahal, Jaisalmer Fort, Ranthambore, Pushkar |
| Festivals | Teej, Gangaur festival, Bikaner festival, Marwar festival |
| Major dance and music forms | Ghoomar and Kalbeliya dancers; Kathputali puppet theater; Bhopa; |
| Arts and crafts | Rajasthani miniature paintings such as Kangra, Jodhpur, Jaipur etc; Pichhvai paintings; hand-block. printing; Panihari music. |
| Languages | Rajasthani, Hindi |
| Size | 342,239 SQ. km |
| Population (Census 2011) | 6,85,48,437 |
| Rivers | Luni, Banas, Kali Sindh, Chambal |
| Forests and wildlife sanctuaries | Sariska Tiger Reserve, Keoladeo Ghana NP, Ranthambore NP, Dhawa WS |
| State animal | Camel |
| State bird | Great Indian bustard |
| State flower | Rohira |
| State tree | Khejri |
| Major crops | Jowar, pulses, maize, gram |
| Factoids | Jaipur's Elephant Festival has a tug-of-war between humans and elephants. |
|   | Bikaner has a Karni Mata temple in which rats are worshiped. |
| No. of District | 33 |
Read other maps
Comments
comments