Nirmala Sitharaman
Nirmala Sitharaman
Minister of Defence
Nirmala Sitharaman is an Indian politician, currently serving as the Defence Minister of India, the 1st woman to hold the position independently. 
Born: August 18, 1959 (age 58), Madurai district, India
Spouse: Parakala Prabhakar (m. 1986)
Party: Bharatiya Janata Party
Parents: Narayanan Sitaraman
Office: Minister of Defence since 2017
Education: Seethalakshmi Ramaswami College (1980), Jawaharlal Nehru University, Delhi
Short History of Nirmala Sitharaman
Nirmala Sitharaman emerged as the biggest gainer of the Cabinet reshuffle as Prime Minister Modi gave her the heavyweight Defence portfolio.
With this elevation, Sitharam also becomes the first woman Defence Minister of the country since Indira Gandhi held the charge.
As the Defence Minister, Sitharaman, who was holding the Commerce portfolio as a Minister of State, will be a member of the crucial Cabinet Committee on Security whose members include the Prime Minister, Home Minister, External Affairs Minister and the Finance Minister.
Born to a middle-class family in Tiruchirapalli of Tamil Nadu on August 18, 1959, Sitharaman's father worked in the Railways while her mother was a homemaker. She spent her childhood in different parts of Tamil Nadu as her father's job was transferable.
She did her schooling and her graduation in Economics, from Seethalakshmi Ramaswamy College in Tiruchirapalli. She went on to do her Masters in Economics from Jawaharlal Nehru University (JNU). Indo-European Textile Trade was the focus of her draft Ph.D thesis.
Sitharaman served as an assistant to Economist in the Agricultural Engineers Association, UK in London. She subsequently worked as Senior Manager (Research and Analysis) with Price Waterhouse, London. During this time she also briefly worked with BBC World Service. On her return to India, she served as Deputy Director of the Centre for Public Policy Studies at Hyderabad.
Childhood and Education
Nirmala Seetaraman completed her schooling and bachelors from Seethalakshmi Ramaswamy College Sitharaman pursued her Bachelors from Seethalakshmi Ramaswamy College, Tiruchirappalli. Later on she pursued her Masters in Economics from Jawaharlal Nehru (JNU) University, Delhi in 1980. She also has a Ph.D in the Indo-European textile trade within the GATT framework and M.Phil. Sitharaman has served at the Pricewaterhouse Coopers as a senior manager and later on for BBC World Service. She was formerly member of the National Commission for Women from 2003-2005. She established a school in Hyderabad called Pranava School.
Political Career of Nirmala Sitharaman
A stern articulator, Nirmala was one of the spokespersons of BJP under Ravi Shankar Prasad. Even though her husband and his family was pro-Congress, Sitharaman joined the BJP in 2006. In keeping with her accomplishments in London, she climbed up the ladder of success within the BJP as well and occupied several important positions in the party.
In 2010, during the tenure of Nitin Gadkari, she was appointed as the spokesperson of the party. After assuming the role of the party's spokesperson, she defended the BJP in every situation and praised party leaders including Modi, on the national media. She became a popular face not only in Delhi but also in the party headquarters in Gujarat.
Sitharaman came in touch with senior BJP leader Sushma Swaraj while serving as member of the National Commission for Women (NCW) from 2003 to 2005. Impressed with her dignified personality and outspoken views, Swaraj recommended Sitharaman to the party.
She was also appointed as the member of Rajya Sabha from Andhra Pradesh. The seat was left vacant after the death of Nedurumalli Janardhan Reddy. The Telugu Desam Party (TDP), the major alliance partner of the BJP, offered the seat to Sitharaman. She is currently the Rajya Sabha MP representing Karnataka.
Known for her cordial approach, she played a major role during the Lok Sabha elections of 2014. She projected Narendra Modi as a future prime minister of India. It was believed that her hard work and dedication would surely get her a place in Modi's cabinet. Finally, in May 2014, she got the ministerial berth. While addressing the issues of Companies Act, 2013 recently, she said that the amendments in the Act are not mandatory if the stakeholders are satisfied with the changes in the rules.
Recalling her life she says, "I envy the girl I once was. Best advice I ever received? Always choose the middle path and try to maintain equanimity. In other words, never go to any extreme – don't be too suppliant because you will lose your dignity nor be too overconfident and aggressive or you will eventually lose your ground. Remain balanced. That way you can never fall too far."
Political Journey of Nirmala Sitharaman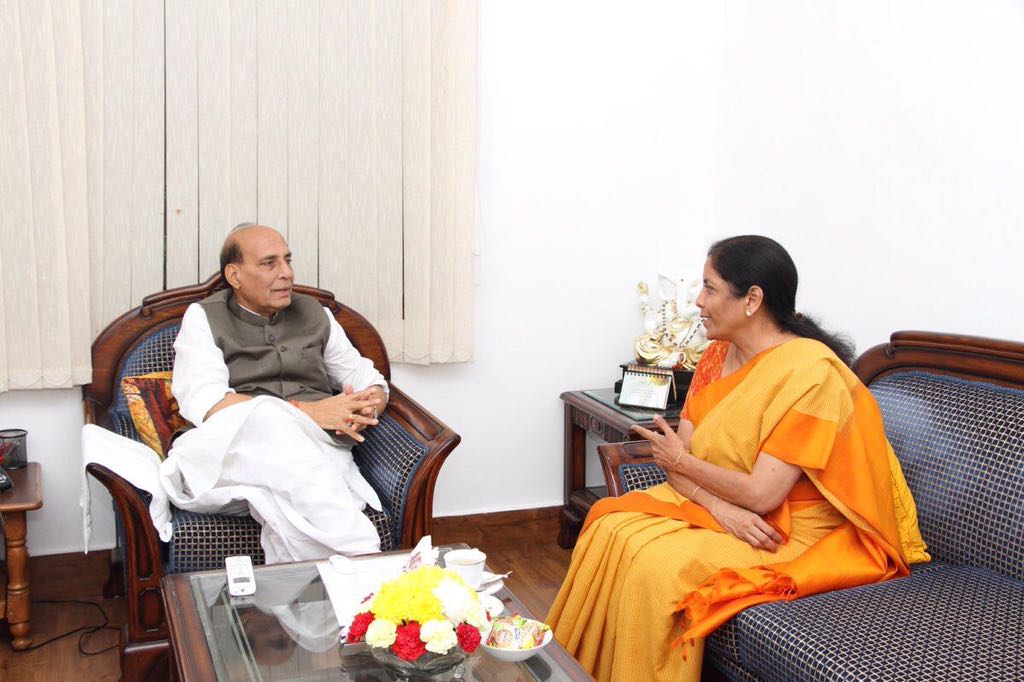 She joined BJP in 2006 and was appointed as the national executive.
Nirmala was the member of NCW from 2003 to 2005.
In 2010, she was elected as the party's spokesperson.
Nirmala Sitharaman became the Minister of State (Independent Charge) for Ministry of Commerce & Industry on May 26, 2014.
Facts about Nirmala Sitharaman
Nirmala Sitharaman was born to a middle-class family in Tiruchirappalli, Tamil Nadu, on August 18, 1959. 
Since her father had a transferable job, she spent her childhood in various parts of Tamil Nadu.
 She completed her graduation from Seethalakshmi Ramasamy College, Tiruchirappalli, and did her MA in Economics & MPhil from Jawaharlal Nehru University, Delhi.
Sitharaman then worked at Pricewaterhouse Coopers as a Senior Manager, and later for BBC World Service.
She also served as a Minister of State for Finance & Corporate Affairs under the Ministry of Finance and the Minister of Commerce and Industry holding independent charge.
She married Parakala Prabhakar in 1986, whom she had met while studying in JNU. The couple moved to London but came back to India in 1991. They have a daughter together. 
 While Nirmala supports BJP, her husband comes from a pro-Congress family. 
 She is one of the founding directors of Pranava School in Hyderabad.
Nirmala Sitharaman has previously served as a member of the National Commission for Women.
When BJP came to power in 2014, she was allotted a Rajya Sabha seat from Andhra Pradesh. Presently, she is elected to the Rajya Sabha from Karnataka.