News 29/11/2017
Gang stealing imported edible oil at port busted, The Sarpavaram police on Tuesday nabbed the members of a gang that was charged with stealing edible oil being imported via Kakinada Port and recovered from them two tonnes of palm oil and a lorry being used for transportation. Superintendent of Police Vishal Gunni, at a press conference here, said that the Sarpavaram police received a complaint on November 10 that a gang was working actively on diverting the edible oil supposed to be stored in a storage tank of the NCS group near the Vakalapudi lighthouse.
Internet must be open: TRAI backs net neutrality, The Telecom Regulatory Authority of India (TRAI) on Tuesday recommended upholding the basic principle of net neutrality by keeping the Internet open and prohibiting any service provider from discriminating on the basis of content by either blocking, throttling, or "fast-laning" any apps, websites or web services. The recommendations follow a consultation process that lasted for over a year, after the Department of Telecommunications (DoT) sought TRAI's views on the issue in March 2016, with an aim to "finalize a viewpoint" on net neutrality.
Made in India robot becomes PM Modi's 'Mitra',  Mitra' is a robot, Made in India, who can meet your customers, interact with them, holds discussions, provide customer support, welcome guests and what have you. 'Mitra' can do just about anything including tweet for you. If PM Narendra Modi got the loudest ovation, Ivanka Trump was a major attraction and CM K Chandrasekhar Rao was impressive, 'Mitra' was the cynosure of all eyes at GES-2017.
First ATR simulator in country commissioned, Country's first ATR full flight simulator (ATR 72-600-212) was commissioned at the Air India's Central Training Establishment (CTE) by its Executive Director Amitabh Singh here on Tuesday. The CTE, which already houses two A320 flight simulators for training pilots, has also sought sanction for another similar Airbus simulator in the category. The new simulator sourced from Canada, but of French make, at a cost of ₹65 crore has been installed in a 'record' time of fewer than six months after being contracted with the machine first arriving by ship to Mumbai and transported by road here.
Police didn't allow priests to enter Poes Garden: Dhinakaran, Sidelined AIADMK leader TTV Dhinakaran on Wednesday alleged police did not allow priests to enter the Poes Garden residence of J Jayalalithaa to make some arrangements for rituals ahead of her first death anniversary. There was no ban on entry into the residence of the late AIADMK supremo though Income Tax authorities had conducted raids there on November 17, he told reporters. They had only sealed two rooms, he said. The rituals have to be performed for three days and the priests went there yesterday but were denied permission by police, he said.
2 more MPs from TTV camp join EPS group, The exodus of AIADMK MPs from the T T V Dhinakaran camp to the EPSOPS group continues. A day after three RS members shifted loyalties, Lok Sabha members M Udaya Kumar (Dindigul) and B Senguttuvan (Vellore) called on chief minister Edappadi K Palaniswami on Tuesday evening and expressed their support. On Monday, A Navaneethakrishnan and Vijila Satyananda from Tamil Nadu and N Gokulakrishnan from Puducherry, all RS members, joined the EPS-OPS camp. The TTV camp now has one Lok Sabha member and 20 MLAs.
Students made to clean school toilets in Tiruvallur, In a shocking incident, the principal of a government school in Tiruvallur on Friday made girl students clean the toilets, that too without any protective gear as the janitor had not come for work for the past few days. Following complaints from parents, teachers, and students, the Chief Education Officer, Tiruvallur, conducted an inquiry on Monday. On November 24, Kavya, a Standard IX student of R.M. Jain Government Girls Higher Secondary School, Tiruvallur, complained of nausea and was not able to eat properly, said N. Dinesh, her relative.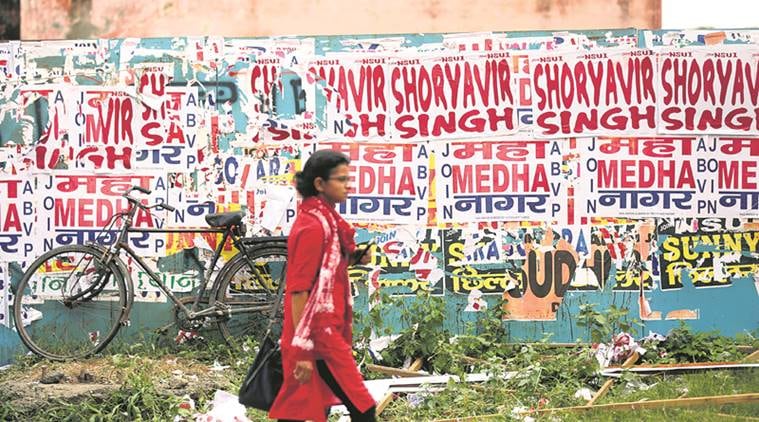 Student leaders split over whether money, cars play a role in union polls, Avinash Pandey, who contested as the presidential candidate of the ABVP for the Panjab University elections this year, Tuesday said that "money and cars" were not a factor in student union polls. Pandey was in the capital, along with several other student leaders from various political ideologies, for a conference on student politics. "Selection of candidates for student union elections depends on how well-versed students are with matters of the university, how articulate they are and whether they are able to convince students that they will work for them. It's said that caste and region are big factors but that is not entirely true.
6-month 'cooling off' period for divorce waived 1st time in Mumbai, Two months after the Supreme Court held that a six-month wait for a mutual consent divorce is not mandatory, the Mumbai family court waived the "cooling off" period for a couple estranged for almost a decade. It helped reduce the agony of a woman battling cancer in the city, and her husband of three decades who lives and works abroad. The waiver is the first in Mumbai since the SC ruling, in a freshly instituted mutual consent divorce plea, said advocate Anagha Nimbkar. She had sought the waiver on the couple's behalf last month when she filed their joint divorce plea citing irretrievable breakdown of their long marriage.
World  News
The assailant attacked me over pro-refugee stance, says German Mayor, The Mayor of a small German town said on Tuesday he was happy to be alive after being attacked with a knife by a man who confronted him over his welcoming stance toward refugees before slashing his neck. The knife attack on Andreas Hollstein, the 54-year-old Mayor of Altena in western Germany, prompted widespread shock and condemnation from officials including German Chancellor Angela Merkel. Authorities said the incident on Monday night appeared to be motivated by the man's hatred of foreigners.
Russian media law poses threat to free press -U.S. State Department, The U.S. State Department said on Tuesday that a new law allowing Russia's Justice Ministry to list foreign media outlets as "foreign agents" posed a threat to free press and it urged Moscow not to use the measure to tighten control over the media. State Department spokeswoman Heather Nauert said in a statement on Tuesday, "Freedom of expression, including speech and media which a government may find inconvenient, is a universal human right obligation Russia has pledged to uphold." She said Russia's foreign agent's law had been "used to justify a constant stream of raids, harassment, and legal proceedings that effectively obstruct non-governmental organizations from doing their work."
North Korea says tests new ICBM, can reach all US mainland, North Korea said on Wednesday it had successfully tested a new type of intercontinental ballistic missile (ICBM) that could reach all of the US mainlands. The missile test, North Korea's first since mid-September, came a week after US President Donald Trump put North Korea back on a US list of countries it says support terrorism, allowing it to impose more sanctions. North Korea has conducted dozens of ballistic missile tests under its leader, Kim Jong Un, in defiance of international sanctions. Trump has vowed not to let North Korea develop nuclear missiles that can hit the mainland United States.
Britain's Theresa May heads to the Middle East, British Prime Minister Theresa May will travel to the Middle East this week to lend her support to economic reforms in Saudi Arabia and Jordan, her spokesman said. Her trip comes as Britain is looking for new relationships around the world, to replace those it will lose after it quits the European Union in a little more than a year. She will meet Saudi King Salman and Crown Prince Mohammed bin Salman, where she will also discuss the crisis in Yemen and the dispute in Qatar. In Jordan, she will meet King Abdullah and Prime Minister Hanu Mulki.
Related News
News 28/11/17
News 27/11/17
Comments
comments