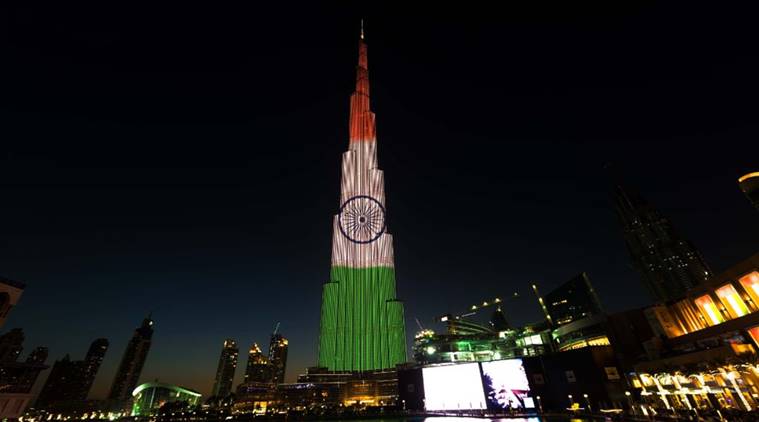 NEWS 26/1/17
NEWS 26/1/17 INDIA
The country is celebrating its 68th Republic Day on 26th of January to honour the Constitution of India as it came into force on the same day in the year 1950. The chief guest this year is Crown Prince of Abu Dhabi Sheikh Mohamed bin Zayed Al Nahyan.
An embarrassing situation developed on Wednesday during the media briefing at the Hyderabad House in New Delhi on Wednesday afternoon when there was no Arabic to English translation of the address of visiting Crown Prince of Abu Dhabi Sheikh Mohamed bin Zayed Al Nahyan which meant that those who did not understand Arabic, including Prime Minister Narendra Modi and top MEA officials, had no clue what the United Arab Emirates (UAE) leader was saying.Indian government sources said the UAE side had informed the protocol division of the Indian ministry of external affairs (MEA) that the Crown Prince would be speaking in English. But it turned out that the Crown Prince decided to speak in Arabic. An Arabic interpreter who would have translated the speech for the media and Indian dignitaries was apparently summoned immediately but he could reach only when the Crown Prince's speech was over. Speeches are translated, with the media and dignitaries hearing the translated version of the speech through head-phones.
The Reserve Bank of India may allow citizens another chance to deposit the scrapped Rs 500 and Rs 1,000 banknotes but the exchange would be for a limited sum, sources in the government and banking sector said on Wednesday.The central bank has been flooded with queries and requests from people who failed to deposit all their money by the December 30 deadline, seeking relief, sources said."The amounts are as small as Rs 2,000… the issue is being looked into and the advice would be to hold on to those notes as we are examining (opening) another window for these genuine people," the source said.Many people were discovering old currency notes tucked away somewhere. Interestingly, one of the queries was from a person who found a Rs 1,000 bill in a book.
A much-pruned Padma Awards list this year is marked by the domination of the second highest honour by politicians with four of the seven Padma Vibhushans being bagged by veteran leaders. The government honoured political leaders cutting across affiliations, including BJP veteran Murli Manohar Joshi, NCP chief Sharad Pawar, ex-chief minister of Madhya Pradesh Sunderlal Patwa and former Lok Sabha Speaker and Meghalaya chief minister P A Sangma. All were conferred Padma Vibhushan, the second highest civilian honour in the country, the latter two posthumously.
Former Congressmen Sangma and Pawar had at one time revolted against Sonia Gandhi on her foreign origins issue. Joshi was among the saffron veterans seen as being kicked upstairs to the party's Margdarshak Mandal by the Modi regime under its 75 years age cut-off rule insisted upon by RSS and embraced by the new BJP leadership.
Tamil Nadu has lost 20 working days in last two months alone. Revenue loss, according to All India Manufacturers Organisation (AIMO), is estimated to be Rs 80,000 crore."Starting from former CM Jayalalithaa's demise, the state has been hit by factors like Cyclone Vardah, demonetisation, jallikattu protests and now drought. Trade and industries are under severe stress and the situation remains grim," said industrialist K.E. Raghunathan, National president, AIMO.Warning that public and traders will feel severe consequences by March, he said the TN trade industry loses Rs 4,000 crore, if a business day is lost.Small commercial units struck by cyclone Vardah in Chennai, Cuddalore, Kancheepuram and Puducherry are yet to recover from the damages as insurance companies have not settled the claims citing vague reasons, industrialist K.E. Raghunathan, National president, AIMO said.
Janata Dal (United) leader Sharad Yadav triggered a controversy on Tuesday, saying the honour of vote is more important than that of a daughter.The former JD(U) national president was speaking at a function in Patna that marked the birth anniversary of former Bihar chief minister Karpoori Thakur. CM Nitish Kumar was also present."It is necessary to educate people at large on the importance of ballot paper. Honour of vote is bigger and important than honour of daughter. If daughter's honour is compromised, it only affects the village or community but if the vote's honour is compromised, it impacts the entire nation," Yadav said..
AAP chief Arvind Kejriwal, who has in the past called Prime Minister Narendra Modi "dictatorial", tweeted today that India "needs to be protected from Hitler-like forces."
"I wish all my fellow citizens on Republic Day. This republic needs to be protected from Hitler-like forces," Kejriwal tweeted today on the occasion of the country's Republic Day.
Hours after Bharatiya Janata Party's Rajya Sabha MP Vinay Katiyar made a distasteful comment about Congress president Sonia Gandhi's daughter Priyanka Gandhi Vadra, Union Minister M Venkaiah Naidu on Wednesday said the statement was unacceptable to both – the party and the government."This is not acceptable to us and neither the party, nor the government supports such statements," he said.Janata Dal (United) leader Sharad Yadav on Tuesday drew an analogy between a woman and a vote. He said that the honour of vote was bigger than the honour of a woman.The senior leader raked in massive criticism over his statement.
Uttar Pradesh Anti Terrorist Squad (ATS) on Wednesday claimed to have busted an international call racket allegedly involved in spying on Army units in the country."We arrested 11 people on Tuesday from Lucknow, Sitapur, Hardoi and New Delhi for operating international call racket by running parallel exchanges," inspector general (IG) of ATS Asim Arun said, adding the action was taken on information by Jammu Kashmir military intelligence.An FIR in this regard has been registered at Gomti Nagar police station, he said, adding a large number of SIM cards, mobile phones and laptops used in the clandestine operations had been recovered.
In every Budget since 2013, the government has allocated Rs 1,000 crore towards the Nirbhaya fund — for schemes to ensure the safety and security of women. But like every year since 2013, the allocation in 2015-16 remained unspent.
The fund was created by the UPA government in 2013 in the memory of Nirbhaya, a Delhi paramedic who was assaulted and brutalised in December 2012 in a moving bus in the national capital. She later died of her injuries. The fund was launched with the objective of supporting schemes for the protection of women.
Fifteen Delhi Police personnel, including five women, have been conferred Police Medals for exemplary service rendered by them.Three personnel of Delhi Police including Inspector Shiv Kumar, ASI Chander Vir Singh and constable Ravi Dutt, presently posted with Special Cell, have been awarded Police Medal for Gallantry.They were involved in an encounter with the interstate gangster of Delhi and UP, Firoz Fauzi, who was wanted in the sensational murder of a Delhi Police constable Shivraj Tomar in 2014.In the encounter at Sonia Vihar Pusta, Fauzi had died in retaliatory fire by police. Shots fired by him had hit the bullet proof vest of Inspector Shiv Kumar and police vehicle, a statement from Delhi Police said.
Hit by declining sales globally, tech giant Apple's next generation iPhone 8 will not be able to make a big impact on its smartphone business, media reports claimed."iPhone 8 won't be able to buck a trend that's seeing customers increasingly choose older devices, like the iPhone 6s, instead of newer handsets, like the iPhone 7," Fortune quoted Barclays analyst Mark Moskowitz as saying on Tuesday.
Despite the wide range of smartphones available today, functional benefits are still making the quintessential feature phone an attractive buy. Almost 85% feature phone users do not intend to switch to smartphones on their next purchase, according to a recent study conducted by Mobile Marketing Association (MMA) and Kantar IMRB.
This has clearly busted myths about the feature phone market in India, and indicates that their functional benefits combined with durability, battery life and ease of repair are still drawing consumers. Feature phones still account for 55% of total handset shipments in India.
The Enforcement Directorate has issued a fresh summons to Zakir Naik as part of its probe against the controversial preacher and his Islamic Research Foundation (IRF) under anti-money laundering laws.Officials said the agency has handed over the second summons in the name of Naik to IRF's legal advisor, who was questioned by it on Tuesday at it's zonal office in Mumbai.The first summons to Naik, issued last week, could not be delivered as Naik's address in Mumbai was found to be locked, they said.Naik, as part of the fresh summons, has been asked to appear by this month-end before the Investigating Officer of the case under the provisions of the Prevention of Money Laundering Act (PMLA), officials said.
NEWS 26/1/17 WORLD
Nur Hasan al Faraj's already slim hopes of a new life in the United States have all but died since she heard that President Donald Trump would temporarily ban refugees coming from some Muslim states.
Her flight from the civil war in Syria has taken her only as far as the southern Turkish city of Hatay near the border with her homeland.
An outspoken Nebraska state legislator who was fined for having cybersex using a state computer resigned Wednesday after causing further outrage by sending a tweet that implied participants at a women's march were too unattractive to be victims of sexual assault.Republican Sen. Bill Kintner announced at a news conference in the state Capitol that he would step down from the seat he has held since 2012. He made the announcement less than an hour before Nebraska lawmakers were scheduled to debate whether to expel him – the first time the state Legislature would have taken such an action in recent history.
US President Donald Trump has appointed Indian-American attorney Uttam Dhillon to a key White House position on ethics and compliance matters.Dhillon, who served as Chief Oversight Counsel for the House of Representatives Financial Services Committee, has been appointed as Special Assistant to the President.In this position, he would be part of the legal team to serve under White House Counsel Donald F McGahn with respect to compliance and ethics matters.Prior to joining Financial Services, Dhillon served as chief of the Department of Homeland Security's Office of Counternarcotics Enforcement.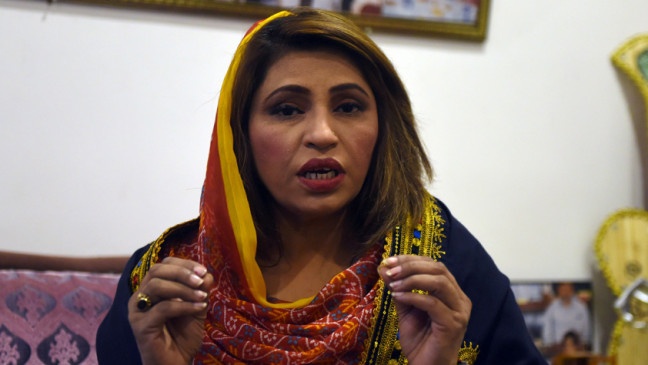 A Pakistani female lawmaker threatened to self-immolate after she was harassed by male colleagues in parliament, telling AFP that the widely-publicised incident shows how laws to protect women are not being enforced.
Nusrat Sahar Abbasi, an MP in Sindh province, spoke of her fury after provincial minister Imdad Pitafi invited her to his private chambers on the floor of the assembly on Friday in comments seen as sexual harassment in conservative Pakistan.
She said she protested strongly but the deputy speaker of the assembly, also a woman, refused to take any action.
A frustrated Abbasi was then pictured on Saturday holding a small bottle said to be of petrol and threatening to self-immolate if action was not taken
Women are being told to wear high heels, revealing dresses and dye their hair blonde, despite gender discrimination being illegal in the UK, a parliamentary study released on Thursday has found, prompting MPs to call for a new law against imposing sexist dress codes at workplaces.The study – High Heels and Workplace Dress Codes – was commissioned by the House of Commons' parliamentary committee last year after a petition by London-based receptionist Nicola Thorp, who was sent home from work in December 2015 for not wearing high heels, gained more than 150,000 signatures.
Michael Jackson's daughter Paris is opening up like never before. In an intimate interview to Rolling Stone magazine, her first ever, the 18-year-old revealed that she battled depression and drug addiction after she was sexually assaulted by a "complete stranger" at age 14.The late pop icon's only daughter also talked about her issues with depression and drug addiction. Paris revealed that she attempted suicide "multiple times" in the years after her father's death."It was just once that it became public," Paris reveals to the magazine, also sharing that she had been 'cutting herself' at the time and hiding it from her family.
Read our previous news posts
Comments
comments