NEWS 21/1/17
NEWS 21/1/17  INDIA
The Islamic State could be planning an attack on Delhi courts around the Republic Day, sources told Mail Today quoting a fresh input by the Intelligence Bureau.According to the sources, ISIS sympathizers, who have been hiding in Delhi for some time now, are planning to target Delhi's courts and legal buildings.Intelligence reports claim that the sympathizers and have already done a recce of the District courts and the High court, for a planned attack.
A FEW years ago it looked like the curse that would never lift. In China, north India and other parts of Asia, ever more girls were being destroyed by their parents. Many were detected in utero by ultrasound scans and aborted; others died young as a result of neglect; some were murdered. In 2010 this newspaper put a pair of empty pink shoes on the cover and called it gendercide. In retrospect, we were too pessimistic. Today more girls are quietly being allowed to survive. Fortunately, pro-girl evangelising and economic growth have at last begun to reverse this terrible trend. Now that women are more likely than before to earn good money, parents see girls as more valuable. And the craving for boys has diminished as parents realise that they will be hard to marry off (since there are too few brides to go around). So the imbalance between girls and boys at birth is diminishing in several countries, including China and India. In South Korea, where a highly unnatural 115 boys were being born for every 100 girls two decades ago, there is no longer any evidence of sex selection—and some that parents prefer girls.
The SP, which released its first list of 191 candidates for the first three phases of polling in the western and central UP districts, has left only 18 seats for the Congress. In all, polling will be held for 209 seats in the first three phases. In what is being perceived here as a "pressure tactic" following the Congress' "unreasonable" demand for over 100 seats, the SP fielded its nominees for nine seats, which were won by the Congress in 2012.
SP vice president Kironmoy Nanda told reporters here on Friday that his party was in favour of an electoral alliance with the Congress but it has not received any "positive response" from the Congress "so far". He also indicated that the SP could "withdraw" its nominees from the seats where the Congress had emerged victorious last time.
The Union Ministry of Housing and Poverty Alleviation has clarified that the Real Estate Act will come into force from May 1 and the new law will be applicable to ongoing projects, which did not get the completion certificate before that.
The clarification comes after some states, including Uttar Pradesh and Gujarat, faced allegations of diluting the provisions of the act and deliberately letting off ongoing projects.
Uttar Pradesh in the draft rules has come up with four exemptions to exclude incomplete projects from the category of "ongoing projects", while Gujarat has exempted all projects launched before the notification of the rules.
This means such projects need not to be registered with the real estate regulator in these states.
On excluding balconies from the definition of carpet area, the Centre clarified that it posed no problems as costing could be accordingly informed to the buyers.
PM Narendra Modi met a delegation of Muslim Ulemas and intellectuals and hailed the Indian youth to resist widespread radicalisation. His meeting, however, invoked divided opinion among the attendees, as a section hailed his efforts while a group Muslim participants called it a 'symbolic exercise'. The delegation had an inclusion of Imam Umer Ahmed Ilyasi, Chief Imam of All India Organisation of Imams of Mosques, AMU Vice Chancelleor Lt Gen (Retd) Zameeruddin Shah and Jamia Millia Vice Chancellor Talat Ahmed.
MOST economists might hazard a guess that voiding the bulk of a country's currency overnight would dent its immediate growth prospects. On November 8th India took this abstruse thought experiment into the real world, scrapping two banknotes which made up 86% of all rupees in circulation. Predictably, the economy appears indeed to have been hobbled by the sudden "demonetisation". Evidence of the measure's costs is mounting, while the benefits look ever more uncertain. At least the new year has brought a semblance of monetary normality. For seven weeks queues had snaked around banks, the main way for Indians to exchange their old notes for new ones or deposit them in their accounts. That is over, largely because the window to exchange money closed on December 30th. The number of fresh notes that can be withdrawn from ATMs or bank counters is still curtailed, but the acute cash shortage is abating, at least in big cities.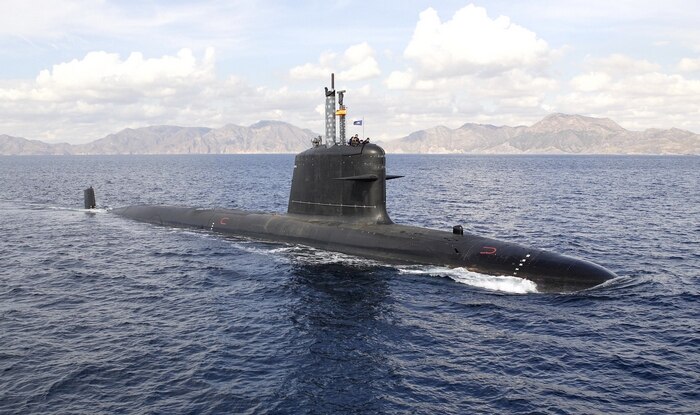 The first two Scorpene class submarines – to be named INS Kalvari and INS Khanderi – are likely to be commissioned this year, while the third, INS Vela, would be released into water for trial by the end of 2017, Rear Admiral Mohit Gupta, Assistant Chief of Naval Staff in charge of submarines, said here on Friday.
While Kalvari has almost finished its trials, Khanderi was released into water last week, paving the way for the sea trial.
Six French-origin Scorpene submarines are under construction in a Rs 18,798-crore project at the Mazgaon dock under technology transfer from DCNS. Their delivery date is more than three years behind the original schedule.
All of them are likely to be in service by 2020.
Only registered pharmacists will soon be able to deal with the supply and storage of medicine for distribution to retail pharmacy outlets. The union health ministry has issued a draft notification to amend the Drugs & Cosmetic Rules 1945 to stop unqualified 'pharmacists' from dealing in wholesale and distribution of drugs. Officials in the drug control department said the move had been a long time coming and was taken as the government had received several complaints of spurious, adulterated and misbranded medicines being supplied by distributors to the chemist shops.
Nearly 4,500 ad hoc teachers working in colleges under Delhi University fear they could lose their jobs under new appointment rules that expect aspirants to have published research papers in journals before applying for an assistant professor's post.Higher education regulator UGC's policy on appointment of teachers is silent on the requirement of published papers for entry-level posts .The university's academic council and executive council have approved a set of new rules that say a candidate with research output will get 25 points in a 100-point weightage system. The rules will be followed during the regular appointment process that might start soon.The ad hoc teachers – hired since 2007-08 when the university appointed more faculty members to create 54 per cent additional seats to accommodate the 27 per cent reservation for OBC students without affecting the general category – had been hoping their services would be regularised. But the new rules may deny them the chance, they say.
The crew members of Air India have been instructed to "shape up" within a stipulated period, failing which they would be grounded permanently, sources said.
The national carrier has 3,800 cabin crew members, of which more than 2,500 are women. Of the total cabin crew strength, around 2,200 members are on permanent roll.
"These cabin crew members had been found overweight during the periodic review and were told to get fit for flying within a given amount of time. However, as they failed to do so, they were taken off from flying duties last month and given ground jobs," a senior official said.
A 34-year-old man allegedly smothered his wife to death and then committed suicide,  in their apartment in Pune.The incident came to light after the woman's brothers came to the couple's house in Hadapsar on Thursday night and found them dead. The deceased – Rakesh Gangurde (34), a private firm employee, and his wife Sonali (28) – were married for four years and did not have children. 'As per the purported suicide note left by Rakesh, he was not happy with Sonali, who used to discuss details of family planning and other marital details with her friends on social media and that prompted him to take the drastic step,' a police officer said.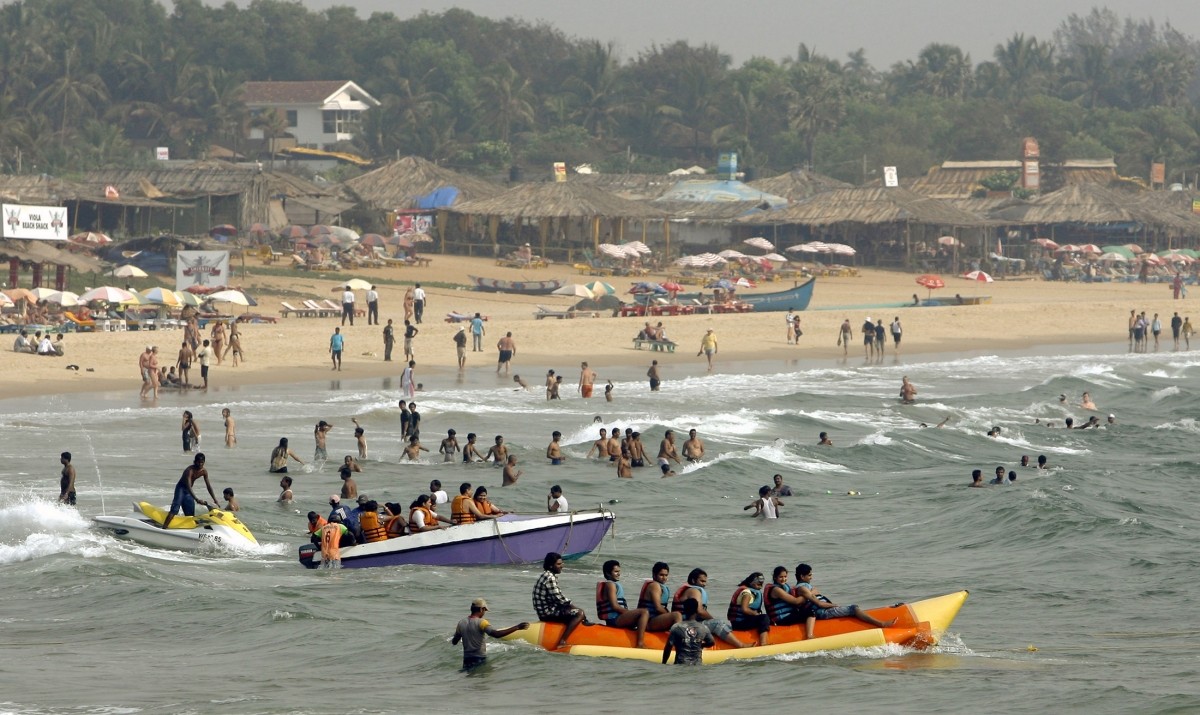 the BJP is banking on a division in Goa's dominant Christian vote to help it tide over Archbishop Filipe Neri Ferrao's thinly veiled criticism of the party-led state government at a civic reception attended by chief minister Laxmikant Parsekar.Party sources said the archbishop's comments at the pre-Christmas annual reception – also attended by Parsekar's predecessor, defence minister Manohar Parrikar – had made it clear the Church would signal to its laity not to vote for the BJP in the February 4 Assembly elections."We hope the Christian votes get divided between the Congress and the Aam Aadmi Party (AAP). If it consolidates behind one party, we will be in trouble," a BJP leader in Delhi said.
The duty may be reduced up to 4% on import, official sources said. Currently the customs duty on gold is 10%.
"There is room for cutting import duty on gold to bring it in alignment with the proposed Goods and Services Tax," sources told DH.The demand for gold and gold jewellery has gone down significantly after the cash crunch situation precipitated by demonetisation.Gold traders have long demanded a cut in the import duty. The duty was raised in small tranches of 2% since early 2013. It was increased to 10% from an earlier 1%.Traders believe that the move has been distorting price parity between domestic and international gold prices.
The Union ministry for traditional systems of medicine is set to partner with India's advertising industry watchdog to curb false or misleading claims about ayurveda, yoga, unani, siddha and homeopathy (Ayush), and punish violators.The Ayush ministry will under an agreement signed today receive alerts from the Advertising Standards Council of India (ASCI) about unsubstantiated claims in ads related to Ayush products and relay them to state authorities for action.The ASCI, which mainly relies on consumer complaints to scrutinise advertised claims, will under the pact also scan over 500 television channels and over 900 print publications, including many in regional languages, to look for health-related claims on Ayush products, officials said."Healthcare accounts for a large proportion of misleading advertisements and among these, many make claims about Ayush products," Shweta Purandare, the ASCI's secretary-general, said. "This agreement will strengthen what we're already doing – with government intervention."
In a significant ruling at a time when it is examining the validity of triple talaq sanctioned by Muslim personal law, the Supreme Court has said divorce decrees granted by ecclesiastical tribunals, popularly known among Christians as 'church courts', have no legal sanctity. A bench headed by Chief Justice J S Khehar said ecclesiastical courts had validity in English jurisprudence where a state religion was prevalent, but in a democratic society, there was no place or need for such courts. It said only courts under Indian Divorce Act can grant divorces for Christians. Read http://www.dailymail.co.uk/indiahome/indianews/article-4138144/Supreme-Court-annuls-divorce-granted-church-courts.html#ixzz4WMLcHH72
Follow us: @MailOnline on Twitter | DailyMail on Facebook
NEWS 21/1/17 WORLD
Donald John Trump was inaugurated as the 45th president of the United States on Friday, ushering in a new and more unpredictable era in which he has vowed to shatter the established order and restore American greatness. From the West Front of the Capitol, overlooking a crowd of admirers gathered as rain threatened on an overcast day, Trump used his Inaugural Address to promise that he will use the next four years to rebuild the nation's economy, reassert control over its borders and regain respect for the United States around the world.
"We the citizens of America are now joined in a great, national effort to rebuild our country and restore its promise for all of our people," he said. "Together we will determine the course of America and the world for many, many years to come. We will face challenges. We will confront hardships. But we will get the job done."
He said the inauguration represented not just the peaceful transfer of power from one part to another. "We are transferring power from Washington, DC and giving it back to you, the people," he said.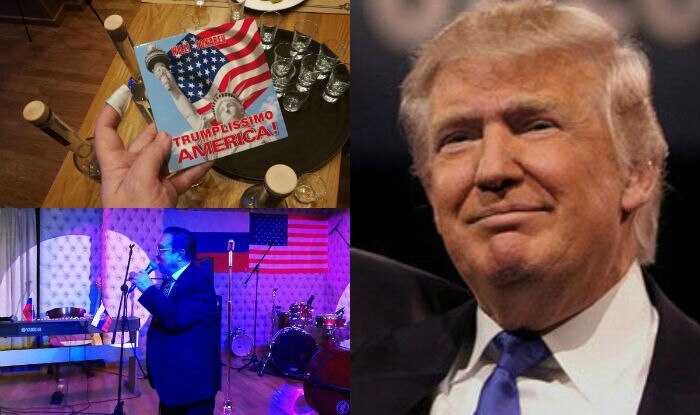 The Kremlin may have spent years reviling America, but Russians hoping Donald Trump will usher in a new era of detente marked his inauguration on Friday with parties and trinkets from commemorative coins to 'matryoshka' nesting dolls in his image.Washington was turned into a virtual fortress with an estimated 900,000 people – backers and protesters – descending on the capital. In London, anti-Trump activists draped a banner reading 'Build Bridges Not Walls' from Tower Bridge. Protests were planned across western Europe on Friday and Saturday.But according to Gennady Gudkov, a Putin critic and former lawmaker, Russia is in the grip of 'Trumpomania', with state media giving the President-elect blanket air time at the expense of more mundane and sometimes depressing domestic news stories.
Black-clad activists protesting President Donald Trump's inauguration smashed store and car windows in Washington today and fought with police in riot gear who responded with pepper spray and stun grenades.About 500 people, some wearing masks and kerchiefs over their faces, marched through the city's downtown, breaking the windows of a Bank of America branch, a McDonald's outlet and a Starbucks shop, all symbols of the American capitalist system.The crowd, which carried at least one sign that read, "Make Racists Afraid Again", also vandalised several cars and hurled trash cans and newspaper vending boxes into the streets before being largely dispersed by police.About 900,000 people packed the grassy National Mall facing the Capitol, where Trump was sworn in, as well as the parade route along Pennsylvania Avenue to the White House and nearby areas."The message I want to send is that Trump does not represent this country. He represents the corporate interests," said Jessica Reznicek, a 35-year-old Catholic aid worker from Des Moines, Iowa, who participated in a peaceful march.
Pakistan today asked India and the World Bank to inform it about all the dams and hydropower projects proposed to be built by India under the Indus Waters Treaty on the western rivers, and not just the two projects under dispute currently.
The matter was discussed during an inter-ministerial meeting presided over by Finance Minister Ishaq Dar yesterday.Ministers and other representatives of the ministries of water and power, foreign affairs and law and justice, the Attorney General's office and civil and military experts attended the meeting.
The meeting observed that the president of the World Bank had drawn up the lots for appointment of umpires for a court of arbitration before it had put on hold the process about two months ago. "This meant that the World Bank was convinced and had accepted Pakistan's position," Attorney General Ashtar Ausaf claimed.
Russia says it is working on a new range of laser, plasma and electromagnetic weapons as well as hypersonic missiles which would be able to hit a US aircraft carrier before the Pentagon even realised it had been fired.The Kremlin's Deputy Defence Minister Yuri Borisov said yesterday: 'Coming next are hypersonic weapons, which require the use of principally new materials and control systems that operate in a completely different medium, in plasma.'A hypersonic weapon is a missile which travels at Mach 5 – five times the speed of sound – and it would enable the Russians to strike a target thousands of miles away within minutes.   Tass reported that Mr Borisov told journalists at the Russian Academoy of Sciences that Moscow: 'We expect an especially serious breakthrough in the field of laser issues, electromagnetic weapons and so on.'
Read our other news posts
Comments
comments