NEWS 18/1/17
NEWS 18/1/17 INDIA
NEW DELHI: In unambiguous language India reiterated its terms of re-engaging Pakistan with PM Narendra Modi saying that Islamabad must walk away from terrorism if it wants to revive a dialogue with India.
"Pakistan must walk away from terror if it wants to walk towards dialogue with India," Modi said while inaugurating the Raisina Dialogue-II here this evening. "It also has to be Pakistan's journey to make," he said, asserting India cannot walk the path of peace alone.
Modi's comments reflect the line the government has adopted post the attack of the Indian Army camp on Uri when it ordered surgical strikes on terror launch pads in Pakistan occupied Kashmir. While reserving the right to respond to terrorist attacks, India has held dialogue must focus on Pakistan's steps to control terrorism against India.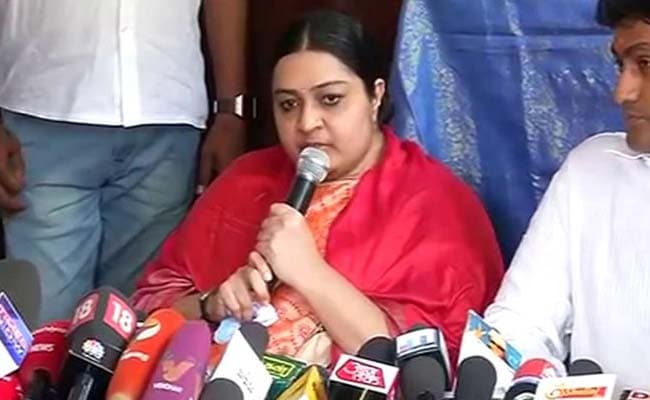 A common plot of melodrama involves the arrival of the 'Lost Rightful Heir', who through his/her sheer royal presence will end family squabbles, defeat the usurper and ascend the throne. In more familiar desi pop culture, the value of lookalikes and a family resemblance is priceless. Much political hay has been made of Priyanka Gandhi's resemblance to her grandmother or Akhilesh Yadav's resemblance to his father. A recent essay even argues that what really matters is the nose. This and other familiar plots are still forming and reforming in aftermath of the death of J Jayalalithaa.On January 17 morning, for instance, Jayalalithaa's niece Deepa gave a press conference in Chennai to announce her political debut. She said she was considering her choices between joining the AIADMK, her late aunt's party, and floating a new party. Who is Deepa and why would anyone take this bid even half-seriously? For this we have to go back to her rather fortunate genetic lottery.
New Delhi: The Supreme Court on Tuesday asked the Centre to file a status report on the ambitious 'Clean Ganga' project in which over Rs 2,000 crore had been spent so far.Pointing out that the PIL filed in 1985 is pending for 35 years, a Bench of Chief Justices J.S. Khehar and Justice D.Y. Chandrachud asked the Solicitor General Ranjit Kumar to file the report in one week on the steps taken to set up sewage treatment plants along the banks of the river.The CJI told the SG "We do not intend to keep it pending. It is a very old and an important matter. Let us finish it off. Earlier petitioner and environmentalist M.C. Mehta said precious little had been done in the last 32 years and the PIL is pending since 1985."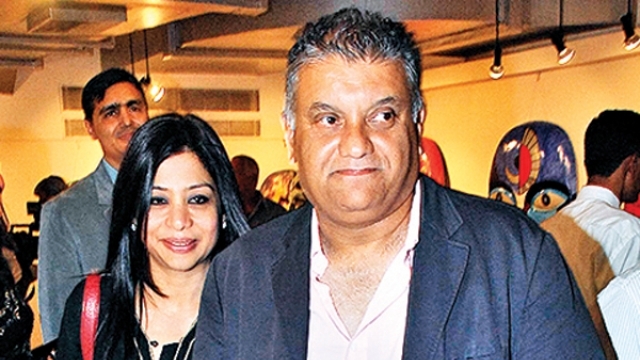 MUMBAI: A special court framed charges against Indrani Mukerjea, her estranged husband Peter Mukerjea and ex-husband Sanjeev Khanna on Tuesday on charges of murdering Sheena Bora in 2012. Additionally, the trio has been charged with destruction of evidence, criminal conspiracy, kidnapping and giving false information about an offence.
After reading out and explaining the charges to the three who stood in the witness box, special judge Hemant S Mahajan directed them to consult with their lawyers and tell the court if they pleaded guilty or not. Moments later, the accused signed documents in which they pleaded "not guilty" to all charges. Indrani and Sanjeev were also charged for attempting to murder her son, Mikhail Bora. The charge was not framed against Peter.
Olympians PV Sindhu, Sakshi Malik, Paralympian Deepa Malik, Google chief Sundar Pichai, Microsoft head Satya Nadella, and Indian American governor Nikki Haley of South Carolina are among 150 eminent personalities shortlisted for this year's Padma awards.Maratha strongman and NCP leader Sharad Pawar and BJP veteran Murli Manohar Joshi are among the politicians who made it to the coveted list.Pawar is widely respected across the political spectrum. Both Prime Minister Narendra Modi and Congress president Sonia Gandhi attended his 75th birthday celebration at the Capital's Vigyan Bhawan auditorium in 2015.
Chennai: Thousands of enthusiastic supporters of jallikattu hit the streets across Tamil Nadu on Tuesday demanding release of those arrested by police in Alanganallur and conduct of the traditional sport despite the Supreme Court ban.The youngsters, mostly college students, thronged the Marina beach in thousands as early as 6 am and the crowd swelled as the day progressed.Marina became the epicentre of the Jallikattu protests on Tuesday as several politicians, including Opposition Leader M K Stalin, actors and social activists came there to express solidarity with the protesters.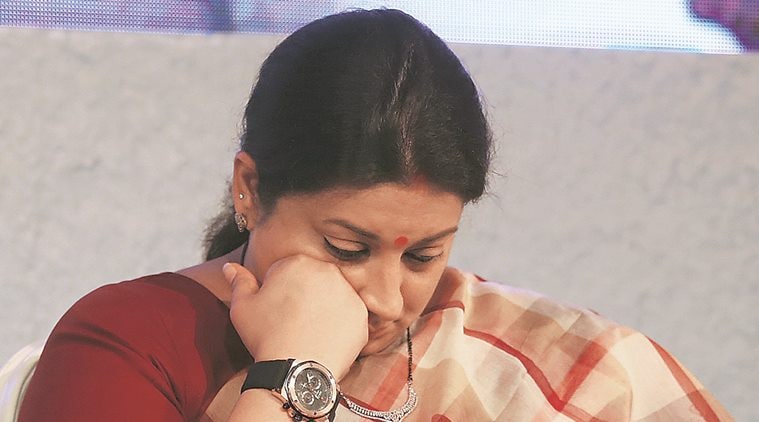 NEW DELHI: The Central Information Commission (CIC) has directed the Central Board of Secondary Education (CBSE) to permit examination of textiles minister Smriti Irani's Class X and Class XII records, overruling the argument that this was personal information.
The order was passed by information commissioner Sridhar Acharyulu, who was recently in the news for passing a similar order with regard to Prime Minister Narendra Modi's degree through correspondence from Delhi University. Acharyulu was divested of the human resource development charge after he passed the order relating to Modi. The demand to scrutinise Modi's degree was raised by opposition parties AAP and Congress.
An American citizen employed with a multinational law firm was arrested for allegedly circulating pornographic videos and images involving minors in Hyderabad on Tuesday.The cybercrime wing of the Telangana Crime Investigation Department (CID) said 42-year-old James Kirk Jones, a resident of Madhapur, was apprehended on the basis of an Interpol alert that the pornographic material was being circulated through a certain IP address located in the city.A search of Jones' residence led to the seizure of a lot of incriminating material, including a laptop containing 29,288 pornographic videos and images, 490 profiles on GigaTribe (a data-sharing application), and 24 Twitter handles used for posting the objectionable material online.
New Delhi: The Supreme Court on Tuesday reiterated that there can be no indiscriminate killing of stray dogs in Kerala and only in exceptional cases they can be killed by way of euthanasia or other means.When one of the petitioners told the apex court that he wanted to "totally destroy" stray dogs across India, the bench said "nobody can destroy stray dogs in entirety. They also have a right to live".A Bench of Justices Dipak Misra and Ms R. Banumathi told counsel for animal activists "A person can't be allowed to die due to dog bites. But for this we can't say destroy all stray dogs."
NEW DELHI: In a rare and stern message to bureaucrats who fail to perform well in their careers, the government has compulsorily retired two IPS officers on the basis of a performance review required to be held at the end of 15 and 25 years of service under the All-India service rules.
The two IPS officers — Raj Kumar Devgan, belonging to 1992 batch of Chhattisgarh cadre and Mayank Sheel Chohan from 1998 batch of AGMU cadre — were found to have put in sub-optimal performance by the concerned state cadre on the basis of their service records, ACRs and assessment of their seniors.
The home ministry, which is the cadre-controlling authority of IPS officers, approved the recommendation of the concerned state cadres to compulsorily retire them from service "in public interest".
f you think that Apple would stick to only IP67 for the next two smartphones, then think again as reports indicate that the 10th-anniversary iPhone 8 will come with an IP68 rating — an upgrade over iPhone 7's IP67 rating.While Apple's iPhone 7 IP67 rating means that it can take immersion up to 1 mentre for about 30 minutes, the IP68 rating goes a little farther. A device market IP68 means that it can stand immersion up to 1.5 metre for about 30 minutes. However, several smartphones have moved much faster than Apple in this regard with Sony and other adapting IP69 and nearly 99% water-proofing.Moreover, the 10th-anniversary edition of Apple iPhone 8 is expected to come in a stainless steel chasis and an all glass body.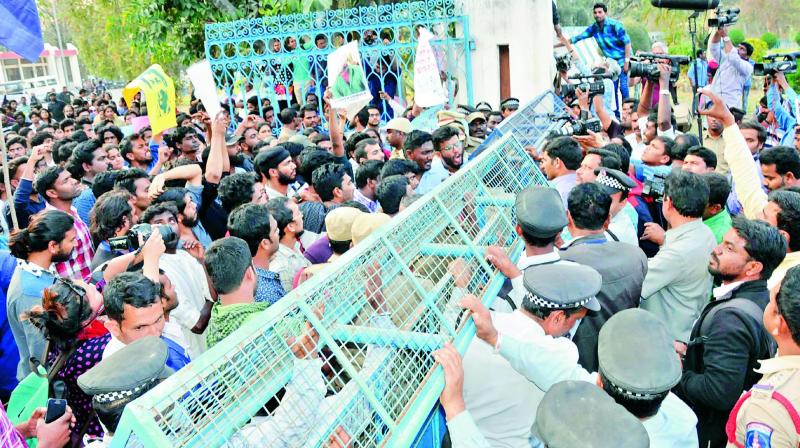 HYDERABAD: Protests rocked on University of Hyderabad campus on Tuesday as police did not allow the Shahadat Din (martyrdom day) programme initially planned at 'Velivada' (Dalit ghetto) and was then shifted to the campus premises on the eve of the first death anniversary of research scholar Rohith Vemula.While the students we-re not allowed to come out of the campus, outsiders who reached the varsity to participate in and express solidarity with the programme were not allowed entry by the police, citing High Court orders. Police erected barricades to stop outsiders from entering the campus. There was pushing and jostling between po-lice and protestors, leading to tension for a while.Activists of Aam Admi Party (AAP), Ambedkar Students' Association (ASA), Students Islamic Organisation (SIO), Osmania University Joint Action Committee and other student groups were among those who gathered at the main gate.
SLAMABAD: Four months after Pakistan blocked Hindi films in its cinemas in a tit-for-tat after Bollywood banned Pakistani artists following the attack on the Army post in Uri, the government in Islamabad moved to allow their screening with PM Nawaz Sharif announcing a committee to look into demands of local theatre owners who are bleeding financially . Members of the panel led by information minister Maryum Aurangzeb include Irfan Siddiqui, PM's adviser on national history and literary heritage, commerce secretary and an intelligence officer. The terms of reference of the fourmember panel were not mentioned in the notification issued on Monday, but according to the amended law, the PM can allow import of films.
Amid reports of rebellion by several BJP leaders after being denied tickets for the assembly polls, the Congress has hinted that it will not hesitate to "induct" the opposition dissidents into party fold or "help" them in the election.Congress leaders, including chief minister Harish Rawat and PCC president Kishore Upadhyay, have, however, clarified they will not encourage any defection in the opposition ranks.Interestingly, the ruling party has been at the receiving end of defection politics so far, with 11 of its MLAs switching loyalty to the BJP in the last eight months.
NEWS 18/1/17 WORLD
DAVOS, Switzerland: Chinese President Xi Jinping offered a vigorous defence of globalisation and free trade in a speech at the World Economic Forum in Davos on Tuesday, which underscored Beijing's desire to play a greater global role as the United States turns inward.
Likening protectionism to "locking oneself in a dark room" to protect from danger, but at the same time depriving the room of "light and air", he cautioned other countries against pursuing their own interests at the expense of others.
Xi did not mention Donald Trump in his speech of nearly an hour but many of the messages he sent seemed directed at the US president-elect, who campaigned for the White House on pledges to protect US industries from foreign competition and levy new tariffs on goods from China and Mexico.
A Nigerian air force fighter jet on a mission against Boko Haram extremists mistakenly bombed a refugee camp on Tuesday, killing more than 100 refugees and aid workers, a Borno state official said.Military commander Maj. Gen. Lucky Irabor confirmed an accidental bombardment in the northeastern town of Rann, near the border with Cameroon, saying "some" civilians were killed.
Facebook chief executive Mark Zuckerberg took the witness stand in Dallas federal court on Tuesday and denied an allegation by a rival company that the virtual-reality technology of Facebook's Oculus unit was stolen.Zuckerberg, the founder of one of the world's largest companies, faced hours of tough, public questioning about where Oculus obtained its ideas and how much he knew about the startup when Facebook bought it for $2 billion.A jury is hearing evidence in a civil lawsuit brought by videogame publisher ZeniMax Media Inc against Oculus in 2014, in the middle of the Facebook-Oculus deal. ZeniMax said that Oculus unlawfully used its intellectual property to develop the virtual-reality system that includes the Rift headset.
Irbil, Iraq: Iraqi forces have captured the Mosque of the Prophet Younis, or Jonah, after driving Islamic State group militants from a new neighborhood in eastern Mosul, a spokesman said on Tuesday, and the U.N. said that nearly 150,000 people have been displaced since the operation started in mid-October.The mosque was among dozens of historical and heritage sites destroyed by IS militants after their June 2014 onslaught, forcing Iraqi security forces to withdraw and seizing areas in northern and western Iraq.The site is believed to be the burial place of the prophet Jonah, who was swallowed by a whale in stories from both the Bible and the Koran. It was built on an archaeological site dating back to the 8th century B.C. and attracted religious pilgrims from multiple faiths around the world.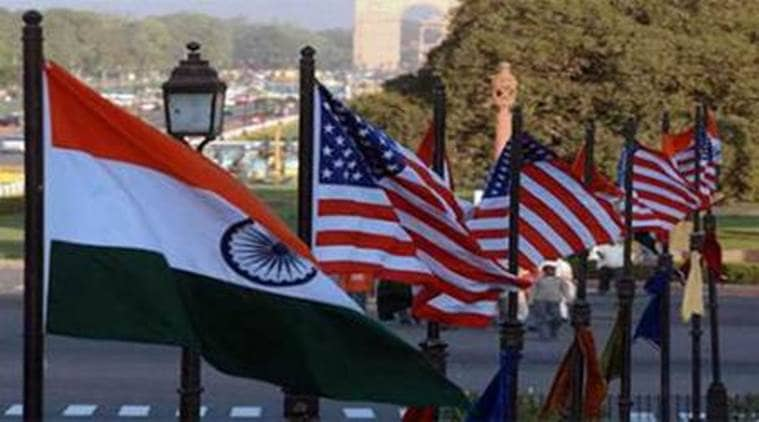 WASHINGTON: With the US and India making "progress" over the commercial and financing aspects of their civil nuclear agreement, the Obama administration is hopeful that a deal for a nuclear power plant in India under the landmark pact could be announced by the end of this year.
"What remains (of the civil nuclear agreement) is the actual commercial deal to be negotiated and the financing to be negotiated. That I think is moving forward," Assistant Secretary of State for South and Central Asia Nisha Desai Biswal said.
Read our previous news posts
Comments
comments