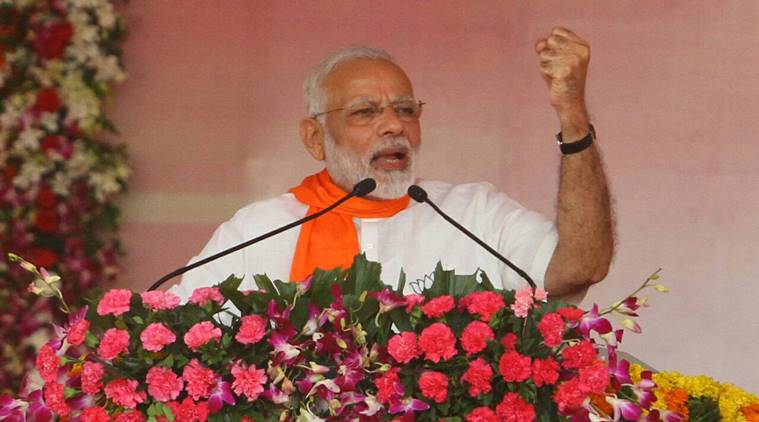 News 16/10/2017
In poll-bound Gujarat, PM Modi tears into Congress, says 'development politics' will triumph over 'dynasty', Kicking off election campaigning in poll-bound Gujarat, Prime Minister Narendra Modi on Monday dared the Congress to contest the forthcoming assembly elections on the development plank, insisting that "development politics" will reign supreme over "family rule". "These elections are about Vikasvaad versus Vanshvaad. I am sure Vanshvaad will be defeated," Modi while addressing a massive rally organized by the state BJP to celebrate the conclusion of the saffron party's 'Gujarat Gaurav Yatra'.
7 Lok Sabha byelections soon, Even as the result of the Gurdaspur Lok Sabha by-election in Punjab was declared on Sunday, by-elections to seven Lok Sabha seats in various States are expected to be conducted soon. Some of these seats fell vacant following the death of sitting members, including Peoples Democratic Party chief Mufti Mohammad Sayeed (Anantnag, Jammu and Kashmir); BJP leaders Sanwar Lal Jat (Ajmer) and Mahant Chand Nath (Alwar); Trinamool Congress leader Sultan Ahmed (Uluberia, West Bengal); and Rashtriya Janata Dal leader Mohammad (Araria constituency in Bihar).
Major fire leads to collapse of 4-storey building in West Delhi, A major fire broke out at a four-storeyed building in West Delhi's Mansarovar Garden, leading to the collapse of the whole complex today. The Delhi Fire Service received a call about a fire at the building that housed a semi-mall at around 3.45 PM today. Thirty fire tenders were rushed to control the blaze, a fire service official said. Goods in the shops of the building were gutted but no one was reported injured in the fire, he said During the dousing of the fire, the whole building, weakened by the heat, collapsed, the official said.
Kerala to become first Indian state to come out with own anti-rabies vaccine, Kerala is planning to come out with its own anti-rabies vaccine at a cost of about Rs 150 crore, probably making it the first state in the country to manufacture the vaccine directly. The vaccine for both humans and animals would be developed simultaneously at separate labs at the Institute of Animal Health and Veterinary Biologicals (IAH&VB) at Palode near here, under the state Animal Husbandry Department. State Animal Husbandry Department Director N N Sasi said the vaccines would be developed using advanced cell culture technology. With this, the state government would be the first in the country to manufacture anti-rabies vaccine directly, department sources claimed.
Internal spat to the fore in AIADMK, Days ahead of the AIADMK stepping into its 46th year, internal bickerings have surfaced once again even as top leaders of the party called for unity to save the government. On Sunday, party coordinator and Deputy Chief Minister O. Panneerselvam and joint coordinator and Chief Minister Edappadi K. Palaniswami recalled attempts by "some people" to get the government dissolved. "We have crushed attempts by some who contacted our political opponents and tried to dissolve the government. We are also watching attempts by those who are making new political connections and trying to dissolve the government," they said in a letter to the cadre ahead of the founding day on October 17.
Out on bail for rape-cum-murder, man sodomises 10-year-old in heart of UP city, Four months after being released on bail for sexually assaulting and killing a minor boy, a 19-year-old youth was arrested on Sunday afternoon for allegedly sodomising another 10-year-old in the city's posh public works department (PWD) colony. Pawan Maurya, a resident of PWD colony, allegedly lured the young boy to a discreet location on the pretext of giving him a mobile phone and sodomised him. The matter came to light when the survivor narrated the ordeal to his family, following which an FIR was registered at the Kotwali police station. He was booked under section 377 of the IPC and section 4 of the Protection of Children from Sexual Offences (POCSO) Act, 2012.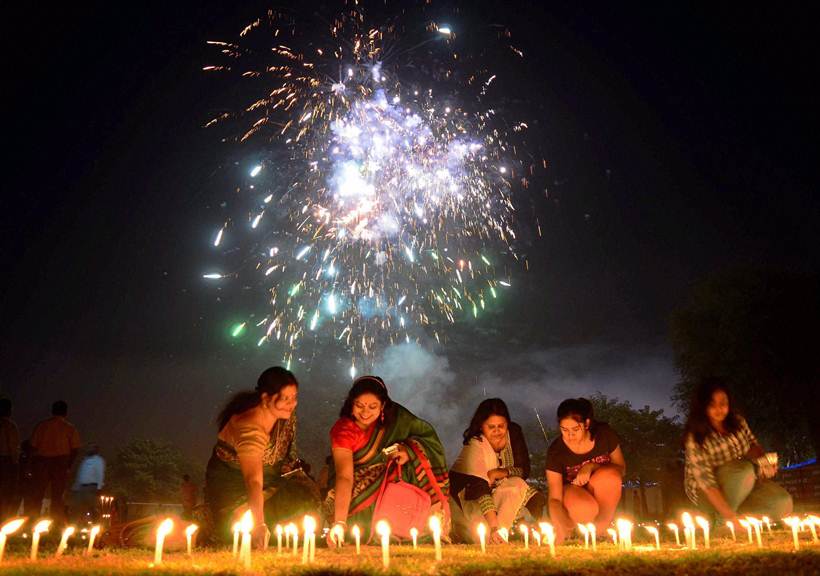 Diwali-Dhanteras bonanza: Online shopping, e-gifts to light up Diwali this year, An increasing number of Indians are turning to their smartphones for Diwali shopping and sending money and gifts to loved ones this festive season, a study by SwiftKey (part of Microsoft) today said. According to the study by the keyboard app provider, more than two-thirds (70 per cent) of respondents who polled said they will make most or all their Diwali-related purchases via their mobile devices this year. Also, 36 per cent said they plan to also gift money using their smartphone during the festival, while 30 per cent said they are opting for virtual gift sharing.
Falling tariffs may dent wind power industry profits, With wind power tariffs hitting a new low of ₹2.64 per unit in the second competitive auction for wind by the Centre, the profitability of wind turbine manufacturers are at risk, experts say. The tariff is almost 24% lower than the 3.46 per unit discovered at the first-ever competitive wind power auction held by the Centre in February this year. Tamil Nadu, which was the first State to go for competitive bidding for wind power for 500 MW in August, discovered a tariff of 3.42 per unit. Gujarat is also looking to take the competitive route for sourcing wind power.
Onion, tomato prices shoot to Rs 40 per kg, spinach Rs 30 per bunch, Rising food prices have dampened public sentiment ahead of Diwali. Rates of onion and tomato have risen to Rs 35-40 per kg, a frugal bunch of spinach costs Rs 25-30 and coriander is off the table as a few measly sprigs are being sold for Rs 15-20 on average. "In a short span of 7 days, onion has come to cost Rs 35-40 per kg as against the normal average of Rs 15-20," said Mulund resident Ajit Sen. Tomato, which has been causing grief over the past four months, is selling for Rs 40 in Khar, Andheri and Ghatkopar. At LBS Market in Matunga, vendors like Manoj Gupta are selling tomato for Rs 50 per kg.
World News
Five dead, dozens missing as Rohingya boat sinks in Bangladesh, At least five people were killed and dozens left missing today after a boat packed with Rohingya refugees fleeing Myanmar's Rakhine state for Bangladesh sank in a river that separates the two nations, a border guard official said. The tragedy is the latest to hit Rohingya escaping what the UN has called "ethnic cleansing" by Myanmar authorities. Nearly 200 people have died in around a dozen boats sinkings since the Rohingya influx began in late August after attacks my Muslim militants triggered what the Myanmar military has labelled "clearance operations".
South Korea, US begin naval drills, South Korean and United States troops have begun five days of naval drills amid North Korea's renewal of its threat to fire missiles near the American territory of Guam. South Korea's navy has said the drills that began Monday in the waters off the Korean Peninsula involve fighter jets, helicopters as well as 40 naval ships, including the aircraft carrier USS Ronald Reagan.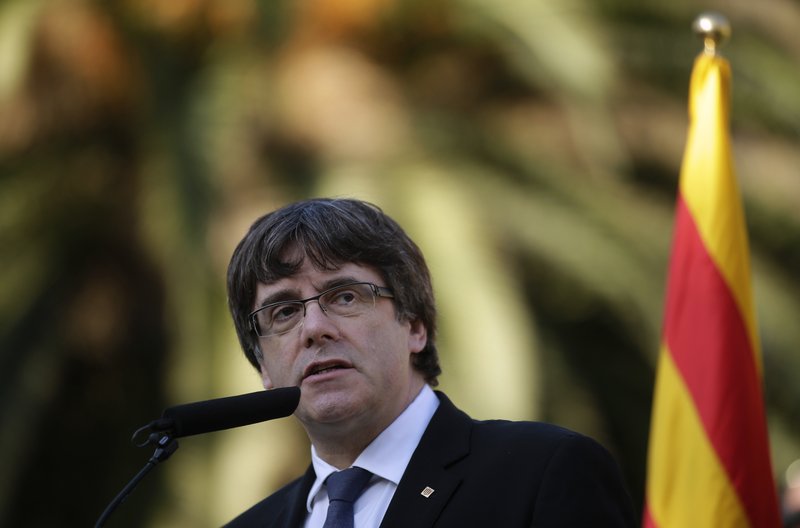 Catalan leader's letter doesn't clarify independence status, Catalonia's leader called for dialogue with Spain and a meeting with the country's prime minister, complying with a Monday deadline to respond to a request from the central government to state explicitly whether the regional president had declared independence. But Carles Puigdemont's letter, released about two hours before the deadline was set to expire, didn't clarify whether he indeed had proclaimed that Catalonia had broken away from Spain. The central government had explicitly asked him to respond with a simple "yes" or "no" to that question.
Syrian town struggles to cope alone after key victory over Islamic State, Almost three years after Kurdish fighters defeated Islamic State in the Syrian town of Kobani, residents still mourn the dead and feel abandoned by their foreign allies as they struggle to rebuild. Islamic State's defeat in predominately Kurdish Kobani in early 2015 helped turn the tide against the ultra-militant group and marked the start of a more open U.S. military relationship with the Kurdish YPG militia. But much of the town near the border with Turkey was destroyed, leaving it facing a huge reconstruction challenge and in need of help from the allies that had supported the fight to defeat Islamic State, including the United States. Electricity still works only a few hours a day and regularly cuts out. The internet, using a Turkish communications signal, is expensive and unreliable.
Xi's "four comprehensives" to steer 19th Party Congress, In the footsteps of the first generation of leaders, Chinese President Xi Jinping is set to highlight his template — the "four comprehensives"— during the upcoming once-in-five-years conclave of the Communist Party of China (CPC). Mr. Xi's four comprehensives, aired and elaborated during his first term in office, provide the theoretical foundation of achieving China's two strategic goals. The first is to build a "moderately prosperous society" ahead of 2021 — the centenary of the CPC. The second is to build an advanced socialist society by 2049 when the People's Republic of China (PRC) completes 100 years of its formation.
Read previous news posts
News 04/10/17
News 03/10/17
Comments
comments