New BMW 7 Series
The 2016 BMW 7 Series sets a new benchmark in lightweight design, driving dynamics, comfort, intelligent connectivity and intuitive operation. The extensive use of carbon-fiber-reinforced plastic (CFRP) in the structure of the passenger cell and the strategic application of lightweight design reduce weight and increase both the overall torsion strength and bending stiffness of the passenger cell. The all-new BMW 7 Series will be introduced in the US as a 740i and a 750i xDrive model featuring BMWs newest and groundbreaking technologies such as Gesture Control, Wireless Charging and the standalone option of the Display Key. An Active Kidney Grille will also be available for the first time in the US. The all-new BMW 7 Series once again sets the standard for luxury performance, delivering the highest level of driving refinement in the premium class.
Key Function
A high-tech key fob with a digital screen sounds and is pretty neat, but the BMW 7-Series' new Display Key has an even neater feature, as it allows you to use it as a remote control to parking your car while standing outside!
In yet another sign that advanced gadgets and features from halo cars quickly trickle down to more pedestrian models, the G11 – short wheelbase / G12 – long-wheelbase 7-Series becomes the second BMW after the exotic i8 hybrid sports coupe to get a key fob that has more in common with your mobile phone and/or smart watch than with a traditional key.
Where it differs from the i8 is that the 7's new Display Key also governs BMW's world first Remote Control Parking (RCP) feature, which in simpler terms, is an autonomous parking system that allows the driver to move the car forwards into or in reverse out of a parking space while standing outside.
About New BMW 7
Groundbreaking Carbon Core passenger cell
World's first Gesture Control
Active Kidney Grille and Air Breather
Now offering the optional 7 inch Touch Command Tablet
The All- New Display Key as a standalone option
Offering standard Wireless Charging and WiFi Hotspot
The new iDrive 5.0 with touch screen technology
Panoramic Sky Lounge LED roof, Ambiance Lighting, LED Light Carpet
Largest HUD in the industry
Class leading performance and luxury
 BMW 7 Series Technology
The new 2016 BMW 7 Series is on the cutting edge, on both the inside and outside. Under the hood, new engineering techniques offer near-perfect performance, while the interior has one of the most enjoyable rides of all time.
Performance technologies are state-of-the-art on the 2016 model, including carbon-fiber materials, a lower center of gravity, and a powerful TwinPower Turbo engine. A class-leading 445 hp motor gives the 7 Series astonishing speed, capable of doing 0-60 in 4.3 seconds. Plus, lightweight parts and turbocharging mean it's more fuel efficient than ever.
Inside of this vehicle, drivers will have optimum control thanks to systems like the iDrive 5.0. This feature has a gesture-control system and touches command tablet, helping you navigate the BMW's extensive, yet easy to use, computer systems. Plus, Adaptive Mode Control lets you choose between Comfort, Sport, and ECO PRO, keeping you in command.
Naturally, luxury options are a must. Features like a Panoramic Sky Lounge LED roof provide beautiful ambiance and lighting, while an innovative 16-speaker Bowers & Wilkins Surround Sound system gives maximum clarity and breathtaking audio.  The new BMW 7Series truly is one of the most advanced models in the industry.
Specfications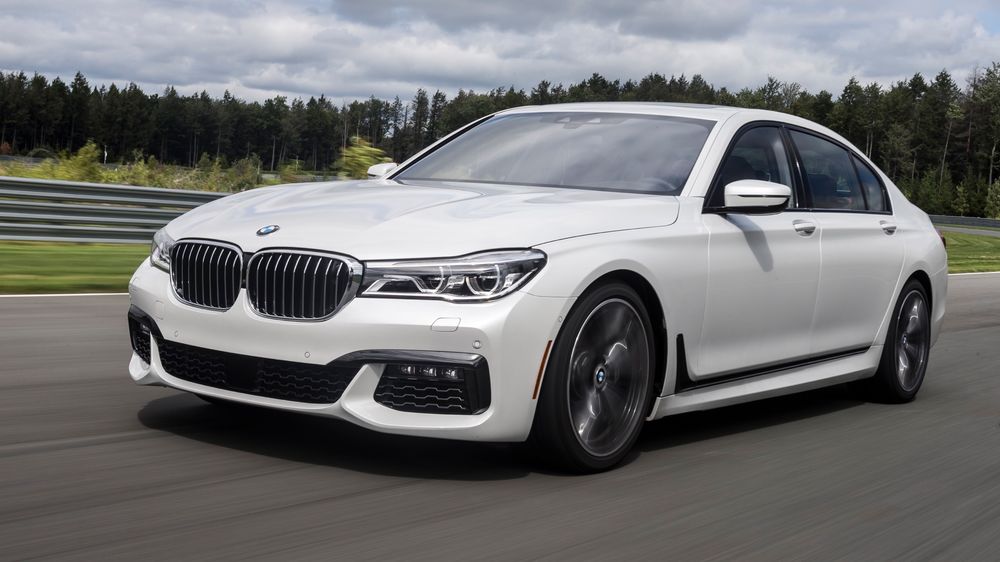 Length x Width x Height 5219x1902x1481 mm
Ground Clearance 152 mm
Kerb Weight 1950-2035 kg
Wheel Type and Size 18-19 inch alloys
Boot Space -NA-
Engine Type/ Displacement 4.4 L TwinTurbo V8 petrol 3.0 L Straight Six diesel
Power 450 bhp 262 bhp
Torque 650 Nm 620 Nm
Top Speed 250 km/h 250 km/h
Acceleration (0-100 km/h) 4.7 s 6.2 s
Transmission (Gearbox) 8-speed AT 8-speed AT
Mileage 5.8 kmpl 11.1 kmpl
Interior Design
The cabin space of the new 7 Series is exquisitely pure luxury. Every detail caters to comfort, well-being, and convenience. From the performance enhanced M Sports exterior and interior package to the lavish Pure Excellence package, this car accommodates to almost every demand of a relaxing ride.
Climb inside and the only big design change to the dash is a new freestanding sat-nav/infotainment screen in both the smaller standard item and 10.2-inch Professional option. ConnectedDrive services include innovative new "interactive traffic sign updating", the world first. It's also a touchscreen for the first time, combining with the iDrive rotary controller, and a new gesture control system that debuts on the flagship.
In the back seat, it is all about laying back and enjoying the ride like a boss that you are. The Executive Lounge with Touch Command offers electrically adjustable massage chair with Active Seat Ventilation, 4 zone control, and headed armrest. A 7-inch Touch Command Tablet provides various comfort functions at a few easy swipes, and it serves as an entertainment device for music and internet browsing.
Exterior Design
The exterior design of the new BMW 7 Series is focused on dynamic proportions, elegance, and elements of contemporary-classic outlines. From the flow of the chrome-plated window lining to the same glossy chrome trim that stretches along the side of the car from the side fenders, this car boasts elegance. LED Headlights and the new "L" shaped taillight features further accentuate the distinctive BMW luxury sedan look and feel.
In the versatility department, the 7 Series possesses spacious trunk capacity with hands-free Automatic Soft Close which is thoughtfully convenient for daily use and those long trips to relaxation destinations. For the outdoor enthusiasts, roof racks and bicycle holder are useful equipment fitting for a sporty lifestyle.
Colors
Imperial Blue Brillant Effect
Design
Design and equipment packages available from the launch of the all-new BMW 7 Series underline the car's extra sportiness and luxurious comfort. The exclusive appearance of the new BMW 7 Series is further enhanced by the Interior Design Package, an Alcantara headliner, deep-pile rear floor mats and fine wood inlays for the seat belt outlet covers, rear center armrest and roof grab handles in the rear.
The M Sports package enables customers to experience the dynamic driving properties of the new BMW 7 Series in greater depth. This package includes an M Aerodynamic kit comprising model-specific front/rear aprons and side skirts, plus 19 inches or 20 inch M light- alloy wheels, illuminated door sill plates bearing the M logo and accents in either light or dark chrome. M-specific details also underline the sporting character of the new BMW 7 Series in the interior. These include the BMW Individual headliner in Anthracite and the M driver's footrest.
Carbon Fiber
Before, CFRP was limited only to hoods or roof panels on high-end sporty production vehicles, or to show-off pieces such as the side mirrors, or trim panels on the console.
There's research into cheaper ways to further cut CFRP costs beyond yearly manufacturing efficiencies. The cycle time for many parts (in the final phase) is now a minute or two; it had been as much as a half-hour. If a press can turn out a CFRP part every three minutes (including fitting, pressing/curing, and removal), it could make 40,000 parts in a year for each shift; 175,000 a year if the press ran nonstop.
Polyethylene (PE) stock is being researched as a raw material and may have the potential to be 30% cheaper than polyacrylonitrile (PAN) in part because polyethylene uses less less energy in the initial (furnace) production stages. That would allow CFRP components in mainstream cars.
With BMW, the use of carbon fiber expanded from flat panels such as the hood or roof on the BMW M3 to the passenger cells on the BMW i3 EV / PHEV (photo right) and BMW i8 to the 7 Series Carbon Core components. Reports say BMW plans to drive carbon fiber components into its midsize 5 Series and then the BMW 3 Series. Were BMW to use as many carbon fiber parts in the 3 Series as the 7 Series, it would need to expand CFRP production tenfold since sales of the 3 Series are more than a half-million vehicles yearly. If BMW manages to get carbon fiber into a wide range of models and it shows a safety advantage, it could also be a sales advantage for the period where it's an offering unique to one brand.
2016 BMW 7-Series Safety
front side airbags
rear-seat side airbags
knee airbags
front-seat active head restraints.
BMW also fits a rearview camera and parking sensors to assist drivers in keeping the 7-Series clear of parking-lot trouble.
Features
The Driver Assistance Plus Package adds surround-view cameras and a forward collision warning system with automatic emergency braking. The surround-view cameras can now show not only a top view but also a 3-D View mode, as well as a Panorama View showing side traffic in front and behind the vehicle. The Driver Assistance Plus Package II goes even further, with adaptive cruise control and the active lane-keep assist, Side Collision Avoidance, and Traffic Jam Assistant. The adaptive cruise control and Traffic Jam Assistant allow for semi-autonomous driving, following cars ahead and providing steering assistance to keep the car in its lane.
Engine
The 2.0-liter turbocharged petrol engine is the same unit powering the BMW 225i Active Tourer, the facelifted 330i and the MINI Cooper John Cooper Works. Based on the B48 engine family, the powerplant generates 258 horsepower and 295 pound-feet of torque. The engine is paired with an eight-speed automatic transmission. The 730i will, therefore, run from standstill to 62 mph in 6.2 seconds, while the xDrive version of the 730Li runs it in 6.3 seconds – just 0.8 seconds slower than the 740i's 5.5 second time.
The combined fuel consumption stands at 40.55 miles per gallon 5.8 liters per 100 kilometers with corresponding CO2 emissions of 134 grams per kilometer.
New 2016 BMW 7 Series India Price
BMW 730Ld Design Pure Excellence                 :        INR 1,11,00,000
BMW 730Ld M Sport                                           :        INR 1,19,00,000
BMW 730Ld Design Pure Excellence (CBU)      :        INR 1,40,00,000
BMW 750Li Design Pure Excellence (CBU)       :        INR 1,50,00,000
BMW 750Li M Sport (CBU)                                 :        INR 1,55,00,000
2015 vs. 2016 BMW 7 Series Differences
Interior
Much like the outside, the interior of the latest 7 Series boasts only subtle updates compared to last year's model. The most obvious change is the center display screen, which now stands up from the dashboard rather than being integrated into it, like the outgoing model's unit. Other than that, changes are subtle, but noticeable if you're a 7 Series fan. Specifically, there's a new steering wheel, a revised center control stack, a new gauge cluster and updated materials, all of which combine to make the latest 7 Series feel like an improved but not necessarily overhauled, vehicle.
Features & Technology
Although we thought the outgoing 7 Series offered virtually everything luxury car buyers could've possibly wanted, the new one has managed to improve things. Some changes aren't especially obvious, such as a new 2-axle air suspension system replacing last year's rear-only air suspension, a new wireless charging pad and carbon fiber construction allowing the sedan to save weight.
Some changes are more impressive, and they prove BMW still has some exciting tricks up its sleeve. One is the car's autonomous steering system, which can now take over for the driver and steer for 15 seconds, regardless of whether you're on a curvy back road or a busy highway. Then, there's the gesture-control system, which uses a 3D sensor to read your gestures to operate a variety of the car's features, from turning the volume up or down to changing the stereo track. While we thought the outgoing 7 Series would be hard to improve upon from a technological perspective, BMW has managed to do it.
Safety
The 7 Series hasn't been crash-tested by the federal government's National Highway Traffic Safety Administration or the nonprofit Insurance Institute for Highway Safety, but we have no doubt the luxury sedan would return excellent results in any test, as BMW's other models have all scored well, and the 7 Series offers more heft and safety features.
Speaking of safety features, there's no shortage of them in either the new or old 7 Series. Standard equipment on both models includes side-curtain airbags, several parking cameras, forward-collision alert with automatic braking, park assist, and lane departure warning. Once again, the new 7 Series offers a few additional advancements, including the semiautonomous driving feature and an optional automated parallel parking system.
Technology
For now, the 2016 7 Series lineup offers only two models: the 740i sedan and the 750i xDrive. The rear-wheel-drive-only 740i offers a 320-horsepower 3.0-liter turbocharged 6-cylinder engine, while the all-wheel-drive 750i xDrive boasts a 445-hp 4.4-liter turbocharged V8. Both cars come standard with an automatic transmission.
It's a different story with the outgoing model, as it was offered with two additional powertrains, which may eventually make their way back to the new model. Those additional powertrains were a 255-hp turbodiesel 6-cylinder in the 740Ld and a brawny 535-hp turbocharged V12 in the upscale 760. Otherwise, the outgoing 740 and 750 offered the same engine choices as the new model, though the 740 has earned a 5-hp bump for 2016.
………………………..
Comments
comments