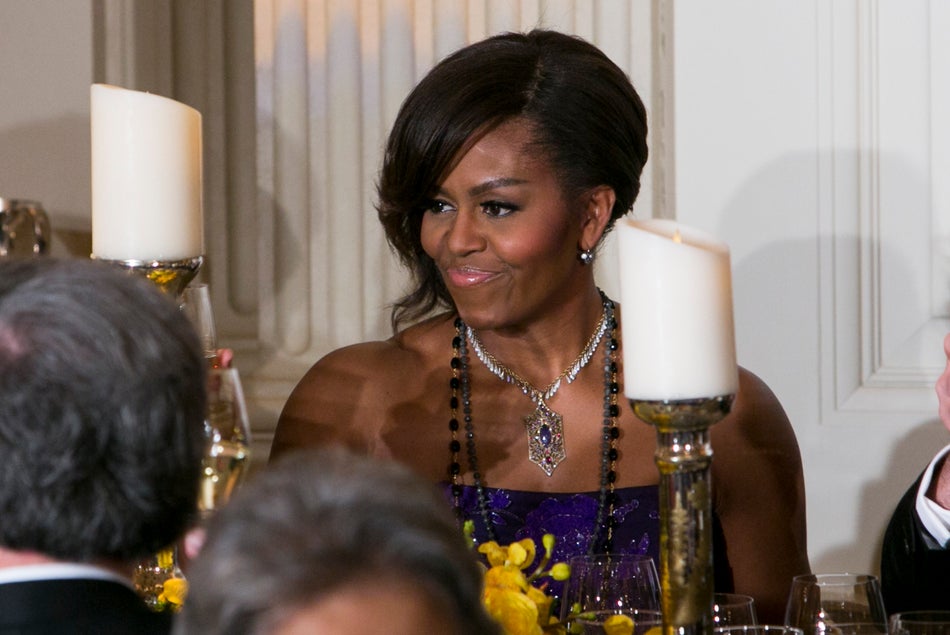 Michelle Obama's Jewelry Box
Michelle Obama's Jewelry Box
Introduction about Michelle Obama
Michelle Obama is the wife of U.S. President Barack Obama and the first African-American First Lady of the United States. A lawyer by training, she is the 44th First Lady and the third First Lady with a postgraduate degree. As an educated, intelligent, and independent minded woman, she has become a role model for women not just in America, but all over the world. Born as Michelle LaVaughn Robinson, she grew up in a middle-class family and had a conventional upbringing. She learned the values of hard work and perseverance from her father who despite being diagnosed with multiple sclerosis at a young age, never let the disease overcome his ambitions. Her homemaker mother instilled in her a reverence for family values. She was a bright girl who performed well at school and went on to graduate from the Harvard Law School. She was a successful lawyer when she met and married another lawyer, Barack Obama, and was soon juggling the roles of being a wife and mother along with being a professional. She played a major role in her husband's presidential campaigns and her responsibilities increased manifold after becoming the First Lady. In this role, she has focused on issues relating to women empowerment, children's health and education, organic food movement, and national service.
Education
Bryn Mawr Elementary School (renamed Bouchet Academy), Chicago, Illinois, 1970-1977. Michelle Robinson was such an excellent student that she was able to skip the second grade. In 1975, while enrolled in the sixth grade, she was chosen for a "gifted student" program which permitted her the chance to take advanced biology and French classes at Kennedy-King Community College.
Whitney Young Magnet High School, Chicago, Illinois, 1977-1981. Based on her academic excellence, Michelle Robinson was given the chance to attend the first "magnet" high school in Chicago, which afforded students a greater depth and breadth of study with a focus on college preparedness. As a student here, Michelle Robinson was enrolled in advanced-placement classes, was invited and joined the National Honor Society, and served as Student Council Treasurer.
Princeton University, Princeton, New Jersey, 1981-1985, bachelor's degree in Sociology, with a minor degree in African-American Studies. She worked with both the Third World Center and belonged to the Organization of Black Unity, an African-American student group. She graduated cum laude.
Harvard Law School, Juris Doctor degree, Cambridge, Massachusetts, 1985-1988. While in attendance, Michelle Robinson joined the Black Law Students Association, which often brought speaks to campus, addressing legal issues and career guidance.
Comments
comments