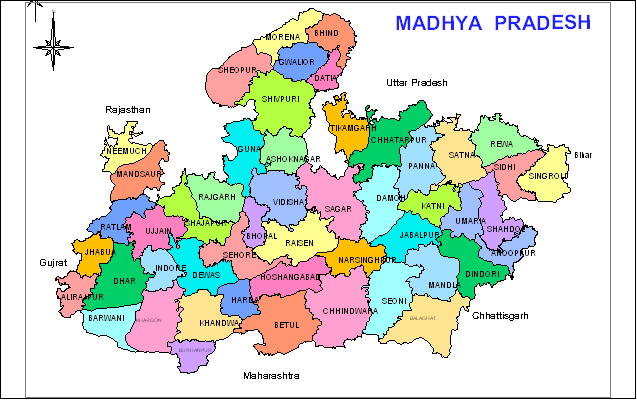 Madhya Pradesh
Overview of Madhya Pradesh
Madhya Pradesh is the India's largest state. The word Madhya Pradesh literally means central province. Geographically, Madhya Pradesh is the heart of India. Madhya Pradesh is the southernmost state of the landlocked states in India. The size of the state is so large that the time is 40 minutes ahead of the local time zone in Ramanujan, a town on the eastern border of the State and Jabhua, on the western border. In spite of its central position, it has all the characteristics of a marginal territory. The western region has been part of the north-south corridor of population movement for over 4,000 years. Some of the major towns in Madhya Pradesh are Gwalior, Bhopal, Indore and Jabalpur. Bhopal is the capital of Madhya Pradesh. Most of the people speak Hindi or some dialect of Hindi. Madhya Pradesh lies in the middle of the India, sharing its border with six neighboring states.
The northern border of the state has two neighbor states namely the state of Rajasthan and Uttar Pradesh. The western border of the state is shared by a part of Rajasthan and a part of Maharashtra with Gujarat in between. On the southern part of the state of Madhya Pradesh lie the states Maharashtra and Andhra Pradesh. The entire eastern border of the state is bounded by the states of Chattisgarh and Jharkhand.
The total geographical area the state of Madhya Pradesh covers is approximately 308,000 sq km divided among the 45 districts of the state. Forests cover a major part of the state and the cultivated area accounts to almost half of the total landmass of the state. The state covers a wide area of the Indian plateau region.
A number of significant rivers flow through this land. Thus, with the mountain ranges, rivers along with the plains, Madhya Pradesh has a varied physical feature.
List of District In Madhya Pradesh
| | | | | | | |
| --- | --- | --- | --- | --- | --- | --- |
| S.No | District | Population | Increase | Sex Ratio | Literacy | Density |
| 1 | Indore | 32,76,697 | 32.88% | 928 | 80.87% | 841 |
| 2 | Jabalpur | 24,63,289 | 14.51% | 929 | 81.07% | 473 |
| 3 | Sagar | 23,78,458 | 17.63% | 893 | 76.46% | 232 |
| 4 | Bhopal | 23,71,061 | 28.62% | 918 | 80.37% | 855 |
| 5 | Rewa | 23,65,106 | 19.86% | 931 | 71.62% | 375 |
| 6 | Satna | 22,28,935 | 19.19% | 926 | 72.26% | 297 |
| 7 | Dhar | 21,85,793 | 25.60% | 964 | 59.00% | 268 |
| 8 | Chhindwara | 20,90,922 | 13.07% | 964 | 71.16% | 177 |
| 9 | Gwalior | 20,32,036 | 24.50% | 864 | 76.65% | 446 |
| 10 | Ujjain | 19,86,864 | 16.12% | 955 | 72.34% | 326 |
| 11 | Morena | 19,65,970 | 23.44% | 840 | 71.03% | 394 |
| 12 | West Nimar | 18,73,046 | 22.85% | 965 | 62.70% | 233 |
| 13 | Chhattarpur | 17,62,375 | 19.51% | 883 | 63.74% | 203 |
| 14 | Shivpuri | 17,26,050 | 22.76% | 877 | 62.55% | 171 |
| 15 | Bhind | 17,03,005 | 19.21% | 837 | 75.26% | 382 |
| 16 | Balaghat | 17,01,698 | 13.60% | 1021 | 77.09% | 184 |
| 17 | Betul | 15,75,362 | 12.92% | 971 | 68.90% | 157 |
| 18 | Dewas | 15,63,715 | 19.53% | 942 | 69.35% | 223 |
| 19 | Rajgarh | 15,45,814 | 23.26% | 956 | 61.21% | 251 |
| 20 | Shajapur | 15,12,681 | 17.20% | 938 | 69.09% | 244 |
| 21 | Vidisha | 14,58,875 | 20.09% | 896 | 70.53% | 198 |
| 22 | Ratlam | 14,55,069 | 19.72% | 971 | 66.78% | 299 |
| 23 | Tikamgarh | 14,45,166 | 20.13% | 901 | 61.43% | 286 |
| 24 | Barwani | 13,85,881 | 27.57% | 982 | 49.08% | 255 |
| 25 | Seoni | 13,79,131 | 18.22% | 982 | 72.12% | 157 |
| 26 | Mandsaur | 13,40,411 | 13.24% | 963 | 71.78% | 242 |
| 27 | Raisen | 13,31,597 | 18.35% | 901 | 72.98% | 157 |
| 28 | Sehore | 13,11,332 | 21.54% | 918 | 70.06% | 199 |
| 29 | East Nimar | 13,10,061 | 21.50% | 943 | 66.39% | 178 |
| 30 | Katni | 12,92,042 | 21.41% | 952 | 71.98% | 261 |
| 31 | Damoh | 12,64,219 | 16.63% | 910 | 69.73% | 173 |
| 32 | Guna | 12,41,519 | 26.97% | 912 | 63.23% | 194 |
| 33 | Hoshangabad | 12,41,350 | 14.49% | 914 | 75.29% | 185 |
| 34 | Singrauli | 11,78,273 | 28.05% | 920 | 60.41% | 208 |
| 35 | Sidhi | 11,27,033 | 23.72% | 957 | 64.43% | 232 |
| 36 | Narsimhapur | 10,91,854 | 14.01% | 920 | 75.69% | 213 |
| 37 | Shahdol | 10,66,063 | 17.39% | 974 | 66.67% | 172 |
| 38 | Mandla | 10,54,905 | 17.97% | 1008 | 66.87% | 182 |
| 39 | Jhabua | 10,25,048 | 30.70% | 990 | 43.30% | 285 |
| 40 | Panna | 10,16,520 | 18.67% | 905 | 64.79% | 142 |
| 41 | Ashoknagar | 8,45,071 | 22.66% | 904 | 66.42% | 181 |
| 42 | Neemuch | 8,26,067 | 13.77% | 954 | 70.80% | 194 |
| 43 | Datia | 7,86,754 | 18.46% | 873 | 72.63% | 271 |
| 44 | Burhanpur | 7,57,847 | 19.37% | 951 | 64.36% | 221 |
| 45 | Anuppur | 7,49,237 | 12.30% | 976 | 67.88% | 200 |
| 46 | Alirajpur | 7,28,999 | 19.45% | 1011 | 36.10% | 229 |
| 47 | Dindori | 7,04,524 | 21.32% | 1002 | 63.90% | 94 |
| 48 | Sheopur | 6,87,861 | 22.94% | 901 | 57.43% | 104 |
| 49 | Umaria | 6,44,758 | 24.96% | 950 | 65.89% | 158 |
| 50 | Harda | 5,70,465 | 20.25% | 935 | 72.50% | 171 |
Madhya Pradesh District Map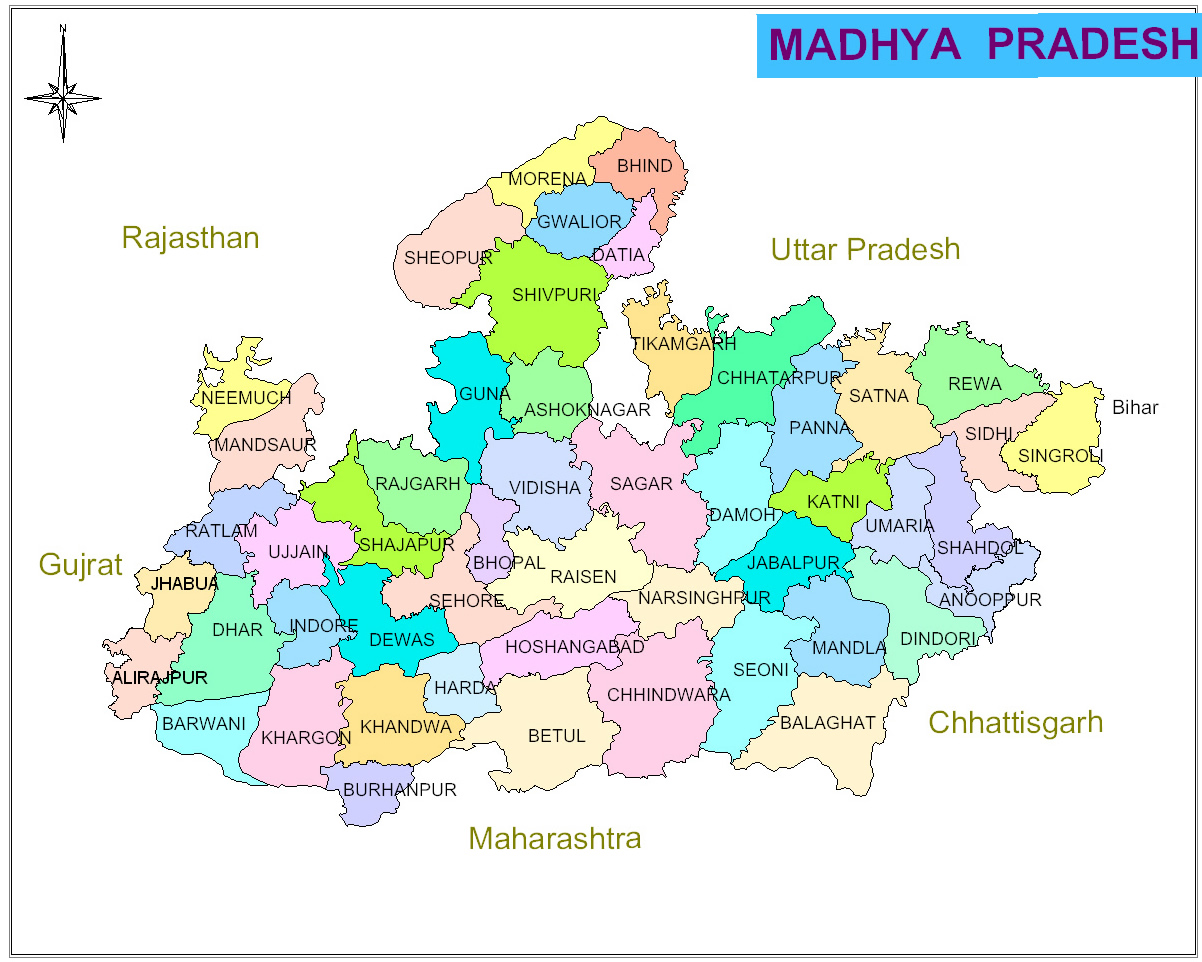 Madhya Pradesh Political Map
Madhya Pradesh Road Map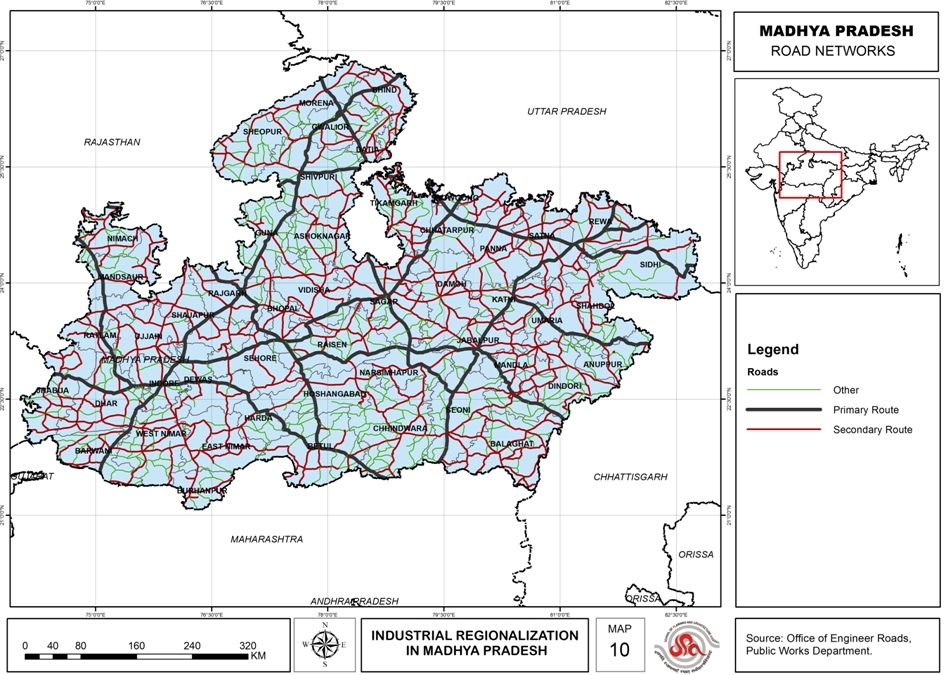 Madhya Pradesh Railway Map
Madhya Pradesh Rivers Map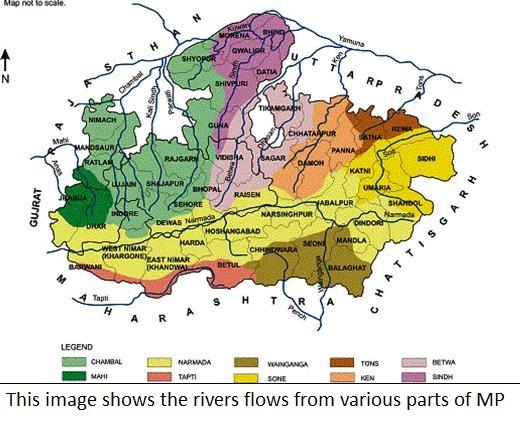 Madhya Pradesh Forest Map 
Madhya Pradesh Hydrogeology Map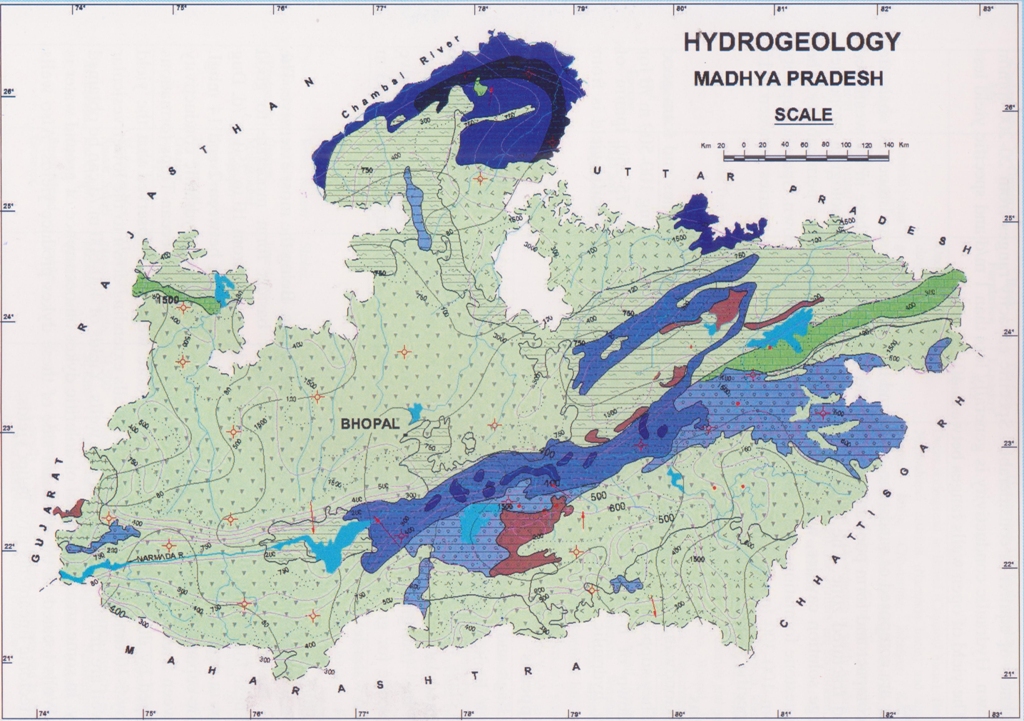 Madhya Pradesh Tourism Map
Madhya Pradesh Soil Map
Madhya Pradesh Climate Vulnerability Map
Madhya Pradesh Population Map
Madhya Pradesh Agricultural Map
Read about the maps of other states
Comments
comments