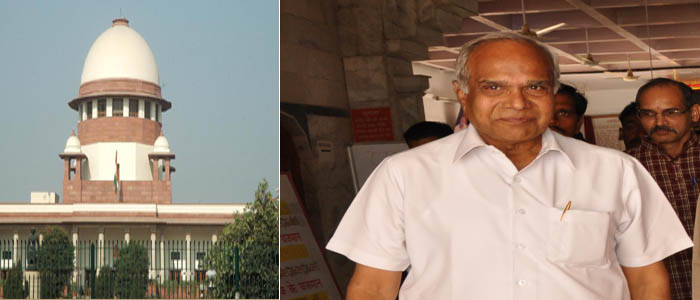 Assam Governors List
The Assam economy and development depend on the production of the state. The economy is prevalently agrarian in nature. The government makes continuous efforts to develop the already existing agrarian economy and to improve the other sectors of the economy in the state of Assam.
Almost 63 percent of the society of Assam earns its living from the agricultural sector. The state is reputed all over the world for its production of tea. The state produces 15 percent of the tea produced in the world. A large section of the labor force of the state is employed in the tea estates of Assam that cover large areas of the state. The other agricultural produce involves rice, sugarcane, pulses, potatoes, and jute. Fruits like mangoes, bananas, pineapple, and guavas are also produced in the state.
The secondary sector of the economy comprises of the industries in Assam with large and medium scale productions. Agro based industries prevail in the state coupled with the tea industry that has a major contribution to the economy of the state of Assam. Other industries include the petroleum industry with one of the oldest oil ventures of the world situated in Digby. The state also earns revenue from the mining industry that produces the four important industrial minerals of coal, limestone, sillimanite, and oil.
List of Governors
List of Governors
Sr.No.

Name of Governors

From

To

1

Muhammad Saleh Akbar Hydari

Aug 15,

1947

Dec 28, 1948

2

Ronald Francis Lodge

Dec 30, 1948

Feb 16, 1949

3

Sri Prakasa

Feb 16, 1949

May 27, 1950

4

Jairam Das Daulatram

May 27, 1950

May 15, 1956

5

Saiyid Fazal Ali

May 15, 1956

Aug 22, 1959

6

Chandreswar Prasad Sinha

Aug 23, 1959

Oct 14, 1959

7

Satyavant Mallannah Shrinagesh

Oct 14, 1959

Nov 12, 1960

8

Vishnu Sahay

Nov 12, 1960

Jan 13, 1961

9

Mallannah Shrinagesh

Jan 13, 1961

Sep 7, 1962

10

Vishnu Sahay

Sep 7, 1962

Apr 17, 1968

11

Braj Kumar Nehru

Apr 17, 1968

Dec 7, 1970

12

Justice P. K. Goswami

Dec 8, 1970

Jan 4, 1971

13

Braj Kumar Nehru

Jan 5, 1971

Sep 18, 1973

14

Lallan Prasad Singh

Sep 19, 1973

Aug 11, 1981

15

Prakash Chandra Mehrotra

Aug 12, 1981

Mar 28, 1984

16

Justice T. S. Mishra

Mar 29, 1984

Apr 15, 1984

17

Bhishma Narain Singh

Apr 16, 1984

May 11, 1989

18

Harideo Joshi

May 12, 1989

Jul 26, 1989

19

Justice Anisetti Raghuvir

Jul 27, 1989

May 1, 1990

20

Justice Devi Das Thakur

May 2, 1990

Mar 16, 1991

21

Loknath Mishra

Mar 17, 1991

Aug 31, 1997

22

Srinivas Kumar Sinha

Sep 1, 1997

Jun 4, 2003

23

Ajai Singh

Jun 5, 2003

Jul 3, 2008

24

Shiv Charan Mathur

Jul 4, 2008

Jun 25, 2009

25

K Sankaranarayanan

Jun 26, 2009

Jul 26, 2009

26

Syed Sibtey Razi

Jul 27, 2009

Dec 10, 2009

27

Janaki Ballabh Patnaik

Dec 11, 2009

Dec 11, 2014

28

Padmanabha Balakrishna Acharya

Dec 12, 2014

Aug 22, 2016

29

Banwarilal Purohit

Aug 22, 2016

Present
Muhammad Saleh Akbar Hydari
Indian civil servant

Sir Muhammad Saleh Akbar Hydari, KCIE, CSI was an Indian civil servant and politician. He was the last British-appointed and the first Indian Governor of the province of Assam.

Born: October 12, 1894

Died: December 28, 1948, Thoubal district, India

Parents: Akbar Hydari, Amina Hydari
Sri Prakasa
Indian Politician

Sri Prakasa was an Indian politician, freedom-fighter and administrator. He served as India's first High Commissioner to Pakistan from 1947 to 1949, Governor of Assam from 1949 to 1950, Governor.

Born: August 3, 1890, India

Died: June 23, 1971

Books: State Governors in India
Jairamdas Daulatram
Political leader

Jairamdas Daulatram was an Indian political leader in the Indian independence movement. After India's independence, Daulatram served as the Governor of the Indian states of Bihar and later Assam.

Born: July 21, 1891, Karachi, Pakistan

Died: March 1, 1979

Party: Indian National Congress
Satyawant Mallana Srinagesh
General Satyawant Mallanna Shrinagesh was an Indian military officer who served as 3rd Chief of Army Staff of the Indian Army from 14 May 1955 till 7 May 1957.

Born: May 11, 1903, Kolhapur, India

Died: December 27, 1977
Vishnu Sahay
Vishnu Sahay was a former ICS officer and Cabinet Secretary of India who served as Governor of Assam and Nagaland following his retirement.

Born: November 22, 1901

Died: April 3, 1989
Braj Kumar Nehru
Indian diplomat

Braj Kumar Nehru MBE, ICS was an Indian diplomat and Ambassador of India to the United States. He was the son of Brijlal Nehru and Rameshwari Nehru and a first cousin of India's first prime minister Jawaharlal Nehru.

Born: September 4, 1909, Allahabad, India

Died: October 31, 2001, Kasauli, India

Parents: Rameshwari Nehru

Children: Ashok Nehru, Aditya Nehru, Anil Kumar Nehru

Books: Nice Guys Finish Second, Thoughts on Our Present Discontents, Western Democracy and the Third World

Education: University of Oxford, London School of Economics and Political Science
Lallan Prasad Singh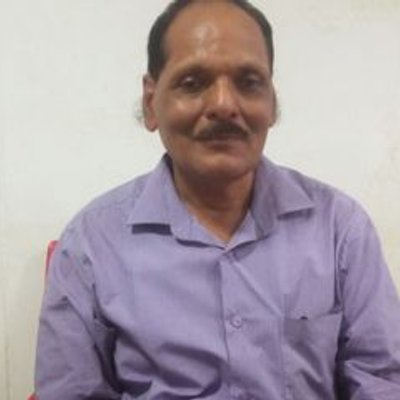 Indian secretary

Lallan Prasad Singh ICS was Governor of Assam, Manipur, Meghalaya, Nagaland, and Tripura. He was awarded Padma Vibhushan award in 1999 after his death. He was born in Buxar, Bihar, India, in 1912 and died in New Delhi on 17 October 1998.

Born: 1912, Buxar, India

Died: October 17, 1998

Books: Judicial Dictionary

Siblings: Archana Singh

Awards: Padma Vibhushan
Bhishma Narain Singh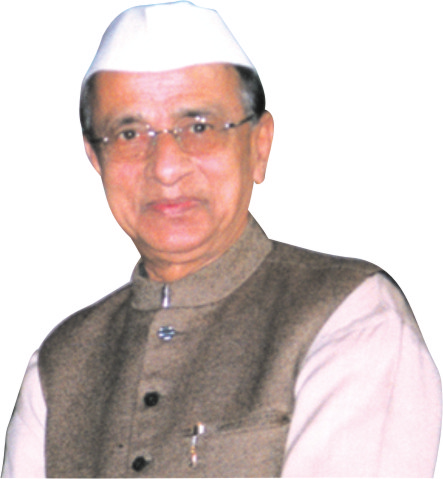 Politician

Bhishma Narain Singh is an Indian politician who served as the Governor of Assam from 1984 to 1989 and Governor of Tamil Nadu from 1991 to 1993.

Born: July 13, 1933 (age 83), India

Party: Indian National Congress

Succeeded by: Hari Dev Joshi
Hari Dev Joshi
Indian Politician

Hari Deo Joshi was an Indian politician and a freedom fighter. He was born in Khandu, a small village near Banswara, and became the leader of the Indian National Congress party in Rajasthan state in India.

Born: December 17, 1921, India

Died: 1995, Mumbai, India

Party: Indian National Congress
Devi Das Thakur
Devi Das Thakur was a former Governor of Assam. He was also Deputy Chief Minister of Jammu and Kashmir and Finance Minister of Jammu and Kashmir and a judge of Jammu and Kashmir High Court.

Born: December 9, 1929, Ramban

Died: February 3, 2007, Chandigarh, India

Children: T. S. Thakur
Lokanath Misra
Politician

Lokenath Misra was an Indian politician. He was a member of the Rajya Sabha. He was the Governor of Assam during 1991-1997 and Governor of Nagaland during 1992-1993. He died on 27 May 2009 at Bhubaneswar.

Born: November 21, 1922

Died: May 27, 2009, Bhubaneswar, India

Parents: Godabarish Mishra

Party: Janata Party

Books: Teacher Education in India: Issues and Concerns

Children: Pinaki Misra
Srinivas Kumar Sinha
Lieutenant General Srinivas Kumar Sinha, PVSM was an Indian soldier. After his retirement, he served as Governor of the states of Jammu and Kashmir and Assam. He died on 17 November 2016 at a hospital after a brief illness.

Born: January 7, 1926, Gaya, India

Died: November 17, 2016, New Delhi, India

Education: Patna University

Books: Operation Rescue: Military Operations in Jammu & Kashmir, 1947-49
Ajai Singh
Lt Gen Ajai Singh PVSM, AVSM was the Governor of Assam state in India, from 2003 to 2008. He is also the chairman of the North Eastern Council.

Born: November 20, 1934 (age 82), Rajasthan, India

Education: University of Madras

Succeeded by: Shiv Charan Mathur
Shiv Charan Mathur
Indian Politician

Shiv Charan Mathur was an Indian politician. A leader of the Indian National Congress, he was Chief Minister of Rajasthan from 1981 to 1985 and again from 1988 to 1989; later, he was Governor of Assam from 2008 to 2009.

Born: February 14, 1926, Guna district, India

Died: June 25, 2009, New Delhi, India

Party: Indian National Congress
Kateekal Sankaranarayanan
Kateekal Sankaranarayanan is the ex-governor of the Indian state of Maharashtra. He had also served as the Governor of Nagaland and Jharkhand.

Born: October 15, 1932 (age 84), Kerala, India

Spouse(s): Prof K Radha

Party: Indian National Congress

Succeeded by: C. Vidyasagar Rao

Children: 1 daughter
Syed Sibtey Razi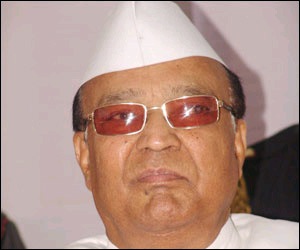 Indian Politician

Syed Sibtey Razi is an Indian politician belonging to the Indian National Congress who has been Governor of Assam since July 2009. Previously he was Governor of Jharkhand.

Born: March 7, 1939 (age 78), Raebareli, India

Party: Indian National Congress
Janaki Ballabh Patnaik
Indian Politician

Janaki Ballabh Patnaik; was an Indian politician who has been Governor of Assam since 2009. A leader of the Indian National Congress, he was Chief Minister of Odisha from 1980 to 1989.

Born: January 3, 1927, Puri district, India

Died: April 21, 2015, Tirupati, India

Spouse: Jayanti Patnaik (m. 1953–2015)

Party: Indian National Congress

Succeeded by: Padmanabha Acharya

Education: Utkal University, Banaras Hindu University
Padmanabha Acharya
Indian Politician

Padmanabha Balakrishna Acharya is an Indian politician. He was appointed Governor of Nagaland on 14 July 2014 after President Pranab Mukherjee accepted resignation of Tripura Governor Vakkom Purushothaman.

Born: October 8, 1931 (age 85), Udupi, India

Party: Bharatiya Janata Party

Succeeded by: Tathagata Roy

Residence: Raj Bhawan Nagaland
Banwarilal Purohit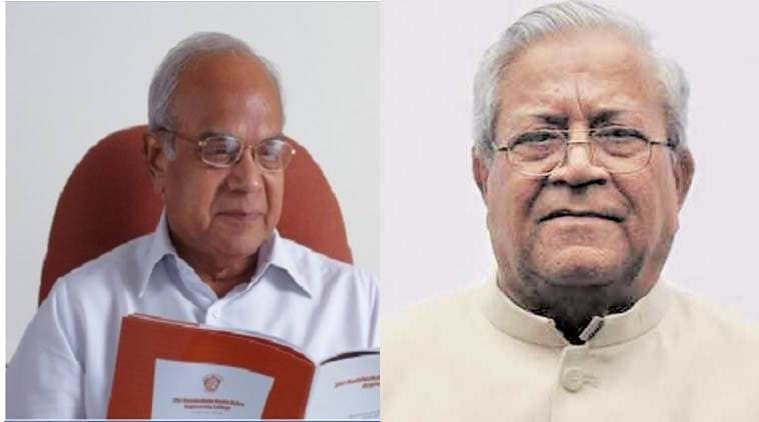 Politician

Banwarilal Purohit is an Indian politician from Vidarbha region. He was appointed as Governor of Assam State by President of India on 17 August 2016.

Born: April 16, 1940 (age 77)

Political party: Bharatiya Janata Party
Comments
comments