Assam Chief Ministers List
Assam Chief Ministers List
List of Chief Ministers of Assam
Assam
The State of India
Assam is a state in northeastern India known for its wildlife, archeological sites and tea plantations. In the west, Guwahati, Assam's largest city, features silk bazaars and the hilltop Kamakhya Temple. Umananda Temple sits on Peacock Island on the Brahmaputra river. The state capital, Dispur, is a suburb of Guwahati. The ancient pilgrimage site of Hajo and Madan Kamdev, the ruins of a temple complex, lie nearby.
Districts: 33
Capital: Dispur
Population: 30.94 million (2012)
Chief minister: Sarbananda Sonowal
Points of interest: Kaziranga National Park, Kamakhya Temple.
List of Chief Ministers
| | | | | |
| --- | --- | --- | --- | --- |
| Sr.No. | Name of Chief Minister | From | To | Party |
| 1 | Gopinath Bordoloi | Feb 11, 1946 | ,Aug 6, 1950 | INC |
| 2 | Bishnu Ram Medhi | Aug 9, 1950 | Dec 27, 1957 | INC |
| 3 | Bimala Prasad Chaliha | Dec 28, 1957 | Nov 6, 1970 | INC |
| 4 | Mahendra Mohan Choudhry | Nov 11, 1970 | Jan 30, 1972 | INC |
| 5 | Sarat Chandra Sinha | Jan 31, 1972 | Mar 12, 1978 | INC |
| 6 | Golap Borbora | Mar 12, 1978 | Sep 4, 1979 | JNP |
| 7 | Jogendra Nath Hazarika | Sep 9, 1979 | Dec 11, 1979 | JNP |
|   | President's rule | Dec 12, 1979 | Dec 5, 1980 |   |
| 8 | Anowara Taimur | Dec 6, 1980 | Jun 30, 1981 | INC |
|   | President's rule | Jun 30, 1981 | Jan 13, 1982 |   |
| 9 | Kesab Chandra Gogoi | Jan 13, 1982 | Mar 19, 1982 | INC |
|   | President's rule | Mar 19, 1982 | Feb 27, 1983 |   |
| 10 | Hiteswar Saikia | Feb 27, 1983 | Dec 23, 1985 | INC |
| 11 | Prafulla Kumar Mahanta | Dec 24, 1985 | Nov 28, 1990 | AGP |
|   | President's rule | Nov 28, 1990 | Jun 30, 1991 |   |
| 12 | Hiteswar Saikia | Jun 30, 1991 | Apr 22, 1996 | INC |
| 13 | Bhumidhar Barman | Apr 22, 1996 | May 14, 1996 | INC |
|   | Prafulla Kumar Mahanta | May 15, 1996 | May 17, 2001 | AGP |
| 14 | Tarun Gogoi | May 17, 2001 | May 24, 2016 | INC |
| 15 | Sarbananda Sonowal (Designate) | May 24, 2016 | Present | BJP |
Gopinath Bardoloi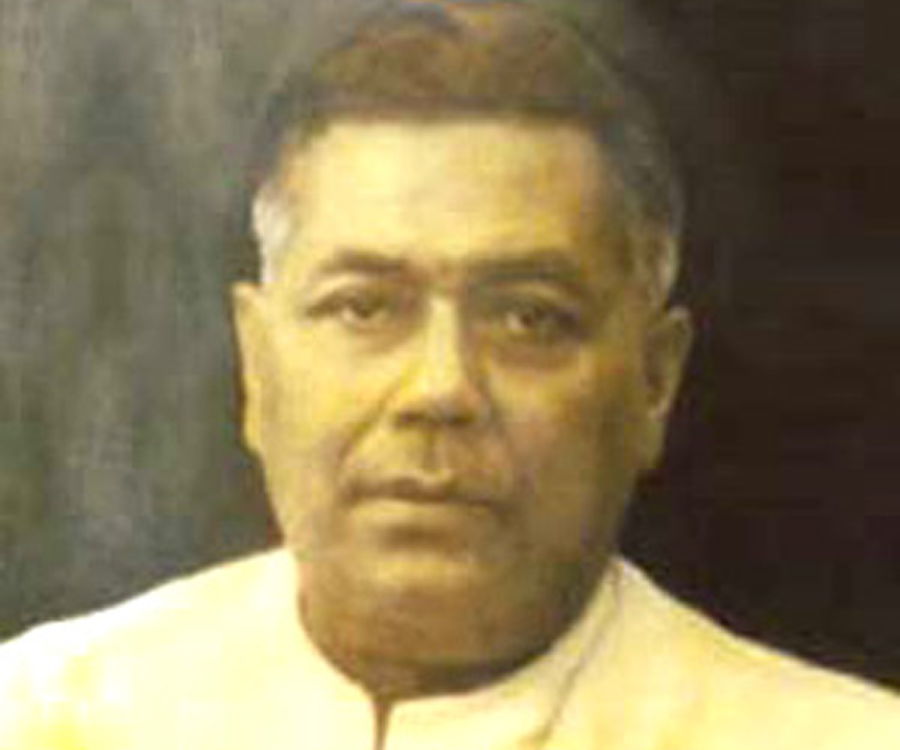 Political figure

Gopinath Bordoloi was a Prime Minister of undivided Assam before independence and later Chief Minister of the Indian state of Assam, and also a leading Indian independence activist.

Born: June 6, 1890, Raha, Assam, India

Died: August 5, 1950, Guwahati, India

Awards: Bharat Ratna

Children: Robin Bordoloi, Beeren Bordoloi

Books: Gopinath Bordoloi , Lokopriya Gopinath Bordoloi, an Architect of Modern India

Siblings: Shashikala Devi
Bishnuram Medhi
Indian Politician

Bishnuram Medhi was an Indian politician and freedom-fighter who served as the Chief Minister of Assam from 1950 to 1957 and Governor of Madras State from January 1958 till May 1964.

Born: April 24, 1888, Kamrup district, India

Died: January 21, 1981

Party: Indian National Congress

Education: University of Dhaka

Succeeded by: Bimala Prasad Chaliha
Bimala Prasad Chaliha
Elected official

Bimala Prasad Chaliha was a Leader of Indian National Congress and a freedom fighter who was put behind bar in the Jorhat Jail in 1942 for active participation in Mahatma Gandhi's call of Quit India to the British Govt.

Born: March 26, 1912

Died: February 25, 1971, Shillong, India

Party: Indian National Congress

Constituency: Sonari

Succeeded by: Mahendra Mohan Choudhry

Residence: Sivasagar
Mahendra Mohan Choudhry
Politician

Mahendra Mohan Choudhury was a freedom fighter and politician from Nagaon, Undivided Kamrup district of Western Assam. He was Chief Minister of Assam from 1970 to 1972. He also served as governor of Punjab.

Born: 1908, Nagaon

Died: 1983

Known for: Indian independence movement
Sarat Chandra Sinha
Indian Political leader

Sarat Chandra Sinha was a Chief Minister of Assam and a leader of Indian National Congress, Indian National Congress and Nationalist Congress Party.

Born: January 1, 1914, Chapar, Dhubri, India

Died: December 25, 2005, Guwahati, India

Succeeded by: Golap Borbora

Education: Cotton College, Banaras Hindu University

Political parties: Indian National Congress, Nationalist Congress Party, Indian Congress (Socialist) – Sarat Chandra Sinha

People also search for: Mahendra Mohan Choudhry, Sharad Pawar, P. A. Sangma

Organization founded: Indian National Congress
Golap Borbora
Golap Borbora was a chief minister of Indian state of Assam from 1977 to 1979. He was the first non congress chief minister of Assam. Borbora was a member of Rajya Sabha between 1968 and 1974.

Born: August 29, 1925, Assam, India

Died: March 19, 2006, Guwahati, India

Education: University of Calcutta

Party: Janata Party

Succeeded by: Jogendra Nath Hazarika
Jogendra Nath Hazarika
Politician

Jogendra Nath Hazarika also Known J.N. Hazarika was an Indian Politician.He was the Chief Minister of Assam from 9 September 1979 to 11 December 1979.

Born: 1924

Party: Indian National Congress

Succeeded by: Anwara Taimur
Anwara Taimur
Indian member of Parliament

Syeda Anwara Taimur was the chief minister of the Indian state of Assam from 6 December 1980 to 30 June 1981. She is a leader of the Indian National Congress party in Assam and a member of the All India Congress Committee.

Born: November 24, 1936 (age 80), Assam, India

Spouse: M.M. Taimur

Political party: All India United Democratic Front
Kasab Chandra Gogoi

Politician

Kesab Chandra Gogoi was a politician from the Indian National Congress who was Chief Minister of Assam for two months in 1982. He was member of the Assam Legislative Assembly from Dibrugarh constituency. He died on August 5, 1998.

Died: August 5, 1998

Party: Indian National Congress tshdvxcbx  xcbx
Hiteswar Saikia
Political leader

Hiteswar Saikia was the chief minister of Assam for two terms, first from February 28, 1983 to December 23, 1985 and then from June 30, 1991 to April 22, 1996. He was a senior leader of the Indian National Congress.

Born: October 3, 1934

Died: April 22, 1996

Spouse: Hemoprova Saikia

Party: Indian National Congress

Residence: Guwahati, India

Education: Cotton College, Guwahati (1953–1955), University of
Prafulla Kumar Mahanta
Politician

Prafulla Kumar Mahanta in Nagaon district in Assam, is an Indian Politician who was the leader of the Assam Movement, a former Chief Minister of Assam and the President of the Asom Gana Parishad, a major political party in the Indian state of Assam.

Born: December 23, 1952 (age 64), Nagaon district, India

Spouse: Jayshree Mahanta

Party: Asom Gana Parishad

Residence: Guwahati, India

Children: Shuvam Kashyap, Prajoyeeta Kashyap

Organization founded: Asom Gana Parishad
Bhumidhar Barman
Politician

Dr. Bhumidhar Barman is an Indian Politician belonging to the Indian National Congress. He was the Chief Minister of Assam from April 22, 1996 to May 14, 1996. He has been a member of the Assam Legislative Assembly being elected 7 times.

Born: October 12, 1931 (age 85), Nalbari district, India

Party: Indian National Congress
Tarun Gogoi
Indian Politician

Tarun Gogoi is an Indian politician who served as the Chief Minister of Assam from 2001 to 2016. He is a member of the Indian National Congress and led the party to a record three consecutive electoral victories in Assam.

Born: October 11, 1934 (age 82), Sivasagar district, India

Spouse: Dolly Gogoi (m. 1972)

Party: Indian National Congress

Education: Gauhati University

Books: An Indomitable Parliamentarian: Parliamentary Speeches of Tarun Gogoi, Turnaround: Leading Assam from the Front

Siblings: Dip Gogoi
Sarbananda Sonowal
Chief Minister of Assam

Sarbananda Sonowal is an Indian politician who has been Chief Minister of Assam since 2016. Previously he served as Union Minister for Sports & Youth Affairs and Minister of State for Entrepreneurship.

Born: October 31, 1962 (age 54), Dinjan

Previous office: Minister of Youth Affairs and Sports (2014–2016)

Office: Chief Minister of Assam since 2016

Education: Gauhati University, Dibrugarh University

Political parties: Bharatiya Janata Party (2011–), Asom Gana Parishad (2001–2011)

Parents: Dineswari Sonowal, Jibeswar Sonowal
Comments
comments