How to Decorate a Christmas Tree
How to Decorate a Christmas Tree
History
The first person to bring a Christmas Tree into a house, in the way we know it today, may have been the 16th-century German preacher Martin Luther. A story is told that one night before Christmas, he was walking through the forest and looked up to see the stars shining through the tree branches. It was so beautiful, that he went home and told his children that it reminded him of Jesus, who left the stars of heaven to come to earth at Christmas. Some people say this is the same tree as the 'Riga' tree, but it isn't! The Riga tree originally took place a few decades earlier. Northern Germany and Latvia are neighbors.
The first Christmas Trees came to Britain sometime in the 1830s. They became very popular in 1841 when Prince Albert  had a Christmas Tree set up in Windsor Castle. In 1848, drawing of "The Queen's Christmas tree at Windsor Castle" was published in the Illustrated London News. The drawing was republished in Godey's Lady's Book, Philadelphia in December 1850 (but they removed the Queen's crown and Prince Albert's mustache to make it look 'American'!.
The publication of the drawing helped Christmas Trees become popular in the UK and USA.
In Victorian times, the tree would have been decorated with candles to represent stars. In many parts of Europe, candles are still used to decorate Christmas trees.
Things for Christmas Tree Decoration
Tree toppers
Tree Skirts
Lights
String Lights
Star
Artificial bird
Artificial flower (choose your favorite one)
Angel
Pretty bow
Imitation holly leaves and berries
Large snowflake
Christian cross
Crown or Tiara
Ornaments & tree Decoration
Christmas stocking & holders
Wreaths & Garland
Step 1
Recognize the different species of Christmas Trees. Many people may not realize that not all Christmas tree species are created equal. Each species has its own characteristic that plays a role in how you decorate it, how long it lasts in your home and also rather or not it has a strong Christmas tree fragrance. There are three main families offered in the fresh cut Christmas tree trade. Each region or state of the United States has its own local favorites,
Consider the popular and expensive fire family. This Rose Royce or Cadillac tree family gets its name for its soft non-prickly needles. These species also have a very rich fragrance, unlike the similar spruces. Also, fir needles grow upward along the top of the branch like a hairbrush rather than in spirals. Balsams Douglas and Fraser firs are the most readily sold ones in the fresh cut tree trade but others Noble and Grand's firs are harder to find.
If someone has Christmas tree allergies consider the spruce family. These species have a faint fragrance that doesn't bother most people. This family is recognized by the needles being arranged in a spiral along the branch the Blue Spruce is the one most often seen in stores.
Step 2
Choose a tree. Your tree is your canvas, so it's important to select a good one — gorgeous ornaments can do only so much for a scraggly tree. Some people prefer the look and smell of a real pine or fir tree, while others like the reliability of a fake one.
Get a well-shaped tree. If you're getting a real tree, make sure you see it out of its netting. Look for full, evenly-spaced branches and asymmetric shape that tapers toward the top. The more branch tips the better. If you're setting up a fake tree and shaping the branches yourself, try to bend them so that you can't see the inches of space between each layer of branches.
Step 3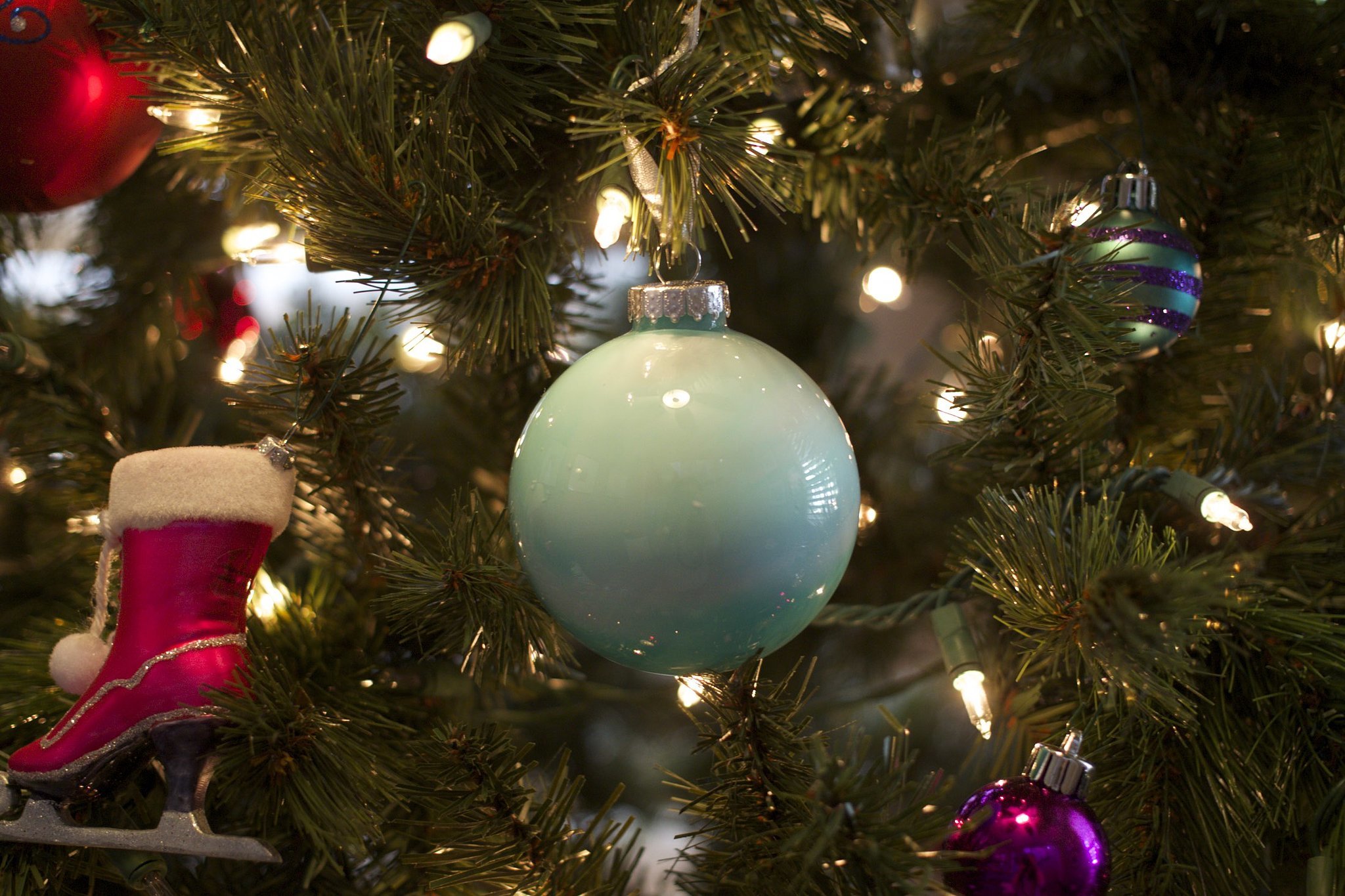 Selecting Your Christmas Tree Lights
Incandescent string lights have been the standard for years. They're inexpensive and come in a variety of styles and colors.
LED (light-emitting diode) lights give off brilliant white light and feature bulb covers in various shapes and colors. LED string lights cost more than incandescent string lights, but they're 85% more energy-efficient and can last up to 40 holiday seasons. Plus, they don't produce heat like incandescent bulbs, so they remain cool to the touch.
White lights draw attention to the ornaments on your tree and provide a classic, elegant look to your tree.
Colored lights create a festive look and conjure memories of childhood. Try colored lights for a throwback look.
Step 4
Pick a color scheme. Sticking to one color scheme will make your tree look cohesive and complete. Keep in mind that you might want to choose something that doesn't clash with the room the tree is in and that you might have to concede some space for childhood or heirloom ornaments that clash with the rest of the tree.
Classic Christmas colors, red and green. Accent the green tree with red ornaments, garlands and ribbons. If you want to add some pizazz with one metallic color, try gold or silver. Red, green or clear lights would work best with this style.
Process
1.Hang the lights first. The lights go first so that you don't see wires all over the other decorations on the tree which is not a pretty sight. Putting up strands of lights can be the most labor-intensive part of decorating a tree. Do it right, though, and it'll make your tree look more magical than anything else you could do to it. Follow these tips for maximum light-stringing success:
2.String the lights from top to bottom, pushing them partway into the branches to hide the cord.
Space them evenly. If you're not sure how even the lights look, step 10 feet (3.0 m) away from the tree and squint your eyes. Take note of any particularly bright or dark spots.
3.Put up garlands or ribbons. If you were to put the ornaments before the garlands and ribbons there's a chance that the garland can get caught in an ornament hook and make that ornament fall. Once your lights are up, you can wrap your tree with anything else that should go on beneath the ornaments.
4.Add a topper. Putting on the topper before the ornaments might seem crazy, but think of it this way: you don't want to be calling "Timber!" on a tree loaded with precious glass ornaments if something goes wrong.
5.Garland – If you want to use garland, make sure and add it before you hang any ornaments. Start at the top of the tree and work your way down. Drape garland unevenly and without form for a casual look, or layer it in equal loops for a more formal appearance. Ribbon, beaded, or metallic garland all look great. Pick the one that goes best with your theme.
6.Ornaments – Start by hanging your favorite ornaments first. Scatter these throughout the tree in prominent places. Then fill in with something like red or green balls to fill in the rest of your tree. Be sure to balance ornaments by size too. You don't want one side of your tree to end up with all large or small ornaments. Don't hang ornaments on the tips of branches. Layering ornaments throughout the whole tree will create depth.
7.Enjoy the Christmas
Comments
comments