Golu – the festival of dolls
This festival is mostly celebrated by the people of South India. It's celebrated for a period of nine days. These days are called the Navarathri that means nine days. Navaratri is a time when many homes in the southern states of India—parts of Tamil Nadu, Andhra Pradesh, Karnataka, and Kerala—feast on colours, light, music, and food. Visitors are greeted with gleaming dolls, colourful Kolam (Rangoli; that is, floor decoration), lighted lamps, and traditionally dressed women and girls chanting slokas and singing. Traditionally, all family members participate in creating the durbar or assembly of Goddess Durga, which contains a multitude of idols of gods, goddesses, men, animals, and businessmen. This is presented in every house in the form of Golu. It is a festive occasion where everyone has a role to play, from the young children to the grandparents.
Arrangement of the dolls
On the first day of Navaratri, following Ganapathi pooja, a welcoming ritual is performed for goddesses Saraswati, Parvati and Lakshmi by Hindu ritual called Kalasa Avahanam which is performed by an elderly male or female of the family. This is then followed by building a rack of odd-numbered shelves of Kolu (or Padi) (usually 3, 5, 7, 9, or 11), set up using wooden planks. After the Kolu has been covered with fabric it is then adorned with various dolls, figurines, and toys according to their size, with the deities at the top.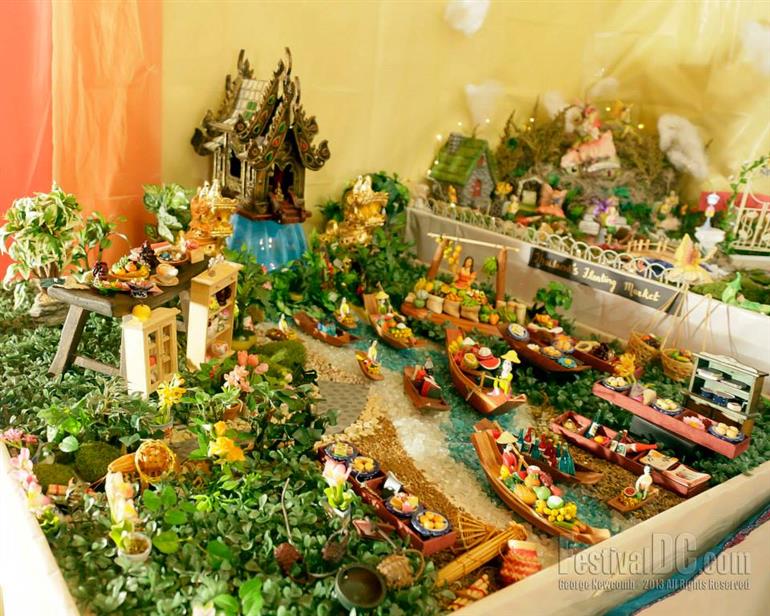 On the auspicious day of Amavasai (no moon), the Navaratri preparations start by setting up the steps, decorating the homes and temples, and lighting the streets. The nine days of Navaratri start the next day and end on the tenth, which is called Vijayadasami (day of victory). Prayers, lamps, sundal, and sweets are offered to the goddess with Aarti (prayerful singing) on all nine days. The ninth day is celebrated with Saraswathi pooja (worshipping the goddess of knowledge and learning). On a ninth day, books and musical instruments are offered along with the Golu. Ayudai pooja (worship and thanksgiving to tools and implements and vehicles) is performed. All kinds of vehicles (such as buses, cars, and trucks) and tools (such as water pumps, chisels, hammers, ploughs) are thanked. The tenth day is the day of victory—an auspicious day to start new ventures and journeys, and a day to start learning new skills.
Significance of the nine days
The first day of Navratri is devoted to the childish unmarried girl or Kumari. Devi Parvati is worshipped on the second day of Navratri because she epitomises blossoming woman and the third day of Navratri marks reverence of the fierce form of Goddess Durga called Kali. The forthcoming three days are dedicated to the rites and rituals of Goddess Lakshmi, the bestower of fortune, opulence, riches and successfulness. The remaining three days are dedicated for the adoration of Goddess Saraswati. It is believed Goddess Saraswati confers her devotees with discernment and intelligence.
The ninth day is celebrated with Saraswathi pooja (worshipping the goddess of knowledge and learning). On a ninth day, books and musical instruments are offered along with the Golu. Ayudai pooja (worship and thanksgiving to tools and implements and vehicles) is performed. All kinds of vehicles (such as buses, cars, and trucks) and tools (such as water pumps, chisels, hammers, ploughs) are thanked. The tenth day is the day of victory—an auspicious day to start new ventures and journeys, and a day to start learning new skills.
Later, on the evening of Vijayadasami, one of the dolls from the display is symbolically put to sleep, and the Kalasa is moved a bit towards North to mark the end of that year's Navaratri golu. Prayers are offered to thank the Lord for the successful completion of that year's Kolu and with a hope of a successful one the next year. Then the Kolu is dismantled and packed up for the next year.
Meaning of golu
G is for grand, the life you will live.
O is for orderly, a lifelong passion.
L is for the look, the way you look at life.
U is for unbreakable, your spirit is strong.
Depictions in golu
The Kolu is predominantly displayed with depictions from Puranas, court life, royal procession, Ratha-yatra, weddings, everyday scenes, miniature kitchen utensils, anything a little girl would have played with. Most of the wooden toys displayed come from traditional toy-makers in Etikoppaka, Kondapalli, Kinnal and Channapatna. It is a traditional practice to have wooden figurines of the bride and groom together, called 'Marapacchi Bommai' or 'Pattada Gombe', usually made of sandalwood, teak or rosewood and decorated with new clothes each year before being displayed on the Kolu. In southern India, the bride is presented with 'Marapacchi Bommai' during the wedding by her parents as part of wedding trousseau to initiate the yearly tradition of 'Navaratri Golu' in her new home with her husband. These dolls come as couples dressed in their wedding attire, depicting husband and wife symbolising prosperity and fertility and the start of the bride's Gollu collection. Display figurines are passed on from one generation to another as an heirloom.
Children recite slokas, sing songs and eat special dishes offered to the gods, especially the protein-rich dish called sundal (which is made of legumes) with some sweets and fruits. Women folk exchange betel leaves, betel nuts, coconuts, fruits, flowers, bangles, turmeric, and kumkum.
Every year some enthusiastic people buy some new dolls to add to the old collection but some prefer to use the old set which has been passed on to them down the generations. Decorations also vary. Some are elaborate and they build displays of mountains rivers and lakes and gardens making their golu stand really stand out. Others prefer to make it simple and traditional.
Kalasam
It consists of a vase, usually made of silver or brass, in which rice, turmeric and tohar dal is put, along with a one-rupee coin. The kalasam is complete once it's headed with a coconut and mango leaves are stuck around the mouth of the vase.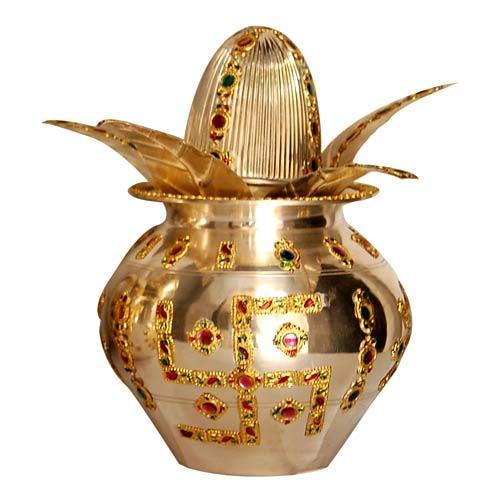 Significantly, the patriarchal set-up is manifested and perpetuated by carrying these traditions forward, wherein the husband's familial lineage has ensured a continuum.
Again, objects of significance and high auspicious value like rice and turmeric are traditionally associated with a married woman, called a 'sumangli' and granted an extremely respectable position.
Significance of golu
Golu also has a significant connection with the agricultural economy of ancient India. It is said that in order to encourage dredging and de-silting of irrigation canals and riverbeds, the Kolu celebration was aimed at raising demand for clay from such activities. There are many customs and beliefs in different parts of India that imbue sacred status to clay.
In India, the primary theme is the celebration of truth over evil. It is celebrated as Garbha-Dandiya, Ramlila, Golu and Durga Pooja in various parts of the country (explained in detail below). It is probably the most important Indian festival you have never heard of. Essentially, it is an art festival and the celebration of good over the evil.
Story behind celebrating golu
Once there lived a fierce demon named Mahishasura (meaning buffalo demon), since he was born to an asura named Rambha and a buffalo (a princess who was cursed to be a buffalo).
Mahishasura was taught  by Shukracharya, the AsuraGuru. He does penance towards Lord BrahmaDev, the creator as per the order of his guru to attain more powers.
As a result of his penance, Lord Brahmadev appeared and asked him for  his desired boon. He requested Lord BrahmaDev that he should possess all types of magical powers and from none of his creation should be the cause of his death except for a woman, thinking they are the weakest. The Creator granted him the boon, he desired for.
Then Mahishasura gathered all the demon army from all the regions, attacked and won all the three worlds including the Heaven and threw Indra out of Heaven. In fear of Mahishasura, the Devas started living incognito in forests.
the Gods kindly asked her to destroy the evil demon Mahishasura. Upon hearing Lord Vishnu giving her the name of Goddess Durga. She caused trouble for the demons by making the three worlds shake, including the heavens and hell. That shake echoed throughout the skies, and the seas trembled as the Goddess descended on earth. The Gods and sages beheld the Supreme Goddess.
Mahishsura met goddess Durga and fell for her beauty but goddess Durga asked him to fight with her and win her only then she could marry him. So they both started fighting with each other. At last, he starts a one-on-one duel with Devi. But devi pushes him off and cuts off his head and kills him with her Trident and to her fury not yet controlled, started doing Tandava on Mahisha's body and stands on the buffalo head of Mahishasura, thereby getting the name "Mahishasura Mardhini" (Slayer of Mahishasura).
It's believed that this battle continued for 9 days. On the 10th day, Devi Durga attains victory by slaying Mahishasura (win of good over bad),  which is celebrated as Navratri and Victory day was referred as "VijayaDasami" (Vijaya means Victory and Dasami refer to 10th day).
Greatness of woman
Navratri festival is about celebrating the women energy, how many forms women can take and also act as one with all the powers accumulated together.
It was women energy, which had to come together to destroy a Rakshas(demon) called Mahishasur. Maa Durga was created by powers of all goddesses to kill Mahishasura.
Since women never fight battles, Mahishasura thought no one can beat him, because of his boon, which is 'no death by any man'. But to his surprise, women power concentrated to prove him wrong and to show the world to not to underestimate women and nine powers of Goddesses are worshipped each day/night for nine days and 10th day we worship the collective power of Durga Devi and conclude the Navratri festival.
Women, as passive as they can be, but once challenged, no one can assimilate their power. So be careful, thoughtful and mindful while dealing with women.
Preparation of sundal for Golu
Ingredients:
1 cup chickpeas / kabooli channa, soaked overnight
2 tbsp grated coconut
2 tsp oil
1/4 tsp mustard seeds
1/2 tsp urad dal / ulutham paruppu / husked and split black gram
2-3 dry red chillies
A few curry leaves
Salt to taste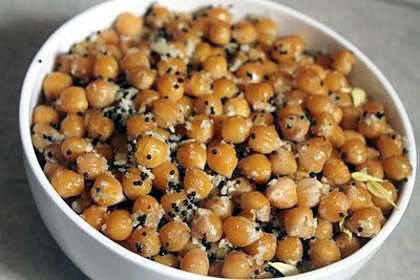 Instructions:
1. Pressure cook the chickpeas for 3-4 whistles (until it's cooked but still holds its shape). 3 whistles is a safer bit although in Singapore I feel pressure cooking takes more time.
2. Heat the oil in a pan and add the mustard seeds. When they start to pop, add the urad dal, red chillies each broken into two and the curry leaves.
3. Once the urad dal turns a golden brown, add the drained chickpeas, coconut and salt. Mix well on a medium flame for 3-4 minutes.
4. Serve warm as is or with rice and side dish.
Comments
comments