German Shepherd Dogs
The German shepherd is a breed of medium to large-sized, working dog that originated in Germany. The breed's officially recognized name is German Shepherd Dog in the English language,
Life span: 9 – 13 years
Origin: Germany
Colors: Black, Grey, Sable, Black & Tan, Red & Black, Black & Silver
Temperament: Watchful, Alert, Curious, Obedient, Loyal, Confident, Courageous, and Intelligent
Height: Male: 60–65 cm, Female: 55–60 cm
Weight: Male: 30–40 kg, Female: 22–32 kg
History
The German Shepherd is a relatively new breed, dating back to 1899, and he owes his existence to one man: Captain Max von Stephanitz, a career captain in the German cavalry with a goal of creating a German breed that would be unmatched as a herding dog.
Centuries before von Stephanitz came along, farmers in Germany, as in the rest of Europe, relied on dogs to drive and protect their herds. Some dogs were legendary for their skill, and sheepherders would travel days to breed their female dogs to a notable sire. However, as von Stephanitz noted, no one had developed the herding dogs of the region into a distinct breed.
In 1898, von Stephanitz retired from military life and began his second career, and what would prove to be his passion: experimenting with dog breeding to create a superior German herding dog. Stephanitz studied the breeding techniques of the British, noted for their exceptional herding dogs, and traveled throughout Germany, attending dog shows and observing German-type herding dogs.
Von Stephanitz saw many fine herding dogs, dogs who were athletic, or intelligent, or capable. What he didn't see was a dog who embodied all those traits.
One day, in 1899, von Stephanitz was visiting a dog show when a wolfish-looking dog caught his eye. He immediately bought the dog, named Hektor Linksrhein. Later renamed Horand v Grafeth, the dog's powerful physique and intelligence so impressed von Stephanitz that he formed a society — the Verein fur deutsche Schaferhunde — to found a breed out of Horand's descendents.
Although he had intended for his breed to work as herding dogs, as Germany became more and more industrialized, von Stephanitz saw the need for such dogs fading. He was determined that his breed would continue as a working dog, and he decided that the dog's future was in police work and military service.
Making good use of his military connections, von Stephanitz convinced the German government to use the breed. During World War I the German Shepherd served as a Red Cross dog, messenger, rescuer, guard, supply carrier, and sentry.
Although German Shepherds made their way to the United States before the war, it wasn't until the war that the breed became popular in the U.S. Allied servicemen noted the dog's bravery and intelligence, and a number of dogs went home with these soldiers.
One such dog was a five-day-old puppy plucked from a bomb-riddled kennel in France by an American corporal from Los Angeles. The corporal took the puppy home, trained him, and turned him into one of Hollywood's most recognizable four-legged stars: Rin Tin Tin, who appeared in 26 movies and helped popularize the breed in America.
Although the Allies were impressed by the German dogs, they weren't so happy with the dog's German roots. During wartime all things German were stigmatized, and in 1917, the American Kennel Club (AKC) changed the breed's name to the Shepherd Dog.
In England, the dog was renamed the Alsatian Wolf Dog, after the German-French border area of Alsace-Lorraine. The AKC went back to using the original name of German Shepherd Dog in 1931; it took until 1977 for the British Kennel Club to do the same.
Von Stephanitz stayed closely involved with the development of the breed, and as early as 1922, he became alarmed by some of the traits that were turning up in the dogs, such as poor temperament and a tendency to tooth decay. He developed a system of tight quality control: Before any individual German Shepherd was bred, he needed to pass numerous tests of his intelligence, temperament, athleticism, and good health.
American breeding of German Shepherds, on the other hand, wasn't nearly so regulated. In the United States, the dogs were bred to win dog shows, and breeders put more emphasis on looks and on the dogs' gait, or way of moving.
After World War II, American- and German-bred German Shepherds began to diverge dramatically. At one point, the U.S. police departments and military began importing German Shepherd working dogs, because homegrown German Shepherds were failing performance tests and plagued by genetic health conditions.
In the past few decades, some American breeders have begun to put the emphasis back on the breed's abilities rather than just appearance, importing working dogs from Germany to add to their breeding program. It's now possible to buy American-bred German Shepherds that live up to the breed's reputation as a capable working dog.
Physical Characteristics
The German Shepherd has a double coat, which is comprised of a thick undercoat and a dense, slightly wavy or straight outer coat. Its hair, usually tan and black, or red and black in color, is medium in length and is shed all year round. Other rarer color variations include all-Black, all-White, liver and blue.
The German Shepherd's body is long — generally between 22 and 26 inches — in proportion to its height. This gives the dog strength, agility, elasticity and long, elegant strides.
German Shepherd Temperament and Personality
The ideal German Shepherd is direct, fearless and confident. When he comes from parents who have good temperaments and has been socialized to become familiar with many different people, sights and sounds, he is an intelligent, easy to train, devoted, protective and fun-loving dog.
The German Shepherd is naturally protective of his home and property and will always alert you to strangers or intruders, but if you welcome someone into your home, your German Shepherd will accept them, too. He will also get along with other pets, especially if he is brought up with them from puppyhood. German Shepherds are smart and learn quickly that cats rule!
The German Shepherd needs a job. While many German Shepherds are raised successfully in kennel situations, these are working dogs who have demanding and interesting tasks to do that give them the needed exercise and mental stimulation.
If your Shepherd is a family companion, he needs to live indoors with your family and receive opportunities to exercise his brain such as learning tricks, helping you around the house by picking things up and bringing them to you or serving the community as a therapy dog. He will enjoy going for walks or hikes, chasing a ball, or getting involved in a dog sport. He doesn't need to live in a large house with a yard, but if you live in an apartment or condo, you must be able to give him plenty of walks or other daily exercise and opportunities to relieve himself during the day. Otherwise, he'll be lonely, bored and destructive.
German Shepherds are smart, active dogs who will do best with smart, active owners able to give them focused attention, exercise, training, and lots of one-on-one time. There are few dog breeds whose fans don't call them "intelligent," but in the case of the German Shepherd Dog, that's probably an understatement. They are extremely intelligent and famously trainable. Their intelligence means they don't suffer fools – or wimpy owners – gladly, which means consistent training from an early age is not optional. Those brains, if not put to work in constructive ways, will find plenty of destructive alternatives.
German Shepherds can also be way too much dog for even the most well-meaning of people because they were created and bred to work for many generations. Their genes tell them to be a guardian, a police dog, a guide dog, a search and rescue dog – almost anything other than a couch potato. If you aren't ready for that level of commitment, find another breed.
Many people want a German Shepherd for purposes of protection. But almost no one really needs a trained protection dog — most people or families simply need a watchdog and a deterrent. The German Shepherd's size, body language, reputation and instinctive protectiveness are all that's needed to accomplish those goals, so don't get a "trained protection dog" that you don't need and probably can't handle. A socialized, well-mannered German Shepherd who lives with his family will protect them as part of his nature. A German Shepherd will always keep you within sight and sound. He might lie at your feet or he might position himself 15 or 20 feet away from you, but he will never let you go out of view. That's part of his heritage as a herding dog. If you don't want a dog who, well, dogs your footsteps, don't get a German Shepherd.
Health
German Shepherds are generally healthy, but like all breeds, they're prone to certain health conditions. Not all German Shepherds will get any or all of these diseases, but it's important to be aware of them if you're considering this breed.
If you're buying a puppy, find a good breeder who will show you health clearances for both your puppy's parents. Health clearances prove that a dog has been tested for and cleared of a particular condition.
In German Shepherds, you should expect to see health clearances from the Orthopedic Foundation for Animals (OFA) for hip dysplasia (with a score of fair or better), elbow dysplasia, hypothyroidism, and von Willebrand's disease; from Auburn University for thrombopathia; and from the Canine Eye Registry Foundation (CERF) certifying that eyes are normal. You can confirm health clearances by checking the OFA web site.
Hip Dysplasia: Hip dyplasia is a heritable condition in which the femur doesn't fit snugly into the pelvic socket of the hip joint. Hip dysplasia can exist with or without clinical signs. Some dogs exhibit pain and lameness on one or both rear legs. As the dog ages, arthritis can develop. X-ray screening for hip dysplasia is done by the Orthopedic Foundation for Animals or the University of Pennsylvania Hip Improvement Program. Dogs with hip dysplasia should not be bred. Ask the breeder for proof that the parents have been tested for hip dysplasia and found to be free of problems.
Elbow Dysplasia: This is a heritable condition common to large-breed dogs. It's thought to be caused by different growth rates of the three bones that make up the dog's elbow, causing joint laxity. This can lead to painful lameness. Your vet may recommend surgery to correct the problem, or medication to control the pain.
Gastric Dilatation-Volvulus: Commonly called bloat, this is a life-threatening condition that affects large, deep-chested dogs like Golden Retrievers, especially if they are fed one large meal a day, eat rapidly, drink large volumes of water after eating, and exercise vigorously after eating. Bloat occurs when the stomach is distended with gas or air and then twists. The dog is unable to belch or vomit to rid itself of the excess air in its stomach, and the normal return of blood to the heart is impeded. Blood pressure drops and the dog goes into shock. Without immediate medical attention, the dog can die. Suspect bloat if your dog has a distended abdomen, is salivating excessively and retching without throwing up. He also may be restless, depressed, lethargic, and weak with a rapid heart rate. It's important to get your dog to the vet as soon as possible.
Degenerative Myelopathy: Degenerative myelopathy is a progressive disease of the spinal cord, specifically the part of the cord that communicates information to the brain regarding the hind legs. Dogs with DM act as though they don't know where their back legs are, and cannot move them properly. The disease progresses to the point the dog cannot walk. Most of the time, there is no treatment and the dog is put to sleep. However, in a few rare cases, the condition is related to a lack of vitamin-12 or vitamin E. If this is the case, vitamin supplements might stabilize the condition.
Exocrine Pancreatic Insufficiency: EPI is a genetic disease of the pancreas in which the cells that produce digestive enzymes are destroyed. As a result, the dog can no longer digest and absorb food. The first signs of the condition are gas, loss of appetite, weight loss, and change in stools. The dog becomes very thin, and very hungry. EPI is diagnosed with a simple blood test, and treatment is simple, too: pancreatic enzymes are added to the dog's food. With proper medication supervision, most dogs recover.
Allergies: Some German Shepherds suffer from a variety of allergies, ranging from contact allergies to food allergies. Allergy symptoms in dogs are similar to those in people. If your German Shepherd is scratching, licking at his paws or rubbing his face a great deal, suspect that it has an allergy and have him checked by your vet.
Care
The German Shepherd can live outdoors in cool or temperate climates, but enjoys living indoors too. Frequent training or exercise sessions are essential for keeping its mind and body active, and because the German Shepherd sheds throughout the year, its coat should be brushed once or twice a week to encourage turnover as well as to minimize buildup in the home.
German Shepherd Puppy Names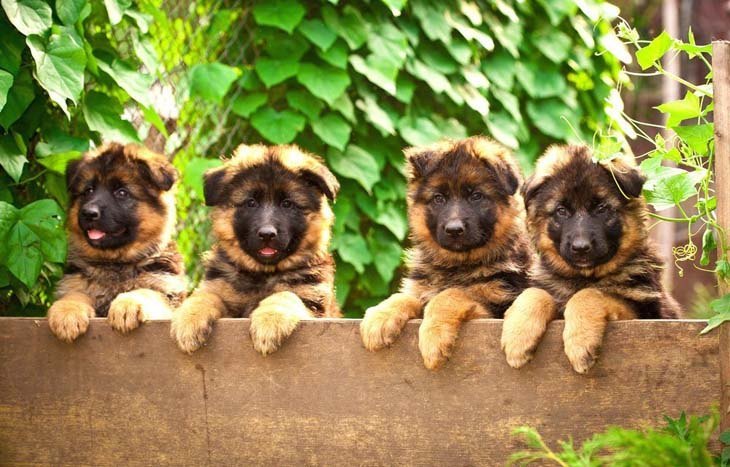 | | |
| --- | --- |
| Male | Female |
| Cooper | Maggie |
| Aztec | Lola |
| Byron | Chloe |
| Marley | Lacey |
| Justin | Azzurra |
| Jacob | Annie |
| Jack | Corie |
| Oreo | Sasha |
| Blaze | Sugar |
| Ozzy | Gracie |
Grooming
The German Shepherd Dog has a thick, medium-length double coat that sheds, a lot and constantly, so much that even his fans call him a "German shedder." The undercoat sheds heavily in spring and fall, and the German Shepherd must be brushed and bathed frequently during that time to get out all the loose hair. The rest of the year, weekly brushing is generally enough to keep him clean. If the German Shepherd is your breed of choice, purchase a heavy-duty vacuum cleaner; don't get a German Shepherd if you have allergies or are a fussy housekeeper.
The rest is basic care. Trim his nails every few weeks, as needed, and brush his teeth frequently for good overall health and fresh breath.
Feeding
Recommended daily amount: 3 to 4 cups of high-quality dry food a day, divided into two meals.
NOTE: How much your adult dog eats depends on his size, age, build, metabolism, and activity level. Dogs are individuals, just like people, and they don't all need the same amount of food. It almost goes without saying that a highly active dog will need more than a couch potato dog. The quality of dog food you buy also makes a difference — the better the dog food, the further it will go toward nourishing your dog and the less of it you'll need to shake into your dog's bowl.
If your dog starts to put on weight, cut back; if he looks too thin, add a little more. You can determine whether your German Shepherd is overweight by using the hands-on test. Place your hands on him, thumbs along the spine and fingers going down the sides. You should be able to feel his ribs beneath a layer of muscle. If you can see the ribs, he's too thin. If they're undetectable beneath rolls of fat, he needs to go on a diet.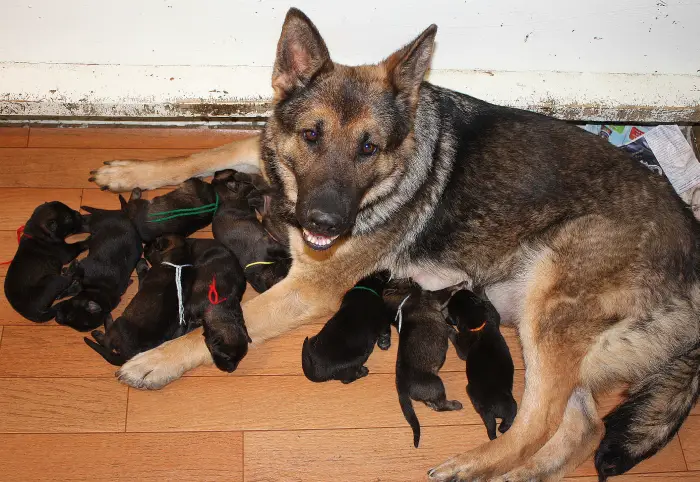 You'll need to take special care with feeding and exercising a German Shepherd puppy, however. German Shepherds grow very rapidly between the age of four and seven months, making them susceptible to bone disorders. They do well on a high-quality, low-calorie diet (22 to 24 percent protein and 12 to 15 percent fat) that keeps them from growing too fast.
And don't let your German puppy run, jump, or play on hard surfaces like pavement until he's at least two years old and his joints are fully formed. It's fine for puppies to play on grass, though, and puppy agility, with its inch-high jumps, is okay.
Overfeeding your German Shepherd and letting him pack on the pounds can cause joint problems, as well as other health conditions. Limit treats, keep him active, and serve him regular meals rather than leaving food available at all times.
For more on feeding your German Shepherd, see our guidelines for buying the right food, feeding your puppy, and feeding your adult dog.
Children And Other Pets
If he's well trained and has had plenty of exposure to kids, especially as a puppy, a German Shepherd is a great companion for children. In fact, some say he's a cross between a babysitter and a cop, both gentle with, and protective of, the children in his family.
This is a big dog, though, capable of mistakenly bumping a toddler or small child. True to his reserved nature, he's not tail-wagging friendly with kids he doesn't know, but he's generally trustworthy.
The German Shepherd can also live peacefully with other dogs and pets, as long as he was taught to do so from puppyhood. Introducing an adult German Shepherd to a household with other pets can be more difficult if the dog isn't used to getting along with other dogs or cats. You may need to hire a professional trainer to help, or get advice from the rescue organization if that's where you acquired the adult German Shepherd.
Enjoy……
Comments
comments