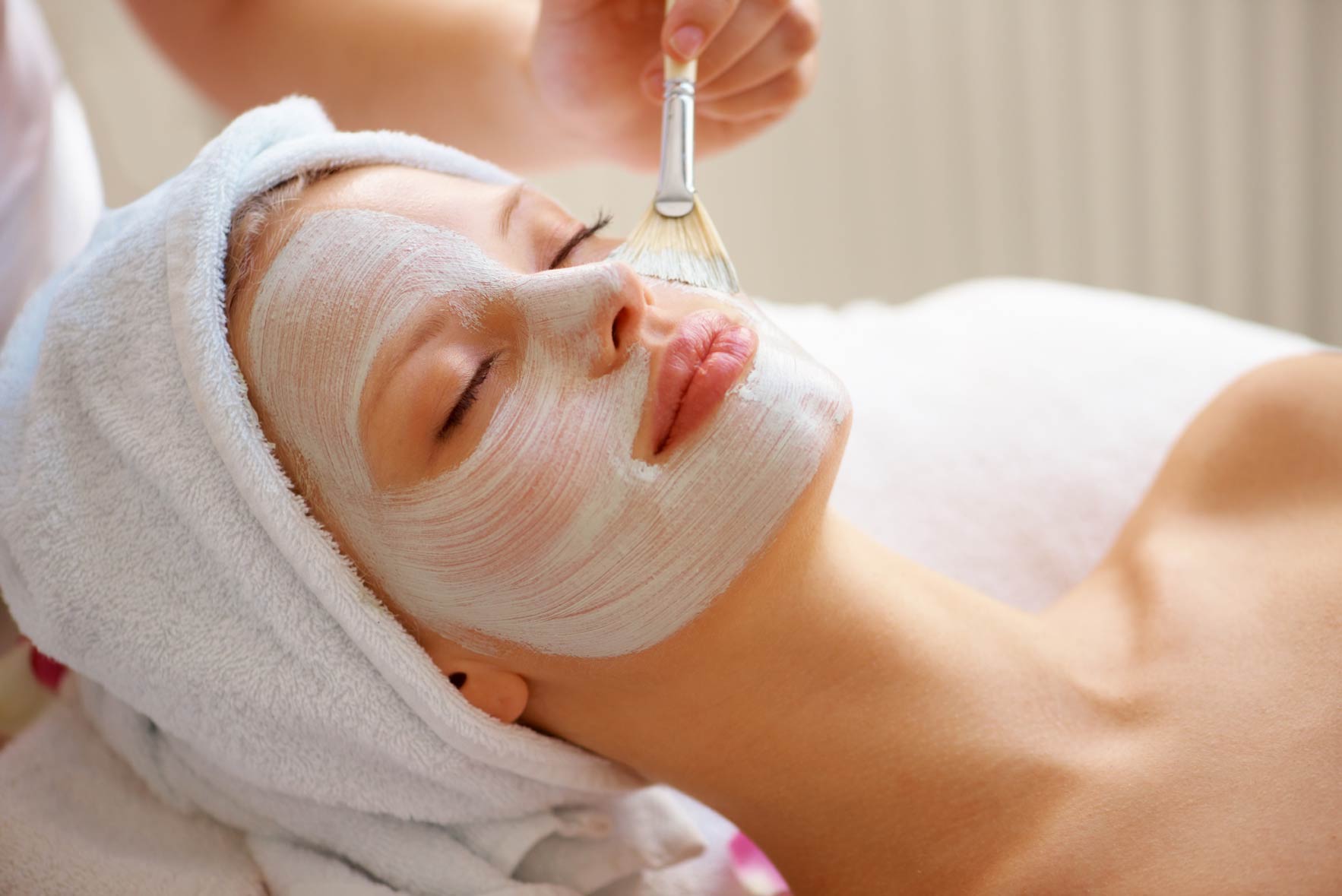 Face Packs for Glowing Skin
Face Packs for Glowing Skin
Strawberry and Milk Pack
We really don't need any reasons for enjoying these delicious red berries, but it can also be added to homemade face packs for lightening skin complexion and adding a youthful glow to the skin. Natural clear face tips are incomplete without the inclusion of strawberries into it.This face is so delicious that you might be tempted to lick it off. The juice of strawberries contains ellagic acid which is extremely effective in treating acne/pimple scars and blemishes and reducing skin damage caused by harmful UV rays of the sun. Being a rich source of vitamin C and folic acid, it helps in regeneration of new skin cells and improves the production of collagen. Enjoy skin whitening at home with this yummy natural fruit pack.
Ingredients
Ripe Strawberries-2
Raw Milk-1 tablespoon
Method
Mash the ripe strawberries to form a smooth paste, add raw milk to it and mix well. Apply this mixture on clean face and let it stay for 20 minutes, wash off with water.
Cucumber and lime juice Face Pack
Cucumber also has great skin lightning effect. It helps in healing the sunburn too. Combined with lime juice is best skin lightening face pack for oily skin
Ingredients
One tablespoon cucumber juice
One teaspoon lime juice
One teaspoon turmeric
One teaspoon glycerine (for dry skin)
Method
Mix all the ingredients and apply on your face can be applied under and around eyes also. Apply with the help of cotton balls. Leave it for 15 minutes. Wash with cold water .For best results use this face mask daily for a week. Best for oily skin. For dry skin add some glycerine .
Turmeric Face Pack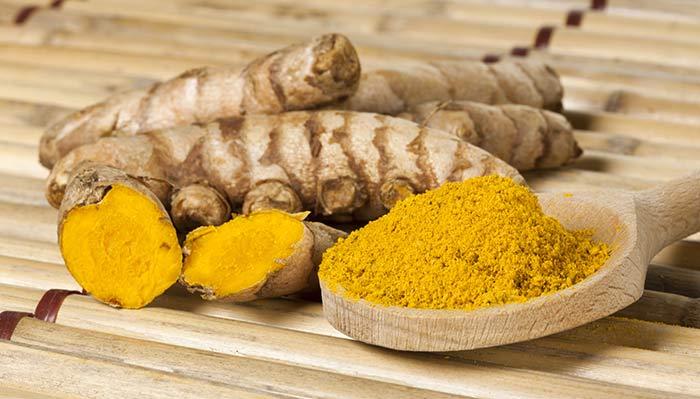 Ingredients
1/2 teaspoon turmeric powder
1 teaspoon baking powder
1-2 teaspoons rose water
Method
Mix the turmeric powder with the baking powder.
Slowly add the rose water and mix until you get a smooth paste.
Apply this pack on your face and leave it on for five minutes.
Wet your fingertips and massage your face in gentle circular motions to remove dead skin. Keep massaging for a few minutes.
Rinse with lukewarm water first and then with cool water. Pat dry.
Mint leaves Face Pack
Mint leaves are having refreshing property. Make use of the mint leaves to gain whitening skin. These are having astringent which is purifying property. Apply the mint leaves as a mask on face for 15 minutes and wash it. This will clean the skin pores, tan, and sunburns so that you can gain whitening skin.
Banana Face Pack 
Banana is best proven whitening effects on the skin. Use a banana as a mask for face to observe quick results. Take one yellow ripe banana blends it and add honey, tbsp of curd or yogurt. Mix all these and apply to face as a pack. Wash it after 15 minutes. By doing this you can gain brighten skin and relief from suntans.
Multani Mitti Face Pack 
Say goodbye to oily skin: Rich in magnesium chloride, multi mitt helps reduce acne and remove blackheads.
To a tablespoon of the multi mitt, add a teaspoon each of sandalwood powder, rose water and milk.
Mix them and apply the mixture to your face.
Leave it on for 20 minutes before rinsing off with cold water. It is gentle enough for daily use.
If your skin is susceptible to breakouts and pimples, this face pack will balance the skin's pH levels, control oiliness and reduce inflammation.Multanimitti for pimples is an effective, safe and natural solution.
Tomato and Cucumber  Face Pack
Tomatoes are one of the most common vegetables that are used widely in kitchens around the world, but we hardly know its beauty benefits. Tomatoes can be used effectively in a fairness face pack to enhance the skin tone naturally. The antioxidant lycopene present in tomatoes acts as a natural sunscreen and soothes the skin against sunburn. It helps in adding a natural glow to dull, lifeless skin. It's natural astringent properties help in reducing the size of open pores and control the excessive oiliness of the skin. Cucumber juice and pulp act as an effective natural remedy for improving the complexion by removing pigmentation, blemishes, and scars. It functions like a natural remedy for reducing cellulite and also works in lightening dark circles around eyes.
Ingredients:
Tomato- 1 Small
Cucumber-1/2 Peeled
Mash the tomato to form a smooth paste and grated the ½ cucumber and mix it with the tomato paste. Apply the paste on clean face and let it stay for 20 minutes, wash off with water
Papaya Face Pack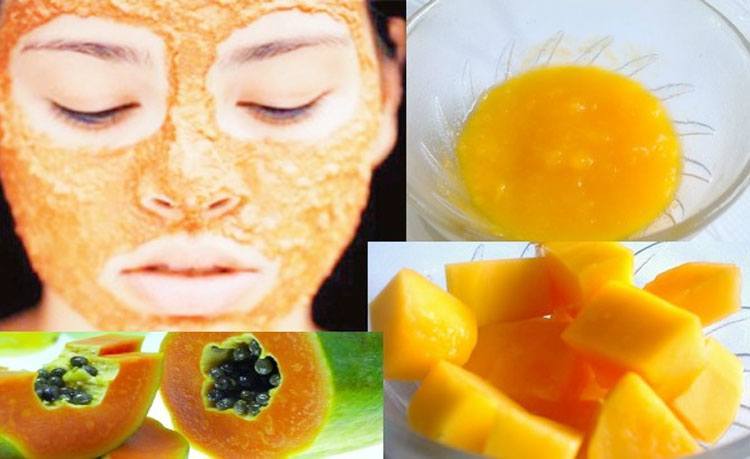 Even the ripe papaya works well to make your skin tone lighter. You must have seen variety of products that have papaya extracts. Since the natural papaya fruit has bleaching property along with variety of healthy nutrients for skin, preferring papaya for getting a fair skin tone will be ideal. Even if you eat ripe papaya once in two days, getting away from all types of skin impurities will be ideal.
You can also apply the ripe papaya over your skin by cutting it into pieces and rubbing the ripe side of it over your skin. Wait for 15 to 20 minutes till it is totally dry. Now wash your face with cold water and watch the difference. Along with fairness, you can also get a glow over your skin.
 Avocado Face Pack
Ingredients
1 ripe avocado
1 tablespoon honey
Method
Peel the avocado and remove the seed. Mash the pulp properly so that no lumps remain.
Add the honey to this pulp and mix well.
Apply this all over the face and leave it on for 10 to 15 minutes.
Rinse with lukewarm water.
Oatmeal Face Pack
Ingredients
2 teaspoons oatmeal
1 teaspoon honey
2-3 teaspoons milk
Method
Mix the oatmeal and honey with the milk to get a paste.
Apply on the face and leave it on for 20 minutes.
Rinse with water.
Yogurt and Oats  Face Pack
This is the best skin whitening face pack that acts as an effective natural remedy for removing suntan, age spots, and pigmentation. The benefits of oatmeal for health are well known, but it is also extremely beneficial for exfoliating the skin as well to remove dead cells and impurities and improving the fairness of skin. Natural, unflavored yogurt or sour curd contains high levels of lactic acid and alpha hydroxy acid that helps in moisturizing and exfoliating the skin and make it smooth and glowing. It helps in preventing the breakout of acne and pimples, and its mild bleaching properties help in correcting skin discoloration and age spots.
Ingredients:
Yogurt-2 tablespoons
Oats-1 Tablespoon
Whisk the yogurt in a glass bowl and add the oats to it, mix well and apply on face, neck and arms, massage using soft motion on a face, neck and arms for 5 minutes, leave it on for 20 minutes and wash off thoroughly with water.
Potato pulp and lemon pack
Potato juice and pulp is good for removing blemishes from the skin, lightens the skin and nourishes the skin. Lime being a rich source of vitamin C nourishes the skin from inside. It also removes hyperpisgmentation and dark circles around the eyes and face. Lemon is also a natural bleaching agent. It helps in cleansing the skin, removing dead cells and impurities and gets rid of suntan. A combination of potato and lemon is a good facepack for fairness and tan removal
Ingredients
potato 1
lemon 1
Method
Grate the potato and grind it into a smooth pulp. Then take the juice of one lemon and mix it to the pulp. Apply this paste onto the face and wash with luke warm water after 20 minutes.
Orange peel and sandalwood pack
Orange peel is a rich source of vitamin C and calcium. Vitamin C is essential for neutralising the  damages caused by harmful free radicals and oxidative stress. Its an natural remedy for removing black heads on nose. It removes sun tan and dark circles around the eyes and improves skin tone. Sandalwood is an age old remedy for skin problems used in many ayurvedic treatment. The both together forms an effective pack for skin whitening and for improving the skin tone.
Ingredients
Orange peel powder 1 teaspoon
Sandalwood powder 1 teaspoon
Method
Mix orange peel powder and sandalwood powder in a glass bowl and then add water and make a smooth consistency paste. Clean the face with wet wipes and apply the paste on the face. Wash it away after 20 minutes
Turmeric and gram flour pack
Turmeric is  well known for its health beifits and it is also a  kitchen spice. It is also auspicious and is used in many Hindu ceremonies like applying it on the bride and groom during marriage celebrations. It nourishes dry skin and removes dead cells. Besan is a time tested remedy for improving skin fairness and correcting dark patches and suntan. It keps the skin radiant and glowing. Its the best skin whitening remedy.
Ingredients
Turmeric powder 1 teaspoon
Gram flour 1 tablespoon
Raw milk 1 tablespoon
Method
Mix turmeric powder and gram flour along with milk and make a smooth paste and apply it on the face. Wash it off with water after 20 minutes.
Papaya honey face pack
We have spoken a lot about papaya above. Honey is the best facepack for dry skin. Its a good antibacterial agent and is a natural remedy for acne and pimples. It retains moisture and hence helps in moisturising dry skin and adds a natural glow to the skin.
Ingredients
Ripe papaya 1/2 cup
Honey 1 teaspoon
Method
Mash the papaya to a smooth thick paste and then add honey to it and apply it on the face. Wash it off with water after 20 minutes.
enjoy
Comments
comments