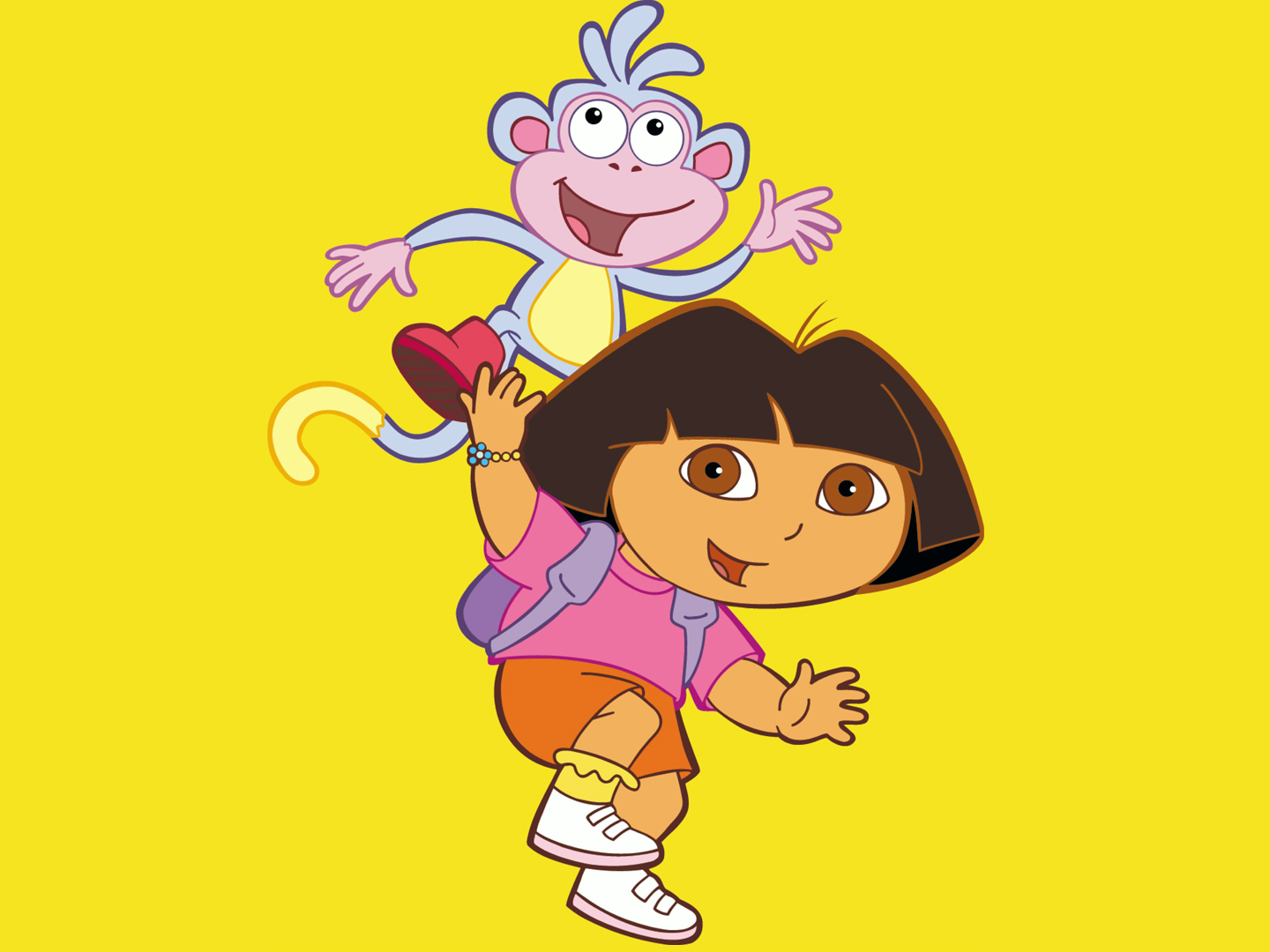 Dora Puchi
An eight-year-old courageous girl, Dora, embarks on a trip with her best friend, Boots, in order to find something that interests her.
First episode date: 14 August 2000
Networks: Nickelodeon, CBS, Nick Jr.
Program creators: Chris Gifford, Valerie Walsh, Eric Weiner
History of Dora Puchi
More than 10 years ago and after working with outside creators to come up with new ideas, Nickelodeon's Valerie Walsh Valdes and Chris Gifford were given the opportunity of a lifetime: to develop their own show. This is what they thought up: a show about a preschool girl who has a bunch of animal friends and goes exploring every day. Her name was Tess.
But the network's executives had other ideas. They had just come back from a conference which dealt with the fact that Latinos were the most underrepresented minority on television. What to do about it? Convert 'Tess' into a bilingual Latina girl called Dora. The problem? Neither Gifford nor Walsh Valdes were bilingual. So they hired a Latino writer and several Latino-savvy consultants, including Spanish language experts, and Dora the Explorer was born."We wanted to give an authentic cultural identity to the character, but also to the world around her," said Walsh Valdes, the co-creator and executive producer of both Dora the Explorer and Go, Diego, Go.
Making the character a 7-year-old bilingual Latina was Nickelodeon's response to the lack of positive Latino roles in the media.
"The idea was to make learning a second language appealing," explained Walsh Valdes. "We were trying to make that [being bilingual] into a positive, something you should be proud of."
But the idea was also to make Dora universally appealing.
"We didn't want to alienate audiences who don't speak another language, who are not bilingual," said Walsh Valdes.
Which is the reason why Dora the Explorer is not really about teaching Spanish, it's more about a little girl who goes on a different adventure in each show and happens to be bilingual in English and Spanish. However, since learning at this stage of a child's life is something fun, the creators of the show definitely take advantage of that, according to Walsh Valdes.
Preschoolers are introduced to a new Spanish word or phrase which Dora uses repeatedly throughout each particular episode. Although Walsh Valdes said they've never "claimed to be teaching Spanish," countless parents around the country credit Dora the Explorer with helping their children learn lots of vocabulary in Spanish.
The show is not only insanely popular in the U.S. – according to Nickelodeon, it's the top preschool show on all of commercial television  but also at the international level. And it might have to do with the fact that bilingualism is a pretty normal way of growing up in most of the rest of the world.
"It's not just kids who speak Spanish that identify with Dora," explained Walsh Valdes. "Other bilingual kids see themselves in her."
The co-creator of this show credits its unthinkable success to a couple of reasons. The first one is that each show presents "really great stories for that age group" – universal stories that appeal to preschoolers no matter their background. The second one is the "interactive" nature of the show. In other words, the fact that Dora always asks for the audience's help so the adventure can move along, hence the short silent period right after a question is asked.
Although my daughter, Vanessa, didn't really start "watching" TV until after she turned two – meaning it's only been about a year – I have noticed how much more motivated she is to respond to Dora's request now that she is a little older and has a larger vocabulary.
Dora's Friends
Pivotal to the television series are a number of characters that accompany Dora and assist her in her pursuits. These characters include Boots and Dora's cousin Diego, who all enjoy popularity and their own following among children.
Dora's explorations and adventures have been incorporated into interactive children's books and other sources to assist early learning and skills such as basic geography. Using Dora the Explorer as a catalyst for learning effectively engages many children.
Swiper
Swiper is a quick, sneaky fox who tries to swipe things that Dora needs to complete her quest. From delicious cookies to Boots' boot – if it's valuable, Swiper wants to swipe it. Then he hides it. Swiper serves an important curriculum role, as he always sets up our hidden picture games. Swiper is also a master of disguise and it isn't easy to catch him. In fact, the only way to stop Swiper before he swipes something is for Dora, Boots and the audience to call out, "Swiper, no swiping!" three times.
Fictional Character
Played by: Marc Weiner
Movies and TV shows: Dora the Explorer, Dora the Explorer: Super Silly Fiesta!
Explorer Star
Fictional Character
Played by: Muhammed Cunningham
Movies and TV shows: Dora the Explorer, Dora the Explorer: Super Silly Fiesta!
The Fiesta Trio
A cymbal-playing snail, an accordion-playing grasshopper, and a drum-playing frog make up this festive musical combo, who pop up to play a celebratory riff every time Dora and Boots make it past an obstacle
Tico
Fictional Character
Played by: Jose Zelaya
Movies and TV shows: Dora the Explorer, Dora the Explorer: Super Silly Fiesta!
Benny
Fictional Character
Played by: Jake Burbage
Movies and TV shows: Dora the Explorer, Dora the Explorer: Super Silly Fiesta!
Boots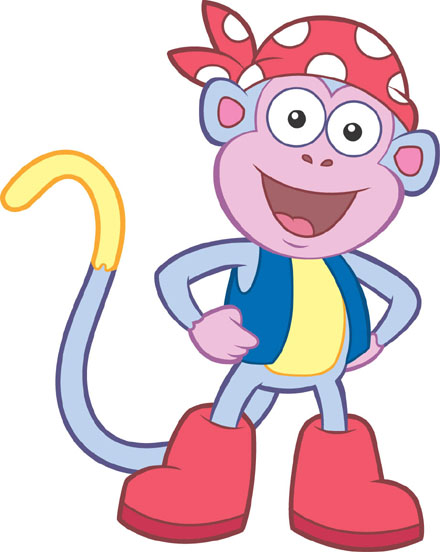 Fictional Character
Played by: Regan Mizrahi, Harrison Chad
Movies and TV shows: Dora the Explorer, Dora the Explorer: Super Silly Fiesta!
The Map
Fictional Character
Played by: Marc Weiner
Movies and TV shows: Dora the Explorer, Dora the Explorer: Super Silly Fiesta!
Backpack
Fictional Character
Played by: Alexandria Suarez, Sasha Toro
Movies and TV shows: Dora the Explorer, Dora the Explorer: Super Silly Fiesta!
Diego
He's a great partner to Dora in her adventures. He helps his parents at the Animal Rescue Centre and can even make animal noises and talk to the wild animals. You can count on Diego to run, swing and jump to the rescue of any animals in trouble.
Diego is Dora's older cousin; Dora makes several guest appearances in the series. Diego's 11-year-old sister, Alicia , is a computer whiz and also bilingual, directs the animal rescue calls that come into the center. She also assists Diego in helping the animals they love. Alicia is responsible and kind-hearted, and always kind to her little brother.
Facts about Dora
 
On Aug. 14, 2000, Dora the Explorer premiered on Nickelodeon and instantly ranked as the number-one rated preschool show on commercial television.

Dora was the first Nickelodeon Preschool character to appear online prior to making her on-air debut, on Aug. 14, 2000.

The first Spanish word taught on Dora the Explorer was azul (blue).

Dora the Explorer is broadcast all over the world, syndicated to TV broadcasters in 151 markets and translated into 30 languages.

Dora teaches Spanish in the U.S., Australia, Canada, New Zealand and Ireland, but teaches English in every other market around the world.

The inspiration for the name Dora Marquez was exploradora, the Spanish feminine word for explorer, and the acclaimed writer Gabriel García Márquez.

Every episode of Dora the Explorer is screened by at least 75 preschoolers before it airs on TV.

More than 20 educational and cultural consultants have worked on Dora the Explorer since the series premiered.

Approximately 300 people work on Dora the Explorer, and it takes over a year to produce a single episode of the show.

Dora the Explorer has been honored with awards including the Peabody, NAACP, Alma, Imagen, Latino Spirit, Gracie Allen, Parents' Choice Award, the Television Critics Association Award and 16 Daytime Emmy nominations.

In 2005, the Dora the Explorer balloon made its debut in the Macy's Thanksgiving Day Parade. Dora was the first-ever Latina character to appear in the parade.

Swiper and Map are voiced by the same actor, Marc Weiner.

Angelina Jolie and Brad Pitt helped prepare their older children for the birth of their twins by showing them an episode of Dora the Explorer where Dora's mom has twins. (Source: People magazine, Aug. 18, 2008).

Rosie Perez, John Leguizamo, Cheech Marin, Hector Elizondo, Chita Rivera, Esai Morales, Paul Rodriguez, Richard Kind, Susie Essman, Ricardo Montalban and Howie Dorough have all guest-starred on episodes of Dora the Explorer.
Read about other cartoon characters
Comments
comments