Sofa Collections
History of Sofas
Furniture is defined as movable equipment that is created to make a person's office or home more suitable and comfortable for living or working. Furniture can be used for storage, seating or sleeping. The concept of furniture first developed as early as 3100-2500 B.C. The first items created for household use were made of stone, as wood was not readily available during the Neolithic time period.
It is believed that Lord Phillip Stanhope, the 4th Earl of Chesterfield (1694-1773), commissioned the first leather chesterfield settee with its distinctive deep buttoned, quilted leather upholstery and low seat base. Aside from being a much-admired politician and writer, patron of Voltaire, the Earl was a known trendsetter. Apparently the Earl requested a local craftsman to construct a piece of furniture that would allow a gentleman to sit upright in the utmost of comfort allowing sitting without wrinkling the garment. This was the original purpose of the chesterfield sofa with its characteristic deep buttoned upholstery, rolled arms, equal back and arm height and nail head trim. There has never been any solid confirmation of this noble beginning; however, this namesake is certainly appropriate. Lord Stanhope was a noted writer of letters to his illegitimate son, extolling all method of manners and morals. The Chesterfield sofa is certainly a refined and mannerly example of seating.
Legend has it that in March 24th, 1773 when the nobleman passed away his very last words were directed to his personal butler. The old Earl didn't forget his good manners while he was in his deathbed so when a friend came to visit him he ordered to his manservant: "Give Mr. Dayrolles a chair" just before expiring. The servant took Lord Stanhope at his word and waving away protests, insisted that Stanhope's godson Dayrolles, a budding young diplomat who had come to enquire after the elderly man's health, take the armchair with him. After carrying the heavy chair back home, Mr. Dayrolles had a proper look at the chair: a magnificent piece of work in deep brown leather, indented with large, deeply set buttons. The years of wear had served to lend the item an even more attractive appearance. It was an ageless and timeless masterpiece.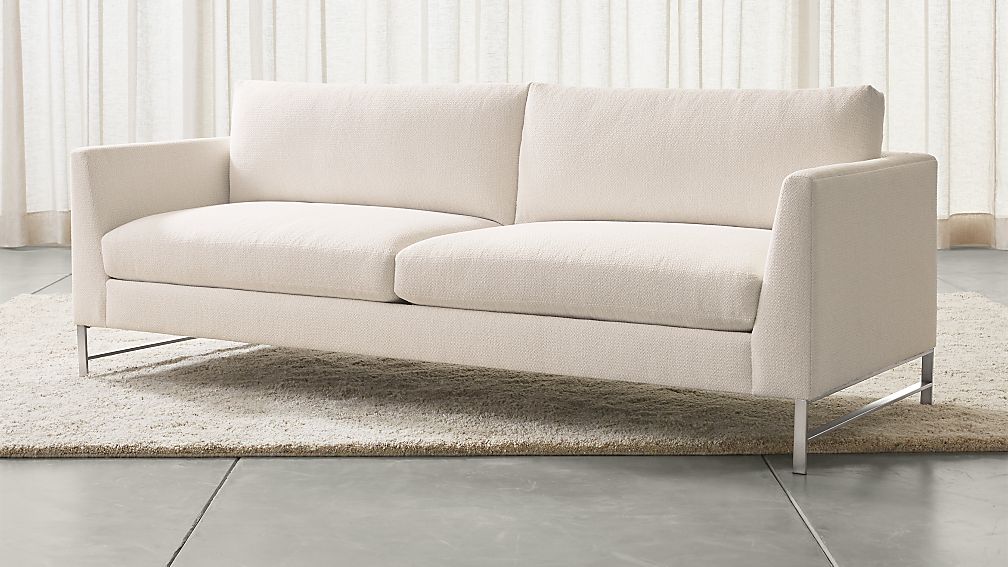 Sofas come in three major sizes. The full sofa is 84 in (2.13 m) wide. Smaller versions like the two-seater and love seat range between 60-80 in (1.52-2.03 m). Variations on the standard sofa include modular items and sofas with special uses such as daybeds or convertible sofa beds. Ornamental designs are not necessarily less durable, but they do not invite casual use. The design of a sofa can be adjusted to the use that will be made of it, and the average size of the people who will use it most. A deep seat, for instance, is good for taller people but does not easily accommodate shorter individuals. The style of a sofa is generally set by its arms, which double as artistic statements and rests. Some styles of seating furniture are known by the names of these arm designs. The overstuffed sofa is called that in the trade in order to indicate the use of more than one layer of muslin in the foundation.
[su_slider source="media: 9884,9885,9886,9887,9888,9889,9890,9891,9892,9893,9894,9895,9896,9897,9898,9899,9900,9901,9902,9903,9904,9905,9928,9929,9930,9931,9932,9933,9934,9935" height="600" title="no" autoplay="0" speed="500"][su_slider source="media: 6443,6445,6446,6447,6448,6449,6450,6451,6452,6453,6454,6455,6456,6457,6458,6459,6460,6461,6462" limit="25" link="image" width="820" height="1260" title="no" autoplay="0" speed="1000"][/su_slider]
Facts about Sofas
The word 'sofa' dates back to 2000BC Egypt and derives from the Arabic word 'suffah' (which loosely translates as 'bench').
Over it's lifespan the average sofa will host around 782 visitors. That's a lot of bums on seats!
 It will also be witness to 293 arguments, but 1,369 cuddles.
Your sofa will be used 489 times as a bed – 293 of those nights on the sofa will be the result of a domestic dispute.
 People sit on their sofa for an average of 4 hours each day.
 We find on average £1.80 in out sofas every month. That equates to nearly £180 over the sofa's lifetime
We eat 13 meals a month on our sofas – that's equates to 1,261 meals total.
The average sofa suffers 1,663 spillages over its lifetime. Wine will be spilt on it fortnightly, tea or coffee three times a week, and dinner six times a month.
If you have children, they will jump up and down on your long-suffering sofa 587 times.
You will watch roughly 782 movies whilst sitting on your sofa.
Sofa Slide Show
[huge_it_slider id="51"]