Christmas Main Dishes 
Quail Biriyani
Ingredients
For Meat Marination:
Quail/any mid-sized bird 2
Ginger-garlic paste 1 spoon(freshly prepared)
Green chili 2 minced
Scallion 1 grated
Country Tomato 1 grated
Mint 6-8 leaves bruised
Cilantro leaves bruised few
Lemon 1 fruit freshly squeezed
Rock Salt
Chili Powder 1/4 spoon
Yogurts 1/4 cup.
For Biriyani:
Short Grained Rice 2 cups
Green chilies 6 slitted
Onions 2 sliced
Tomatoes 6 chopped
Salt
Chili powder (optional…its not used generally)
Mint 10 leaves
Cilantro few leaves
Ghee 1 cup.
Spices:
Cloves 3
Cinnamon 2 sticks
Cardamom 6 crushed
Bay leaves 3 crumbled
Star anise 2
Marathi Mokku 3
Rose petal few(dried)
Birinji flower 1
Saffron few strands – tapped
Cooking Method
In a pan; add ghee fry cashew nuts until golden in color; keep aside.
Fry raisins and keep aside.
Fry one onion chopped thinly till golden crisp and keep aside.
In the drum pan add a teaspoon of ghee; spread half part of cooked rice.
Above that spread half part of ghee, lemon juice, garam masala, pepper powder, mint, coriander leaves, fried onions, nuts and raisins.
Spread quail masala on top of it and then cover it with remaining rice.
Sprinkle the remaining ghee, mint leaves, coriander leaves, lemon juice garam masala, pepper powder, onions, nuts and raisins on top.
Mix the yellow food color with rose water and spread it over the rice.Cover the lid tightly (or put a heavy weight pan on top of the lid without escaping the steams) on the stove top for 15 minutes on low flame.
Serve and open after 10 minutes.
Chicken Fry
Ingredients
1/2 kg – boneless chicken, cut into pieces
1/2 or 1 – Lime juice
1 tsp – Red Chilli powder or per your taste
2 tsp – Garlic-ginger paste
Salt to taste
Butter and oil to fry
Onion rings for serving
Cooking Method
Marinate the boneless chicken with ginger or garlic paste, lime juice, chili powder, and salt for a minimum of half an hour.
After marinating, cook the chicken till done or till the water dries up.
Then in a frying pan, take a little oil and 1 tablespoon of butter; fry the chicken pieces on slow fire and cover the pan.
Fry till slightly brown. Fry on the other side too.
Sever hot with sliced onion rings.
Durban Mutton Curry
Ingredients
500g mutton(bite size pieces)
100ml oil
1 bay leaf
3 small cinnamon sticks
1tsp fennel seeds
1 large onion chopped
1 sprig curry leave
2 tsp ginger & garlic paste
2tsp salt
¼ tsp turmeric
4 tbs masala
6 even sized potatoes
3 sprig fresh coriander (chopped dhania)
1 medium tomato
Use water if desired
Cooking Method
Heat oil and then add onion, turmeric & spices to fry for a few seconds (allow onion to soften)
Add masala, ginger & garlic allow cooking for a few seconds (do not burn masala)
Add tomato (when almost cooked stir in meat and allow to sauté)
Turn down heat and cover saucepan
Cook until meat begins to fry up
Add the curry leaves and salt
Add the water (if necessary) and potatoes
Bring to a boil, then turn down to moderate heat
Cook until meat is tender & potatoes are soft
Simmer until ready to serve
Garnish with dhania
Chicken Lollipop 
Ingredients
10 pieces chicken wings
1½ cup Panko bread crumbs
2 pieces raw eggs
¼ cup all-purpose flour
1 teaspoon salt
¼ teaspoon ground black pepper
3 cups cooking oil
Cooking Method
Divide the chicken wing into 3 parts by slicing through the joints. Set aside the wingtip for other possible uses.
Shape the wing to look like a lollipop. You should have two parts of the chicken wing by now: the one with a single bone and the one with two bones. Start by selecting the part with one bone.
Separate the meat from the bone by sliding a sharp knife around the tip of the bone where meat is still connected (do not cut through the bone).
Place the wing vertically on top of a flat surface while holding the part where the knife passed.
Gently push downward while gripping the bone with your thumb and index finger until the meat slides down.
Arrange the meat by inserting the inner part until a lollipop shape is formed. Note: Do the same procedure for the part with two bones. However, you need to first detach the smaller bone before commencing.
Season the chicken lollipops with salt and pepper and let it stand for at least 15 minutes.
Crack the eggs and transfer to a bowl then whisk.
Gradually add in the all-purpose flour while whisking until a batter is formed.
Dip the chicken lollipop in the batter then to the Panko breadcrumbs.
Heat oil in a cooking pot then deep-fry the chicken lollipop under medium heat until the color of the outer part turns medium brown (about 10 to 12 minutes).
Remove the fried chicken lollipop from the cooking pot and transfer to a dish with the paper towel. Let it stand until excess oil is absorbed by the paper towel.
Serve with your favorite dip. Share and enjoy!
Kheema Matar
Ingredients
Mutton Mince 1/2 kilogram
Green Peas boiled 1/2 cup
Olive oil 6 tablespoons
Green chili sliced 2-3
Cumin seeds 1 teaspoon
Onion chopped 2 large
Ginger paste 1/2 tablespoon
Garlic paste 1/2 tablespoon
Tomato chopped 2 medium
Salt to taste
Coriander powder 1 tablespoon
Turmeric powder 1/4 teaspoon
Garam masala 1/2 teaspoon
Fresh coriander leaves chopped 2 tablespoons
Lemon wedges to serve
Cooking Method
Heat olive oil in a pan.
Add green chilies and sauté for half a minute. Add cumin seeds and when they begin to change color, add onions and sauté till golden brown.
Add ginger paste and garlic paste and sauté for a minute. Add tomatoes and salt. Cover and cook on low heat for two to three minutes.
Add red chili powder, coriander powder, and turmeric powder and continue to cook for another minute.
Add minced mutton, sauté for two minutes, add half a cup of water, stir, and cover and cook on medium heat for fifteen to twenty minutes till the mutton is done, water has evaporated and oil surfaces on top.
Stir in the peas and garam masala powder and cook for a minute. Serve hot garnished with coriander leaves and lemon wedges.
Malabar Prawn Biriyani
Ingredients:
For prawn masala:
500 gm (40-42 pieces) Peeled Jumbo King Prawns.
To marinate the prawns:
2 tsp Kashmiri Chilly powder
1 tsp Coriander powder
1/2 tsp turmeric powder
3/4 tsp salt
8 tbs vegetable oil for frying prawns.
2 large onions chopped(2 3/4 cups, 380 gm)
2 1/2 medium size tomatoes chopped (1 1/4 cup, 290 gm)
12 cloves of garlic, grated (3 tbs)
5 green Chillies, chopped fine
3″ piece ginger, grated (60gm, 2 tbs)
1 tsp pepper powder
1 tbs lime juice
1/4 cup chopped coriander leaves
10 mint leaves,chopped
1 tsp salt, or as reqd
1 tsp garam masala.
For the Ghee rice:
3 cups Basmati rice
6 cups boiling water
salt-as required – (I used 3/4 Tbs salt)
3 tbs Clarified butter/ghee
4 tbs vegetable oil
1 large onion sliced
1 bay leaf
5 cardamom
7 cloves
4 small pieces of cinnamon sticks
1/2 Tbs cumin seeds
1/2 tbs lime/lemon juice
1/2 tsp extra garam masala to sprinkle while layering rice
Method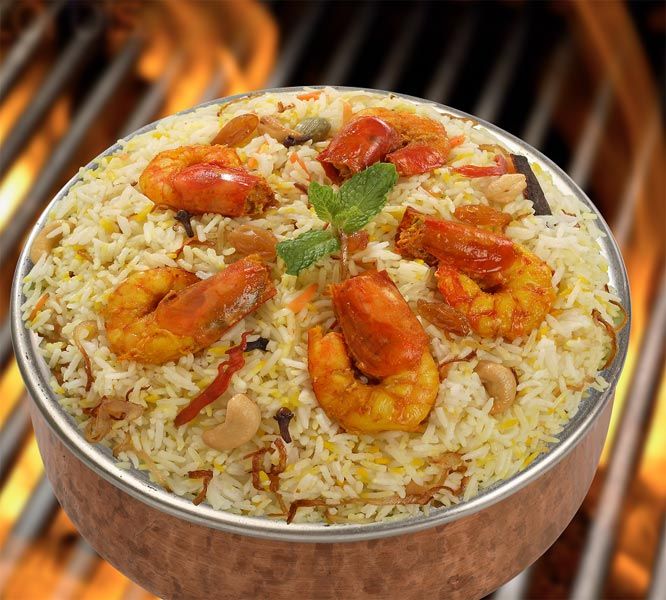 First prepare the prawn masala:
Wash the prawns, drain and marinate them in Kashmiri Chilli powder, Coriander powder turmeric powder and salt for half an hour.
Heat a large non-stick saucepan, and add the oil. When hot, shallow fry the prawns briefly, stirring then frequently for 3-4 minutes and fish them out.
In the same oil add the chopped onion,ginger,garlic and chillies along with salt and cook until the onions have become soft for about 15 minutes.
Add in the chopped tomatoes and pepper powder. Cover and cook until the tomatoes becomes soft and you get a thick gravy.
Add in the half fried prawns and cook on low flame for about 20 minutes so that the flavour of the prawn diffuse in the gravy and the gravy is thick.
At this point of time, add the chopped mint leaves, chopped coriander leaves, garam masala and lime juice. Cover and cook for another 5 minutes. remove from the fire and keep them aside.
For preparing the Ghee Rice:
Wash rice and strain off all the excess water by placing the rice in colander.
Boil water in the kettle or a large cooking vessel.
Heat another large pan to high heat and add ghee and oil. When the ghee gets hot add onions and sauté until the onions turns soft. At this stage add cardamom, cloves, bay leaves, cinnamon and cumin seeds and sauté for a couple of minutes until the aroma of the spices starts coming out. Add boiling water, lemon juice and salt to this.
When the water starts bubbling, tip in the rice slowly and cook on high heat by keeping the lid open. At this stage, you will be able to see water an inch or two above the rice.
As soon as you see that water has gone below the rice, reduce the flame to low, and cook it covered until all the rice is cooked evenly. In between you may toss the bottom part of rice and bring to top once, so that the rice gets cooked evenly. Let it cool down a bit. Then do the layering.
For layering the biryani and final cooking:
Divide the rice in 2 parts.
Take a large heavy based vessel and rub it with oil or ghee. Layer the bottom of the vessel with the first part of the rice. Sprinkle a 1/4 tsp of garam masala all over and pour prawn masala all over the rice. Tip in the second part of rice and sprinkle a good pinch of garam masala (1/4 tsp) all over again.
Cover the entire vessel with foil (to ensure that full steam stays in), then close the lid tightly. Place a weight (you can also use any vessel filled with water for this) over this vessels and cook on hob top for about 20-30 minutes at very low heat. This is to infuse the flavour of the biryani masala into the rice and this process of cooking is called 'Dum'. At this point of time u can see that all rice on top has curved up.
You can also do the layering in an ovenproof vessel and place it in a preheated oven at a very low temperature for about 20-30 minutes for the final cooking. I never tried this, but my friends do it this way.Just before serving, garnish with fried onions, cashews and raisins. Enjoy with Cucumber Raita, tomato and onion salad.
Chilli Chicken
Ingredients:
250 gms boneless chicken breast
1 egg white
1 tsp salt
4 tsp red chilly sauce
2 -3 tsp cornflour
1 tblsp soy sauce
2 tblsp tomato ketchup
1 tsp white vinegar
2 tblsp oil
1/2 tsp ginger paste
1 tsp garlic paste
1 big onion sliced long
1/2 cup capsicum (cut into big cubes)
1 -2 green chilies
Green corainder and green onion for garnish
Oil for frying
Marinate the chicken pieces in egg white, 1 tsp salt, 2 tsp red chilly sauce and 2 -3 tsp cornflour. Mix well and keep for 10 – 15 minutes.
In a bowl mix, 2 tsp red chilly sauce, soy sauce, tomato ketchup and white vinegar. Keep aside for later use.
Now heat oil for frying in a kadai/wok and fry the chicken pieces separately for 2 -3 minutes. Do not over fry otherwise the chicken will get hard. Take them out on a paper tissue.
In a separate pan heat, 2 tblsp oil and add garlic and ginger paste. Fry till golden color and then add sliced the big onion and capsicum cubes and slit green chilies. Stir fry on high flame for 2 -3 minutes.Do not over cook the vegetables. The vegetables should be crunchy.
Now lower the flame and add the sauce mixture and 1/4 cup of water.Mix well.
When slightly thick and dry, shut the flame and mve it in a serving platter.
Garnish with green chopped corainder and green onion .Serve hot.
Chettinad Nattu Kozhi Uppu Varuval
Ingredients
Country Chicken (Nattu Kozhi) – 1/2 kg
Shallots (Pearl Onions) – 20 (sliced)
Ginger – 1/2 " piece (crushed)
Garlic pods – 20 (crushed)
Tomato – 1
Dry Red Chilies – 10
Turmeric Powder – 1/2 tsp
Salt –  to taste
Fennel Seeds – 1 tsp
Oil – 2 tbsp
Curry Leaves – 1 sprig
Cilantro (Coriander Leaves) – 1 tbsp (finely chopped for garnish)
Method
Cut the chicken into medium sized pieces. Wash it thoroughly and drain all the water from it.
Marinate the chicken with salt and turmeric powder. Let it rest while you get the other things ready.
Heat oil in a pan and add the fennel seeds and curry leaves.
Break and add the dry red chilies.
Next add the chopped shallots, crushed ginger, and crushed garlic. Saute till it turns soft.
Add the chopped tomato and cook till tomato turns pulpy.
Add the chicken pieces and saute for a couple of minutes.
Add required salt and about half a cup of water. Cover and cook the chicken for about 10-15 minutes.
After the chicken is cooked, open the lid, increase the flame and stir fry till all the moisture evaporates. Continue until all the chicken pieces are fried and get a nice brown color.
Finally, sprinkle the chopped coriander leaves and switch off.
Serve and Enjoy
………………………….
Comments
comments