Christmas Festival
Christmas or Christmas Day is an annual festival commemorating the birth of Jesus Christ, observed most commonly on December 25 as a religious and cultural celebration among billions of people around the world.
The Story in the Bible about Christ Birth
In those days Caesar Augustus issued a decree that a census should be taken of the entire Roman world. And everyone went to his own town to register.
So Joseph also went up from the town of Nazareth in Galilee to Judea, to Bethlehem the town of David, because he belonged to the house and line of David. He went there to register with Mary, who was pledged to be married to him and was expecting a child. While they were there, the time came for the baby to be born, and she gave birth to her firstborn, a son. She wrapped him in cloths and placed him in a manger because there was no room for them in the inn.Luke 2:1-7
The History behind the Birth of Jesus
Angel Visiting Mary
Mary was probably about 14 to 16 years of age when she gave birth to Jesus. This was a very common age for young women to be engaged and marry in biblical times. So the son of God was the son of a teenage mother. Joseph was probably slightly older, around 30.
Joseph and Mary were a very average couple in Israel at that time. They would have been quite poor. Joseph was a carpenter and this job was seen by some religious leaders as a religious duty rather than a profession. Both Joseph and Mary were descendants of King David of Israel, but at this time his family was in the poorest state it had ever been. Mary was also related to the traditional Priest families of Israel through her cousin Elizabeth.
Nazareth, the town where they both lived, was a small hill town on a caravan route through the country. It also had a center for the temple priests, in which they could come and pray and fast when they were not on duty at the temple. So a wide range of people would travel and visit a town like Nazareth.
Under Jewish law, an engagement like Joseph and Mary's was treated almost like a marriage and could only be broken by an official divorce.
The angel Gabriel, who visited Mary, is God's chief messenger angel and only appears to very important people in the Bible. The first words that Gabriel spoke to Mary 'Greetings, you who are highly favored! The Lord is with you.' are very important words. 'Highly favored' means 'God's holy grace is upon you' and is a divine blessing from God – something that would have never normally been said to a peasant girl like Mary! She would have been very scared by this and that is why Gabriel said 'Do not be afraid'.
If you'd like to know more about Gabriel, go to the section on whychristmas?com's sister site why angels?com about Gabriel.The name Jesus (or Jeshua as it would have been said then) was a very common name in Israel at that time. If you had gone down a normal street and called 'JESHUA' to some children playing, it is more than likely that a couple of them would be called Jeshua! The name Jesus means 'Saviour' and has a very important meaning in the story.
Mary would have been very surprised with the Gabriel saying that the Holy Spirit would be in her, because in the old Jewish stories, only the very important people had the Holy Spirit come into them. She might not have even believed that it is was going to happen, so she went to see her cousin Elizabeth, who Gabriel said would have a baby, to see if it was really true. She did this even before she told Joseph about Gabriel and Jesus.
Angel Visiting Joseph
When Joseph found out about Mary's pregnancy, he must not have believed that she was pregnant by the Holy Spirit but that she had been unfaithful to him. Even though they were engaged and not married, to break up the relationship, Joseph would have had to divorce Mary. In fact, adultery in engagement was even punishable by death in some cases! Joseph did not want to disgrace Mary, so he planned to divorce her in private. This only needed two witnesses rather than going through the Jewish courts and no formal grounds needed to be given for the divorce.
But in a dream, an angel appeared to Joseph and told him to trust Mary. The angel also told Joseph that the child should be called Jesus. Having a vision in a dream from God was a sign of God's approval, so this would have made Joseph pay attention and do what the angel had said!
Birth of JesusChrist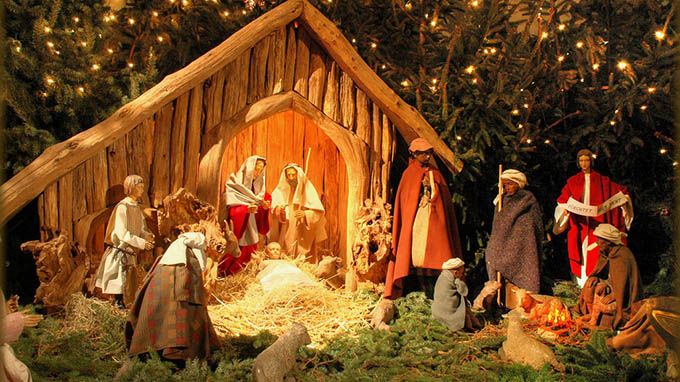 The census that was ordered by Caesar Augustus was the first of its kind. It was done because the Roman government wanted to make sure that everyone in the Empire2 was paying their taxes correctly. The census was carried out all over Empire (most of Europe): but in Palestine, it was carried out in a Jewish way rather than a Roman way. This meant that families had to register in the their historical tribal town rather than where they lived. This also meant that Joseph and the very pregnant Mary would have had to travel from Nazareth to Bethlehem, as this was town that Joseph's family (the royal family of David) originally came from – a journey of about 70 miles (112 kilometers).
It might have been quite good for the family to go to Bethlehem as no one there knew them, so people would not have talked about the fact that they were not married. It's also possible that Joseph had distant relations in Bethlehem, but they still wouldn't have know Mary and Joseph very closely.
The journey would have taken about three days and they might well have arrived in the evening, because if they had arrived earlier in the day, it is more likely that they would have found somewhere to stay.
In those times, there weren't really such things as motels or inns, you normally would have stayed with some extended family or relations. A more accurate translation of 'inn' would be 'guest room'. You would normally stay with extended family in their 'guest room' but as it was a busy time the guest room was already full.
Most houses would have been shared with the animals that the family kept. Houses had two levels, the upper/mezzanine level where people slept and the ground floor where the animals slept at night and the family lived during the day. The animals were a kind of 'central heating' at night keeping the house warm! The 'guest room' was often an area on the upper/mezzanine level or even a hut put on the flat roof of the house!
As many people would have traveled to Bethlehem for the census, all the houses, or certainly upper levels were full. Many people think that Jesus was probably born in September or October during Sukkot, the Jewish Feast of Tabernacles, rather than during December. During the festival, Jews live outside in temporary shelters (the word 'tabernacle' come from a latin word meaning 'booth' or 'hut').
So Joseph and Mary probably had to sleep with the animals on the low level (where it's common to have a manger cut into a wall where you put the animal food) or possibly (but unlikely) out in a stable, cave or even a covered market stall that sold animals (these stalls could be rented during tabernacles).
It was the custom in those times to wrap a new born baby very tightly in long bandages called swaddling clothes. The arms and legs of the baby were also wrapped, so they couldn't move. This was done because they thought it helped the baby to grow strong, straight limbs! And as no proper crib was available, the new baby boy was placed in a manger, or feeding trough.
This must have been an amazing scene, but was exactly how the angels had described things to the shepherds up on the hills surrounding Bethlehem!
The birth of Jesus probably didn't happen in the year 0 but slightly earlier, in about 5, 6 or 7 BCE/BC. The dates that we use now were set by Monks and religious leaders in the Middle Ages and before. It's also quite likely that Jesus was actually born in the autumn (during Tabernacles), not in the winter! It can get very cold in the winter in Israel and it is thought that the census would have most likely taken place during the spring or autumn, at a when many pilgrims, from all over the country, came to visit Jerusalem (which is about six miles from Bethlehem). Also during the winter, it's less likely that the shepherds would have been keeping sheep out on the hills (as those hills can get quite a lot of snow during winter sometimes!).
Origins of Christmas Customs
The Origin of Christmas Tree
Just as early Christians recruited Roman pagans by associating Christmas with the Saturnalia, so too worshippers of the Asheira cult and its offshoots were recruited by the Church sanctioning "Christmas Trees".Pagans had long worshiped trees in the forest, or brought them into their homes and decorated them, and this observance was adopted and painted with a Christian veneer by the Church.
The Origin of Mistletoe
Norse mythology recounts how the god Balder was killed using a mistletoe arrow by his rival god Hoder while fighting for the female Nanna.  Druid rituals use mistletoe to poison their human sacrificial victim.  The Christian custom of "kissing under the mistletoe" is a later synthesis of the sexual license of Saturnalia with the Druidic sacrificial cult.
The Origin of Christmas Presents
In pre-Christian Rome, the emperors compelled their most despised citizens to bring offerings and gifts during the Saturnalia (in December) and Kalends (in January).  Later, this ritual expanded to include gift-giving among the general populace.  The Catholic Church gave this custom a Christian flavor by re-rooting it in the supposed gift-giving of Saint Nicholas.
The Origin of Santa Claus
Nicholas was born in Parara, Turkey in 270 CE and later became Bishop of Myra.  He died in 345 CE on December 6th.  He was only named a saint in the 19th century.
Nicholas was among the most senior bishops who convened the Council of Nicaea in 325 CE and created the New Testament.  The text they produced portrayed Jews as "the children of the devil" who sentenced Jesus to death.
In 1087, a group of sailors who idolized Nicholas moved his bones from Turkey to a sanctuary in Bari, Italy.  There Nicholas supplanted a female boon-giving deity called The Grandmother, or Pasqua Epiphania, who used to fill the children's stockings with her gifts.  The Grandmother was ousted from her shrine at Bari, which became the center of the Nicholas cult.  Members of this group gave each other gifts during a pageant they conducted annually on the anniversary of Nicholas' death, December 6.
The Nicholas cult spread north until it was adopted by German and Celtic pagans.  These groups worshiped a pantheon led by Woden –their chief god and the father of Thor, Balder, and Tiw.  Woden had a long, white beard and rode a horse through the heavens one evening each Autumn.  When Nicholas merged with Woden, he shed his Mediterranean appearance, grew a beard, mounted a flying horse, rescheduled his flight for December, and donned heavy winter clothing.
In a bid for pagan adherents in Northern Europe, the Catholic Church adopted the Nicholas cult and taught that he did (and they should) distribute gifts on December 25th instead of December 6th.
In 1809, the novelist Washington Irving (most famous his The Legend of Sleepy Hollow and Rip Van Winkle) wrote a satire of Dutch culture entitled Knickerbocker History.  The satire refers several times to the white bearded, flying-horse riding Saint Nicholas using his Dutch name, Santa Claus.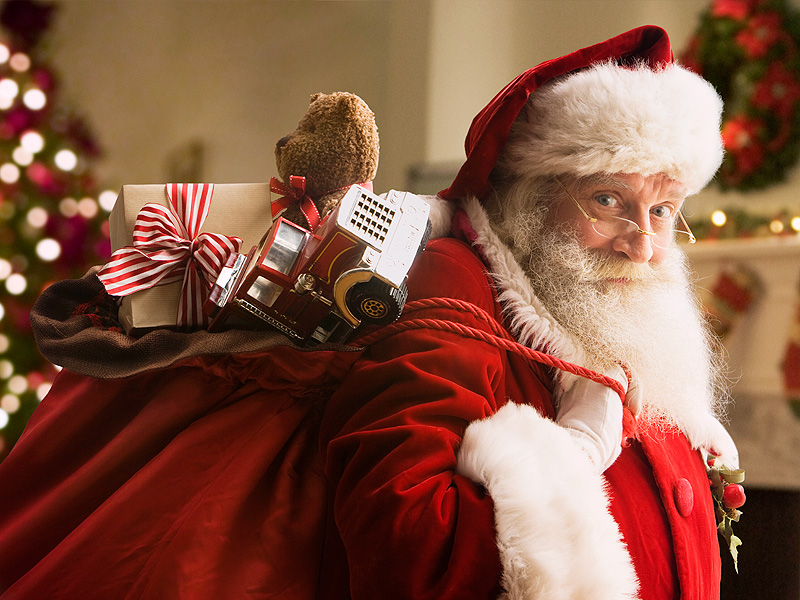 Dr. Clement Moore, a professor at Union Seminary, read Knickerbocker History, and in 1822 he published a poem based on the character Santa Claus: "Twas the night before Christmas, when all through the house, not a creature was stirring, not even a mouse.  The stockings were hung by the chimney with care, in the hope that Saint Nicholas soon would be there…"  Moore innovated by portraying a Santa with eight reindeer who descended through chimneys.
The Bavarian illustrator Thomas Nast almost completed the modern picture of Santa Claus.  From 1862 through 1886, based on Moore's poem, Nast drew more than 2,200 cartoon images of Santa for Harper's Weekly.  Before Nast, Saint Nicholas had been pictured as everything from a stern looking bishop to a gnome-like figure in a frock.  Nast also gave Santa a home at the North Pole, his workshop filled with elves, and his list of the good and bad children of the world.  All Santa was missing was his red outfit.
In 1931, the Coca Cola Corporation contracted the Swedish commercial artist Haddon Sundblom to create a coke-drinking Santa.  Sundblom modeled his Santa on his friend Lou Prentice, chosen for his cheerful, chubby face.  The corporation insisted that Santa's fur-trimmed suit be bright, Coca Cola red.  And Santa was born – a blend of Christian crusader, pagan god, and commercial idol.
Christmas Carol
Also around this time, English author Charles Dickens created the classic holiday tale, A Christmas Carol. The story's message the importance of charity and good will towards all humankind-struck a powerful chord in the United States and England and showed members of Victorian society the benefits of celebrating the holiday.
The family was also becoming less disciplined and more sensitive to the emotional needs of children during the early 1800s. Christmas provided families with a day when they could lavish attention and gifts on their children without appearing to "spoil" them.
As Americans began to embrace Christmas as a perfect family holiday, old customs were unearthed. People looked toward recent immigrants and Catholic and Episcopalian churches to see how the day should be celebrated. In the next 100 years, Americans built a Christmas tradition all their own that included pieces of many other customs, including decorating trees, sending holiday cards, and gift-giving.
Although most families quickly bought into the idea that they were celebrating Christmas how it had been done for centuries, Americans had really re-invented a holiday to fill the cultural needs of a growing nation.
Christmas Facts
Each year, 30-35 million real Christmas trees are sold in the United States alone. There are 21,000 Christmas tree growers in the United States, and trees usually grow for about 15 years before they are sold.
Today, in the Greek and Russian orthodox churches, Christmas is celebrated 13 days after the 25th, which is also referred to as the Epiphany or Three Kings Day. This is the day it is believed that the three wise men finally found Jesus in the manger.
In the Middle Ages, Christmas celebrations were rowdy and raucous—a lot like today's Mardi Gras parties.
From 1659 to 1681, the celebration of Christmas was outlawed in Boston, and law-breakers were fined five shillings.
Christmas was declared a federal holiday in the United States on June 26, 1870.
The first eggnog made in the United States was consumed in Captain John Smith's 1607 Jamestown settlement.
Poinsettia plants are named after Joel R. Poinsett, an American minister to Mexico, who brought the red-and-green plant from Mexico to America in 1828.
The Salvation Army has been sending Santa Claus-clad donation collectors into the streets since the 1890s.
Rudolph, "the most famous reindeer of all," was the product of Robert L. May's imagination in 1939. The copywriter wrote a poem about the reindeer to help lure customers into the Montgomery Ward department store.
Construction workers started the Rockefeller Center Christmas tree tradition in 1931.
Surprising Facts about Christmas
Early Christians had a soft spot for pagans
It's a mistake to say that our modern Christmas traditions come directly from pre-Christian paganism, said Ronald Hutton, a historian at Bristol University in the United Kingdom. However, he said, you'd be equally wrong to believe that Christmas is a modern phenomenon. As Christians spread their religion into Europe in the first centuries A.D., they ran into people living by a variety of local and regional religious creeds.
Christian missionaries lumped all of these people together under the umbrella term "pagan," said Philip Shaw, who researches early Germanic languages and Old English at Leicester University in the U.K. The term is related to the Latin word meaning "field," Shaw told LiveScience. The lingual link makes sense, he said, because early European Christianity was an urban phenomenon, while paganism persisted longer in rustic areas.
We all want that warm Christmas glow
But why this fixation on partying in midwinter, anyway? According to historians, it's a natural time for a feast. In an agricultural society, the harvest work is done for the year, and there's nothing left to be done in the fields.
"It's a time when you have some time to devote to your religious life," said Shaw. "But also it's a period when, frankly, everyone needs cheering up."
The dark days that culminate with the shortest day of the year ­— the winter solstice — could be lightened with feasts and decorations, Hutton said.
"If you happen to live in a region in which midwinter brings striking darkness and cold and hunger, then the urge to have a celebration at the very heart of it to avoid going mad or falling into deep depression is very, very strong," he said.Stephen Nissenbaum, author of the Pulitzer Prize finalist "The Battle for Christmas" agreed.
Gifts are a new tradition
While gift-giving may seem inextricably tied to Christmas, it used to be that people looked forward to opening presents on New Year's Day.
"They were a blessing for people to make them feel good as the year ends," Hutton said. It wasn't until the Victorian era of the 1800s that gift-giving shifted to Christmas. According to the Royal Collection, Queen Victoria's children got Christmas Eve gifts in 1850, including a sword and armor. In 1841, Victoria gave her husband, Prince Albert, a miniature portrait of her as a 7-year-old; in 1859, she gave him a book of poetry by Alfred, Lord Tennyson.
All of this gift-giving, along with the secular embrace of Christmas, now has some religious groups steamed, Nissenbaum said. The consumerism of Christmas shopping seems, to some, to contradict the religious goal of celebrating Jesus Christ's birth. In some ways, Nissenbaum said, excessive spending is the modern equivalent of the revelry and drunkenness that made the Puritans frown.
"There's always been a push and pull, and it's taken different forms," he said. "It might have been alcohol then, and now it's these glittering toys."
History of Christmas Cake
Christmas cake is an English tradition that began as plum porridge. People ate the porridge on Christmas Eve, using it to line their stomachs after a day of fasting. Soon dried fruit, spices and honey were added to the porridge mixture, and eventually it turned into Christmas pudding. In the 16th century, oatmeal was removed from the original recipe, and butter, wheat flour and eggs were added. These ingredients helped hold the mixture together, resulting in a boiled plum cake. Richer families with ovens began making fruit cakes with marzipan, an almond sugar paste, for Easter. For Christmas, they made a similar cake using seasonal dried fruit and spices. The spices represented the exotic eastern spices brought by the Wise Men. This cake became known as 'Christmas cake'.
Christmas cakes are made many different ways, but generally they are variations on classic fruitcake. They can be light, dark, moist, dry, heavy, spongy, leavened, unleavened, and more. They are made in many different shapes, with frosting, glazing, a dusting of confectioner's sugar or plain. The traditional Scottish Christmas cake, also known as the Whisky Dundee, is very popular. It is a light crumbly cake with currants, raisins, cherries and Scotch whisky. Other types of Christmas cakes include an apple crème cake and a mincemeat cake. The apple crème cake is made with apples, other fruit, raisins, eggs, cream cheese and whipping cream. The mincemeat cake is made with traditional mincemeat or vegetarian mincemeat, flour, eggs, etc. It can also be steamed as a Christmas pudding.
The trick with a great Christmas cake is in the timing. All Christmas cakes are made in advance. Many make them in November, keeping the cake upside down in an airtight container. A small amount of brandy, sherry or whisky is poured into holes in the cake every week until Christmas. This process is called 'feeding' the cake.
If cake-making isn't your thing or you've run out of time this Christmas, you can still enjoy some homestyle goodness with a Puckles Christmas cake.
Christmas Star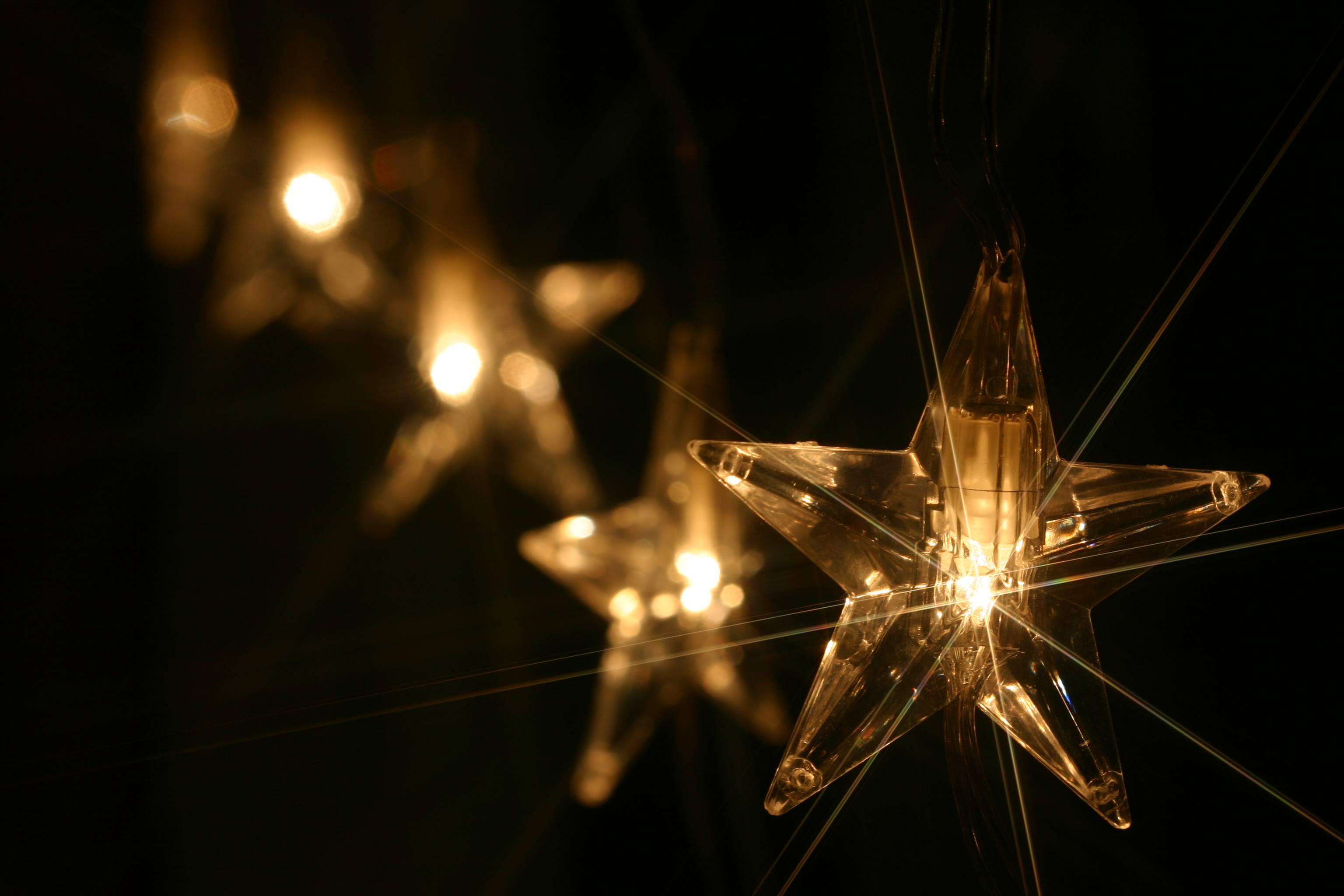 The stars that appear in the sky today are the same ones that were there two thousand years ago.
The exact time of His birth is not known, but astronomers cannot place a new star appearance anywhere near the possible time. Could it have been a shooting star? Again, the astronomers say it was not likely. A meteor lasts only a few seconds or minutes at best. The wise men followed the star for weeks looking for Jesus. We can rule out comets as well. They can be seen by the naked eye for a week or months. But modern astronomers know which comets were close enough to earth hundreds and thousands of years ago and there was no comet visible to humans around the time of Christ's birth.
Some star gazers suggest that if we move the birth of Jesus to the springtime of 6 B.C., we can attribute the star to the time the planets Mars, Jupiter, and Saturn were close together in the heavens. They formed a triangle in the group of stars known as Pisces.
Christmas Cake and Sweet For YOU,,,,,,,,,,,,,,,,,,,,,,,,,,,,,,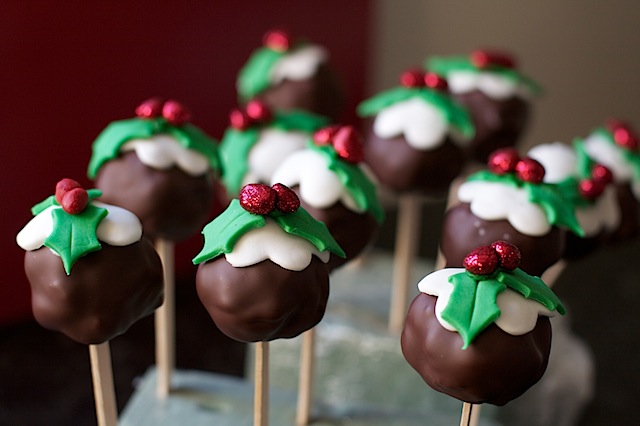 Enjoy,,,,,,,,,,,,,,,,,,,,,,,,,,,,,,,,
Comments
comments