Chhota Bheem
Bheem is an extremely brave, strong and intelligent young boy. All the children in the town are very fond of him, as he always manages to solve everyone's problems.
First episode date: 2008
Number of episodes: 425
Number of seasons: 7 (2008–2016)
Nominations: Indian Telly Award for Best Kids Programme
Languages: Hindi, Tamil, Telugu, English
Genres: Animation, Animated series, Action fiction
The children's animation business has traditionally been dominated by a remarkably small number of international cartoon characters. By way of example, Mickey Mouse was born in 1928; Popeye in 1933, Bugs Bunny in 1938, Tom and Jerry – still going strong – first appeared in 1940. Even Doraemon, a relative newcomer, is 40 years old. So great is the momentum of history behind these international favorites that local successes are few. The cost of creation is high, the success rate is low, and it takes a long time for a character to come into its own.
Barring the odd exception, the Indian TV scene to has largely been dominated by foreign characters in spite of there being a dozen Hindi and English language kids' channels. Says Munjal Shroff, director, Graphiti Multimedia "We probably need a state-owned kids broadcaster who will think beyond the top line and bottom line and consider telecasting quality content instead."
History of Chota Bheem
The creation of Chhota Bheem was not without trial for its creator, Rajiv Chilaka. After doing his masters in engineering and working for three years as a software engineer, Chilaka realized that his dream was animation. He did a course from San Francisco at 26 and started Green Gold Animation with four employees in Hyderabad where it is still headquartered. His equal business partner is Samir Jain, a local businessman, who invested in the company in 2004 and came on board full-time in 2011. Since then, Green Gold has become a Rs. The 35-crore company that employs 250 people – but, more important, entertains millions of children.
The company began producing television content in 2002, Bongo on Doordarshan being the first show. After that, Vikram Betaal appeared on Cartoon Network. Chilaka soon realized that the characters were in the public domain and anybody could claim them. "I wanted to create a character for children which would be ours exclusively," recalls Chilaka. He tried to use Krishna as the base for creating one but soon realized that too many rival companies had the same idea. Chilaka was afraid of losing the race because his company had barely started and had a turnover of just Rs. 2 million though Green Gold did produce Krishna for Cartoon Network in 2006.
Characters from mythology had enormous pull but they were available to everybody else. In turning over the problem, Chilaka settled on Bheem from the Mahabharata: "I decided to pick the character and put him in a different set-up, era, time zone and different idea with different friends, thereby making him more fun."
One obvious decision was to reduce Bheem's age because children like the protagonist to be in their age group (Core TG for Chota Bheem is 3-9 years). Chilaka cites the example of the 2005 movie, Hanuman: the audience enjoyed the first half of the movie where Hanuman is a child more than the second half.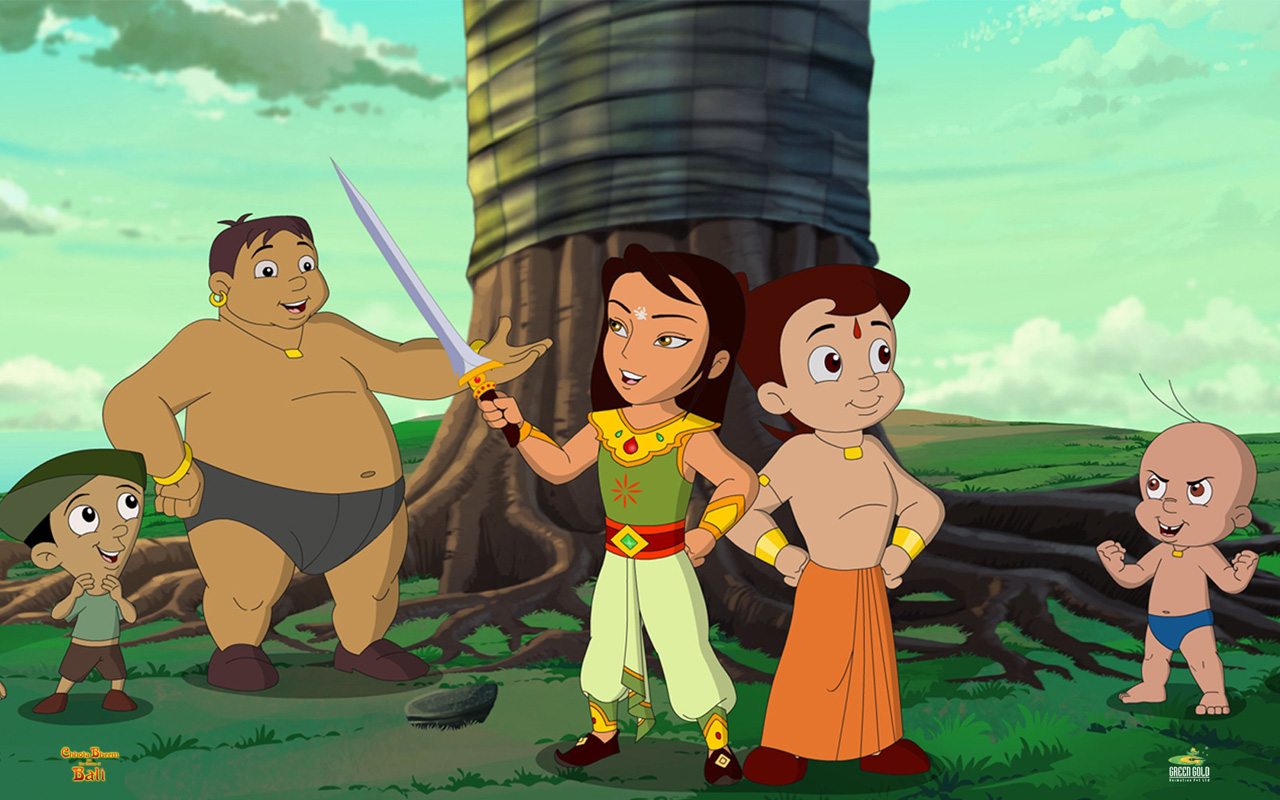 While Chhota Bheem is nowhere closer to the man in the Mahabharata, Chilaka's partner Jain adds that "Using Bheem was a perfect way to attract viewers initially." Moreover, since Chhota Bheem is not a completely mythological figure, he is free to do anything. Unlike, say, Krishna, who is a god and can't be shown to be kicked or, say, falling into the mud. For Chhota Bheem, nothing is off limits: he is just another kid.
A challenge the company faced was that the mythological Bheem was overweight. "But we didn't want to create the perception that you have to be fat in order to be strong. We had to make sure that Chhota Bheem looks just like any other boy, except that he is strong," reasons Chilaka.
Though the first version of Chhota Bheem was created in 2003, five years of rejection followed. The production house drew over a hundred characters to finalize on a single perspective Chhota Bheem. The other characters were, however, finalized almost at the first go. Finally, on April 6, 2008, the first episode of the TV series went on air on Pogo from the Turner stable. Chilaka recalls, "I had to knock at the door of almost all the kids' channels. When we approached Turner for the second time, they finally said yes." Chilaka has to thank the fact that three channels were launched during that five-year period: Pogo, Disney, and Hungama to join the existing channels – both from 1999 – Cartoon Network and Nickelodeon.
Success of Chhota Bheem
Chhota Bheem is the only animation series in India to complete 5 years with 200 episodes on air.

Chhota Bheem is the biggest 'Toon Icon' in India & enjoys 35% popularity. 

Chhota Bheem has a viewership of over 40 million children across India & international markets.

Among the leading animation shows in India, Chhota Bheem is the favorite with 73% viewership by children

Chhota Bheem has been rated as India's favorite character among children in the year 2011 & 2012. 

'Chhota Bheem & The Curse of Damyaan' has been the first theatrical release in the animation sector that can truly be termed as a 'Super Duper Hit'.

Chhota Bheem has successfully associated with popular brands in India like Usha Fans, Johnson & Johnson, Hershey's, Unilever, ITC, Del Monte, Nutrine, Prataap Snacks, Band Aid etc.

Chhota Bheem has been hailed as the 'Salman Khan' of Indian television with the huge success & the large fan following that he commands. 

The second theatrical release in 2013, 'Chhota Bheem & The Throne of Bali' has also become a super hit with enthralling fans across India.
Characters of the Chhota Bheem
Bheem
Chutki
Raju
Kalia
Jaggu
Dholu and Bholu
Chota Beem
The superhero Chota Beem lives in an Indian village of Dholakpur. He is the main character in the Chota Bheem cartoon. This nine years old boy is powerful as well as wise. All the children of the Dholakpur are demons as he offers help to those people who is in problems. He also faced a number of enemies of Dholakpur like the Kirmada, the Kichak as well as Mangle sing. Bheem desire trust of the Dholakpur and there lives a man named Raja Indravarma who desires that his much-loved princess Indumati marries to Bheem in the near future. The stories of the Bheem aim him as a hero as well as the future inheritor to the Dholakpur's king.
Jaggu
He is another role in the Chota Bheem Cartoon. He is the extremely humorous friend of the Bheem. He always tried to make fun as well as devoid happiness to all. His cottage is situated on a tree. Everybody knows her as the Jagger Bander.He liked to living with the persons.
Kalia
Kalia is another character in the Chota Bheem. The role of Kalia in the Chota Bheem cartoon as an enemy of the Chota Bheem. He is completed plan all time in opposition to Bheem who is ten years old and he is covetous about Bheem's reputation.
Raju
Raju is another role in Chota Bheem. Raju is five year's baby. He is also Bheem's close friend. He is very clever.He is the fight partner of Bheem. His friends are Chiaki, Jaggu, Bheem, sometimes kale as well as Dholu-Bholu.His looking similar to Bheem.
Chutki
Chutki is another role of the Chota Bheem. She is very much the close friend of the Bheem. She offered sweet ladoo while Bheem desires power. She hated the Kirmada, the Kichak, Chota mannu as well as Mangle Singh. Jaggu, Raju, Kalia, dholu-bholu they all are her friend.
Chota Bheem Creator
The Chhota Bheem creator has now set eyes on the US market, and he's now all set to enthrall kids with his new series SuperBheem. As a kid, Rajiv was completely fascinated by the world of comics. In 1979, his father took him to his first animated movie "The Jungle book" and there he fell in love immediately. Soon, Doordarshan started airing several cartoon series and Rajiv never missed any. "I always wanted to meet my favorite animated characters but realized that none of them live in India. It made me wonder, why India doesn't have its own animation shows or its own superheroes. It's due to this deep desire to make something original that I set up Green Gold," shares Rajiv on his start-up story.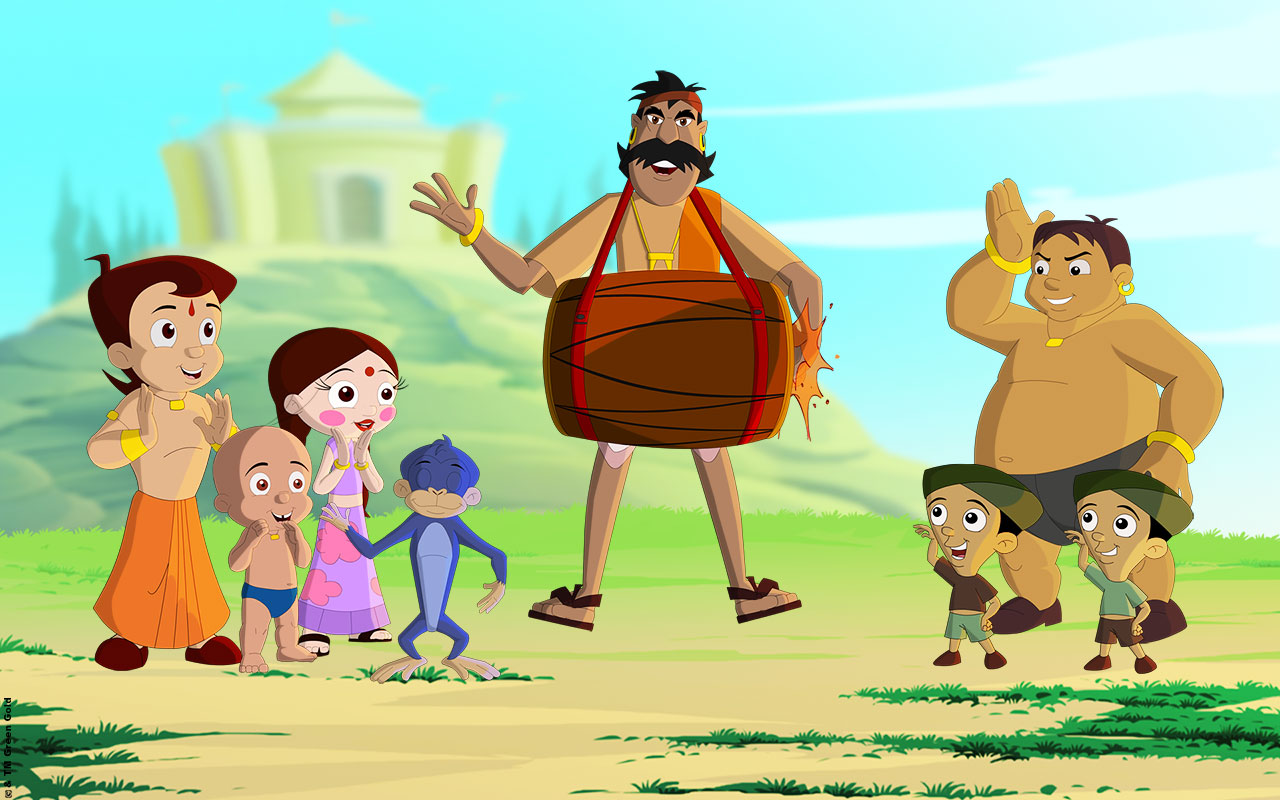 While doing his Masters in Computer Science in the USA, Rajiv fell upon a book, which was about the life of Walt Disney. The book instantly inspired him and he felt a need to replicate what he had achieved. Later, Rajiv attended Academy of Art, San Francisco to learn animation. And, soon after he finished school, he set up Green Gold in India.
When Rajiv started Green Gold, members of his family put together Rs 75 Lakh as the initial investment. The idea has always been to develop a 360-degree environment for content and create business units along with each platform. The company soon took to theatrical distribution. "We now have a full-fledged business unit. Initially, we joined hands with PVR and Yash Raj, but after producing four feature films, now we are on our own. Our merchandise production is a gigantic business, and every product is a miniature business, so we work with numerous vendors," states Rajiv.
At present, Chhota Bheem is valued at Rs 300- 400 crore. Today after 15 years, Green Gold is a financially stable company clocking 20 per cent Year on Year(YoY) growth. Since 2012, the company has been cash positive. It has now started a new studio in Los Angeles, USA. "We are looking at adding talent over there to cater to international markets and a wider audience. Right now, we are about 500 strong and growing rapidly," claims Rajeev. On keeping the content fresh, Rajiv says, "Kids believe, they have a world of their own. They are far more thoughtful and discerning than what we can imagine, especially this generation. They are exposed to so much of information, so we can't fool them at any level. Even if you are creating an imaginary world for them, it has to be believable and based on strong reasoning."
Facts about Chhota Bheem
"True sportsmanship is Knowing that whether you win or lose, you will walk off the course with pride. It is also acknowledging that we are only as a good as our opponents and that we should always give our 100 percent."
"Self-confidence is the first requisite to great undertakings"
"A little Consideration, a little Thought for Others, make all the difference"
"It doesn't matter how many resources you have. If you don't know how to use them, it will never be enough"
"The jealous are possessed by a mad devil and a dull spirit at the same time"
"Where there is unity there is always victory"
Humor is the great thing, the saving thing after all. The minute it crops up, all our hardnesses yield, all our irritations, and resentments flit away, and a sunny spirit takes their place"

Read about our other cartoons
Comments
comments