Bihar Maps
Bihar
Indian state
Bihar is a state in East India, bordering Nepal. It is divided by the River Ganges, which floods its fertile plains. Important Buddhist pilgrimage sites include the Bodhi Tree in Bodhgaya's Mahabodhi Temple, under which the Buddha allegedly meditated. In the state capital Patna, Mahavir Mandir temple is revered by Hindus, while Sikhs worship at the domed, Riverside Gurdwara of Takht Sri Harmandir Sahib Ji.
Districts: 38
Population: 99.02 million (2012)
Capital: Patna
Animal: Gaur 
Bihar is the place that gave birth to Buddhism and Jainism and helped in the growth of Sikhism and Hinduism, has a past that is unmatched anywhere in the world. It was the center of first republic in the world at Vaishali and the city of Pataliputra was largest and grandest in the world at the height of its glory. There is an array of tourist destinations of diverse interests in the state, though their potential has not been exploited fully till now. Starting from the world famous Buddhist Circuit to the Patna Sahib of Patna and Mithila Paintings of Madhubani to silk production center of Bhagalpur, the state has much to offer to the tourists. More than anything else, it is the present image of the state that is not allowing the state to be a frontrunner in attracting tourists.
List of Bihar District 
| | | | | | |
| --- | --- | --- | --- | --- | --- |
| S No. | District | Headquarters | Population (Census 2011) | Sex Ratio (per 1000) | Average Literacy |
| 1 | Araria | Araria | 28,11,569 | 921 | 53.53% |
| 2 | Arwal | Arwal | 7,00,843 | 928 | 67.43% |
| 3 | Aurangabad | Aurangabad | 25,40,073 | 926 | 70.32% |
| 4 | Banka | Banka | 20,34,763 | 907 | 58.17% |
| 5 | Begusarai | Begusarai | 29,70,541 | 895 | 63.87% |
| 6 | Bhagalpur | Bhagalpur | 30,37,766 | 880 | 63.14% |
| 7 | Bhojpur | Arrah | 27,28,407 | 907 | 70.47% |
| 8 | Buxar | Buxar | 17,06,352 | 922 | 70.14% |
| 9 | Darbhanga | Darbhanga | 39,37,385 | 911 | 56.56% |
| 10 | East Champaran | Motihari | 50,99,371 | 902 | 55.79% |
| 11 | Gaya | Gaya | 43,91,418 | 937 | 63.67% |
| 12 | Gopalganj | Gopalganj | 25,62,012 | 1021 | 65.47% |
| 13 | Jamui | Jamui | 17,60,405 | 922 | 59.79% |
| 14 | Jehanabad | Jehanabad | 11,25,313 | 922 | 66.80% |
| 15 | Kaimur | Bhabua | 16,26,384 | 920 | 69.34% |
| 16 | Katihar | Katihar | 30,71,029 | 919 | 52.24% |
| 17 | Khagaria | Khagaria | 16,66,886 | 886 | 57.92% |
| 18 | Kishanganj | Kishanganj | 16,90,400 | 950 | 55.46% |
| 19 | Lakhisarai | Lakhisarai | 10,00,912 | 902 | 62.42% |
| 20 | Madhepura | Madhepura | 20,01,762 | 911 | 52.25% |
| 21 | Madhubani | Madhubani | 44,87,379 | 926 | 58.62% |
| 22 | Munger | Munger | 13,67,765 | 876 | 70.46% |
| 23 | Muzaffarpur | Muzaffarpur | 48,01,062 | 900 | 63.43% |
| 24 | Nalanda | Bihar Sharif | 28,77,653 | 922 | 64.43% |
| 25 | Nawada | Nawada | 22,19,146 | 939 | 59.76% |
| 26 | Patna | Patna | 58,38,465 | 897 | 70.68% |
| 27 | Purnia | Purnia | 32,64,619 | 921 | 51.08% |
| 28 | Rohtas | Sasaram | 29,59,918 | 918 | 73.37% |
| 29 | Saharsa | Saharsa | 19,00,661 | 906 | 53.20% |
| 30 | Samastipur | Samastipur | 42,61,566 | 911 | 61.86% |
| 31 | Saran | Chhapra | 39,51,862 | 954 | 65.96% |
| 32 | Sheikhpura | Sheikhpura | 6,36,342 | 930 | 63.86% |
| 33 | Sheohar | Sheohar | 6,56,246 | 893 | 53.78% |
| 34 | Sitamarhi | Sitamarhi | 34,23,574 | 899 | 52.05% |
| 35 | Siwan | Siwan | 33,30,464 | 988 | 69.45% |
| 36 | Supaul | Supaul | 22,29,076 | 929 | 57.67% |
| 37 | Vaishali | Hajipur | 34,95,021 | 895 | 66.60% |
| 38 | West Champaran | Bettiah | 39,35,042 | 909 | 55.70% |
Bihar District Map
Bihar Pilgrimage Map
Bihar Rivers Map
Bihar Agriculture Map
Bihar Tourism Map
Bihar Election Zone Map
Bihar Physical Map 
Bihar River Basin Map
Bihar Soil Map
Bihar Political Map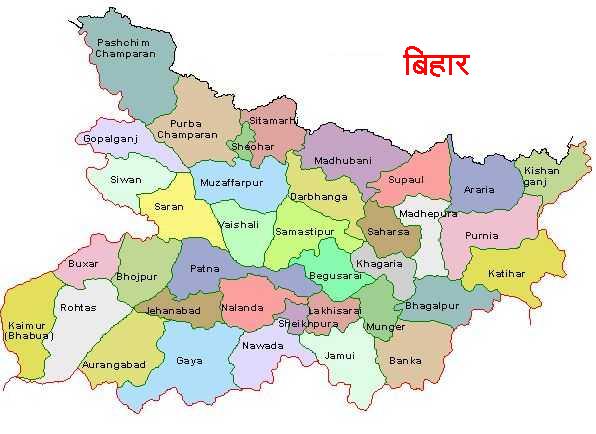 Read about other state maps
Comments
comments