Bihar Map
Facts About Bihar
Bihar has a lot of spiritual and religious tourist attractions, which includes Mahabodhi Temple, Vishnupad Mandir, Takht Sri Patna Sahib, Agam Kaun, Patan Devi, Mahavir Mandir, Tomb of Sher Shah Suri, and many more.

Patna, the capital of Bihar is one of the oldest continuously inhabited cities in India. In current era, Patna is the capital, cultural and commercial capital of Bihar.

World's Longest Free WiFi Zone: The Government of Bihar has launched the world's longest free WiFi zone in Patna in 2014. Its range is whopping 20 kms.

Greatest Emperors from Bihar: India's greatest emperors belongs to the state of Bihar, namely Samudragupta, Ashoka, Vikramaditya and Chandragupta Maurya.

Founder of 'Zero': Did you know this interesting fact about Bihar? Aryabhata was the founder of 'Zero', one of the greatest inventions in the history.

India's First President Was From Bihar: Shri Rajendra Prasad was the first President of India, who was born in Bihar.

First Prime Minister and Father of Nation of Mauritius: It is one of the most interesting facts about Mauritius. A person from Bihar named Seewoosagur Ramgoolam is the first Prime Minister of Mauritius. He was also the sixth Governor-General of Mauritius. He is widely known as the "Father of the Nation".

Top in Producing Number of IAS Officers: Bihar has produced more number of IAS officer than Kerala, Karnataka, Tamil Nadu, Andhra Pradesh and Gujarat combined.
List  Of District in Bihar
| | | | | | | |
| --- | --- | --- | --- | --- | --- | --- |
| S.No | District | Population | Increase | Sex Ratio | Literacy | Density |
| 1 | Patna | 58,38,465 | 23.73% | 897 | 70.68% | 1823 |
| 2 | Purbi Champaran | 50,99,371 | 29.43% | 902 | 55.79% | 1285 |
| 3 | Muzaffarpur | 48,01,062 | 28.14% | 900 | 63.43% | 1514 |
| 4 | Madhubani | 44,87,379 | 25.51% | 926 | 58.62% | 1282 |
| 5 | Gaya | 43,91,418 | 26.43% | 937 | 63.67% | 883 |
| 6 | Samastipur | 42,61,566 | 25.53% | 911 | 61.86% | 1467 |
| 7 | Saran | 39,51,862 | 21.64% | 954 | 65.96% | 1496 |
| 8 | Darbhanga | 39,37,385 | 19.47% | 911 | 56.56% | 1728 |
| 9 | Pashchim Champaran | 39,35,042 | 29.29% | 909 | 55.70% | 753 |
| 10 | Vaishali | 34,95,021 | 28.57% | 895 | 66.60% | 1717 |
| 11 | Sitamarhi | 34,23,574 | 27.62% | 899 | 52.05% | 1492 |
| 12 | Siwan | 33,30,464 | 22.70% | 988 | 69.45% | 1501 |
| 13 | Purnia | 32,64,619 | 28.33% | 921 | 51.08% | 1011 |
| 14 | Katihar | 30,71,029 | 28.35% | 919 | 52.24% | 1005 |
| 15 | Bhagalpur | 30,37,766 | 25.36% | 880 | 63.14% | 1182 |
| 16 | Begusarai | 29,70,541 | 26.44% | 895 | 63.87% | 1549 |
| 17 | Rohtas | 29,59,918 | 20.78% | 918 | 73.37% | 763 |
| 18 | Nalanda | 28,77,653 | 21.39% | 922 | 64.43% | 1222 |
| 19 | Araria | 28,11,569 | 30.25% | 921 | 53.53% | 993 |
| 20 | Bhojpur | 27,28,407 | 21.63% | 907 | 70.47% | 1139 |
| 21 | Gopalganj | 25,62,012 | 19.02% | 1021 | 65.47% | 1260 |
| 22 | Aurangabad | 25,40,073 | 26.18% | 926 | 70.32% | 769 |
| 23 | Supaul | 22,29,076 | 28.66% | 929 | 57.67% | 919 |
| 24 | Nawada | 22,19,146 | 22.63% | 939 | 59.76% | 890 |
| 25 | Banka | 20,34,763 | 26.48% | 907 | 58.17% | 674 |
| 26 | Madhepura | 20,01,762 | 31.12% | 911 | 52.25% | 1120 |
| 27 | Saharsa | 19,00,661 | 26.02% | 906 | 53.20% | 1127 |
| 28 | Jamui | 17,60,405 | 25.85% | 922 | 59.79% | 568 |
| 29 | Buxar | 17,06,352 | 21.67% | 922 | 70.14% | 1002 |
| 30 | Kishanganj | 16,90,400 | 30.40% | 950 | 55.46% | 897 |
| 31 | Khagaria | 16,66,886 | 30.19% | 886 | 57.92% | 1122 |
| 32 | Kaimur | 16,26,384 | 26.17% | 920 | 69.34% | 488 |
| 33 | Munger | 13,67,765 | 20.21% | 876 | 70.46% | 964 |
| 34 | Jehanabad | 11,25,313 | 21.68% | 922 | 66.80% | 1209 |
| 35 | Lakhisarai | 10,00,912 | 24.77% | 902 | 62.42% | 815 |
| 36 | Arwal | 7,00,843 | 18.89% | 928 | 67.43% | 1098 |
| 37 | Sheohar | 6,56,246 | 27.19% | 893 | 53.78% | 1880 |
| 38 | Sheikhpura | 6,36,342 | 21.09% | 930 | 63.86% | 924 |
Bihar District Map
Bihar Political Map
Bihar River Map
Bihar River Basins Map
Bihar Road Map
Bihar Pilgrimage Map
Bihar Railway Map
Bihar Soil Map
Bihar Lok Sabha Election Schedule Map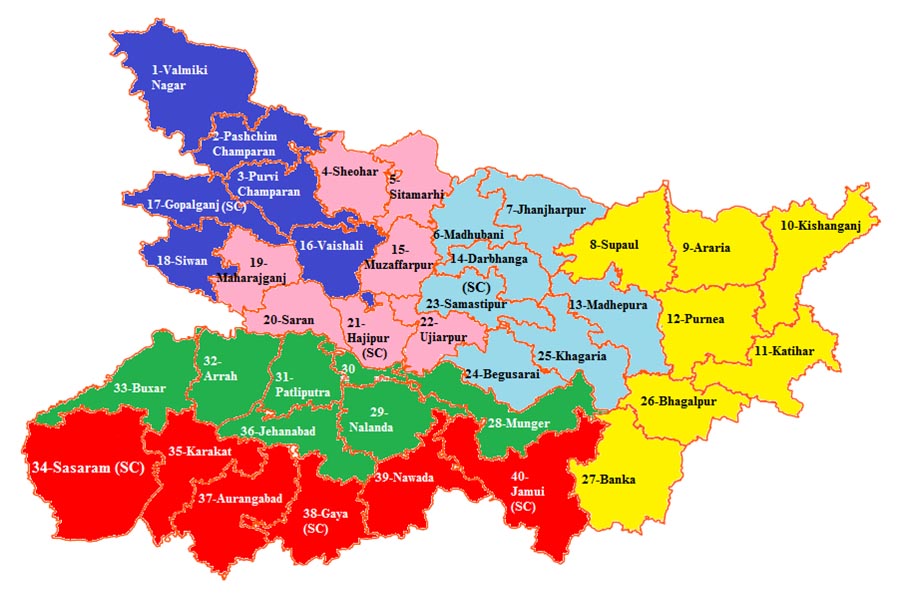 Bihar Agriculture Map
See our other maps as well
Comments
comments