Banana Plant Side Dishes 1
Raw banana puttu
Ingredients
raw banana
onion big 2
green chili 2
grated coconut 1/2 cup
turmeric powder 1/2 tsp
for seasoning mustard seed urad dhal and oil
salt as required
Method
Cut onion and chili into small pieces
Cook the raw banana as a whole in a cooker
Then remove the skin and mash it to pieces
Add oil in a pan and heat it
Add mustard seed and urad dhal then the cut chili and onion
Then add the banana pieces turmeric powder and salt and fry well
Add grated coconut and remove from stove once cooked
Raw banana fry
Ingredients
raw banana 1
tamarind lemon size
chili powder 1 tsp
turmeric powder 1/4 tsp
oil and salt as required
Method
Peel the banana and cut it into thin round pieces
Half cook it with water
Dissolve tamarind in little water to form a thick solution
Add chili powder, turmeric powder, and salt to this water
Dip the half cooked banana pieces in that liquid
Heat a flat pan and apply oil to it
Then put the banana pieces and fry them on both sides
Remove once they are well cooked
Banana stem curd raita
Ingredients
Banana stem 10 cm piece
curd 1 cup
green chili 2
for seasoning oil mustard seed
salt as required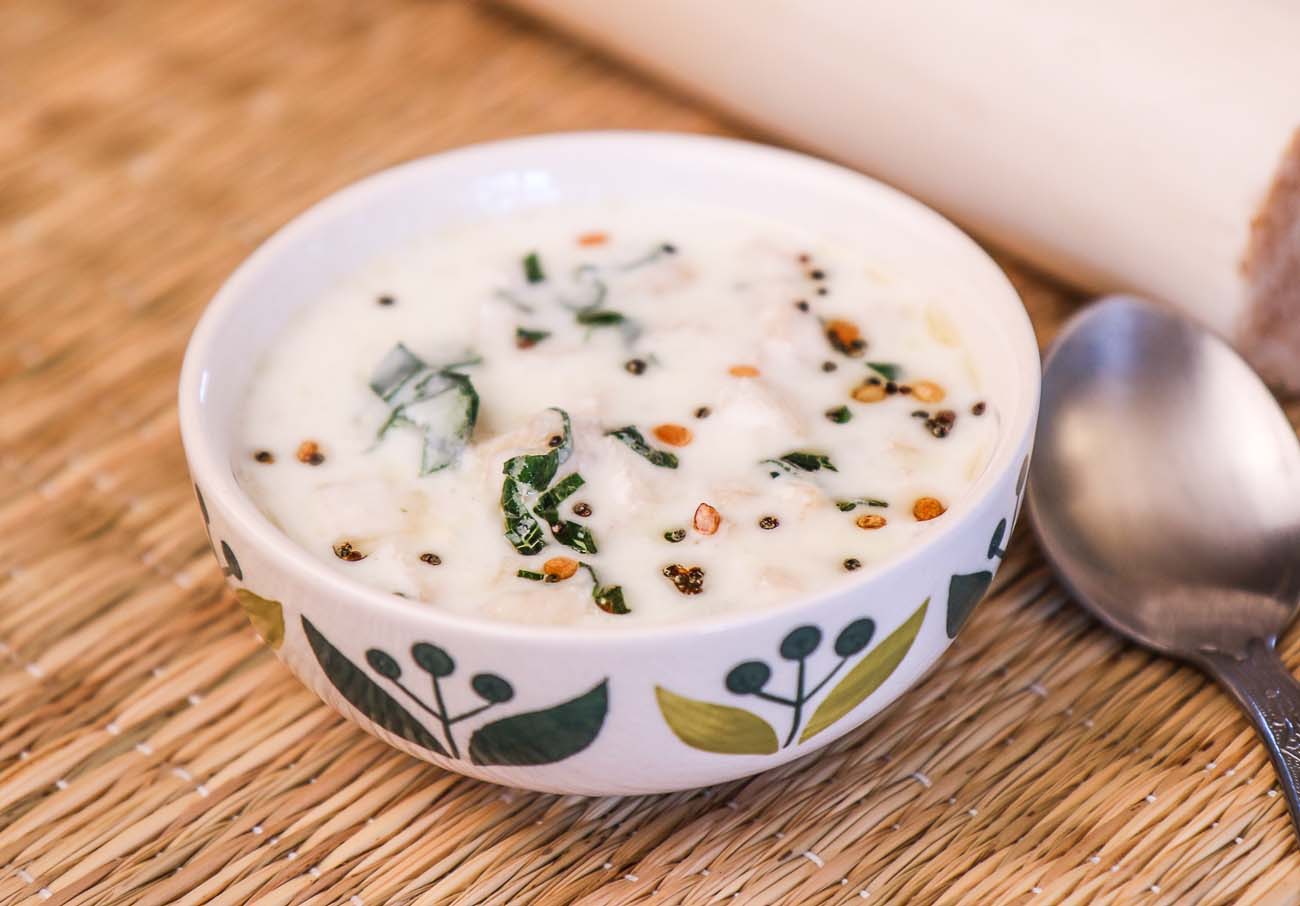 Method
Cut the banana stem and chili into small pieces
Mix the cut banana along with curd and salt
Add oil in a pan and once hot add mustard seed and chili
once the mustard splutters pour the oil mixture into the banana curd  mixture
Mix well and serve with chapati or rice
Banana stem rice
Ingredients
Basmati rice – 1 cup
butter milk – 1 cup
Water – 1 cup
Salt per taste
Cumin seed powders – 1 teaspoon
Coriander seeds powder – 1 teaspoon
Red chili powder – 1 teaspoon
Garlic and ginger paste – 1 teaspoon
Turmeric powder – 1/4 teaspoon
Onion – 1 (Slice thinly)
Bay leaf – 1
Clove – 2
Cinnamon – 1 inch
Oil – 2 teaspoon
Coriander Leaves – 2 tablespoons (finely chopped)
Method
Wash and soak basmati rice for 10 mins. Drain the water and leave it aside. Cut the banana stem (remove the fiber and cut into small pieces and soak it in lemon water or buttermilk water). Cook banana stem in a pressure cooker ( I cooked till 2 whistles). Heat the kada and oil. Add bay leaf, clove, cinnamon and fry till nice aroma comes.
Add Onion and fry till it is brown. Add ginger garlic paste. Fry till raw smell goes off. Add banana stem, all the masala powders and mix well and cook it with salt.
Once cooked add buttermilk and water. Boil it
Now time to add rice
Close the lid and cook the rice. Add finely chopped Mint leaves and mix well.
Serve it with raita
Banana flower kootu
Ingredients :
Banana flower – 1 no. ( roughly chopped)
Onions ( chopped) – 2 tablespoons
Chopped garlic – 1 tsp
Chopped ginger – 1 tsp
Whole Red chili – 3 -4
Grated coconut – 2 tablespoon *
salt – to taste
red chili pdr – 1 tsp
turmeric – 1/2 tsp
Mustard seeds – 1 tsp
Curry leaves – a sprig
Vegetable oil – 2 table spoons
Method:
1. Wash and rinse the banana flower in cold running water. Detach the first one or two layers of the banana flower (banana boat) and set aside for presenting the prepared dish in it.
2. Chop the banana flower as shown in the picture.
3. Heat oil, add mustard seeds and curry leaves. When the mustard seeds begin to crackle, add whole red chilly, chopped garlic and ginger. When the garlic and ginger starts getting a golden color, add chopped onions and saute till the onions are translucent and slightly golden in color.
4. Add red chilly powder, turmeric, stir for a minute and add grated coconut and saute for another minute. Now add the chopped banana flower, salt and stir on a slow fire till the banana flower turns dark in color and is cooked ( 7-10 minutes)
5. Dish on to the banana flower boat and serve hot.
Comments
comments