Apple MacBook Laptop
MacBook
Our goal with MacBook was to do the impossible: engineer a full-sized experience into the lightest and most compact Mac notebook ever. That meant reimagining every element to make it not only lighter and thinner but also better. The result is more than just a new notebook. It's the future of the notebook. And now, with sixth‑generation Intel processors, improved graphics performance, faster flash storage and up to 10 hours of battery life,* MacBook is even more capable.
Design
The moment you open your MacBook, its gorgeous 12-inch Retina display with edge-to-edge glass brings everything into focus. Every photo leaps off the screen in rich, vibrant detail. Over three million pixels render each letter with crystal clarity. And it all comes to light on the thinnest Retina display ever on a Mac, meticulously honed to deliver a bold visual experience within an impossibly minimal design.
Keyboard
We believe that a comfortable, full-sized keyboard is essential for a great notebook experience. But to fit one into the elegantly thin MacBook, we had to completely rethink how a keyboard is engineered and constructed. We redesigned each key and its underlying mechanism — not only making the whole keyboard much thinner but also allowing for more comfortable, precise and responsive typing that just feels right.
Trackpad
MacBook comes with a different way to experience a trackpad. The Force Touch trackpad is engineered to deliver a responsive, uniform click no matter where you press the surface. And underneath, force sensors detect how much pressure you're applying. You can now use a Force click to enable useful capabilities, like quickly looking up the definition of a word or previewing a file just by clicking and continuing to press the trackpad. You'll also experience haptic feedback — a tactile vibration from the trackpad that adds the sense of touch to what you see on the screen. These advanced capabilities work in addition to all the intuitive Multi-Touch gestures Mac users love. You'll be more in touch with your Mac than ever before. Without lifting a finger.
Wireless World
MacBook is designed to fit effortlessly into our increasingly wireless world. Just about anything you do with a notebook can now be done over the air, thanks to Apple software that takes full advantage of the latest Wi-Fi and Bluetooth wireless technology. So no matter where you are, you can connect to the web, transfer files, organise your photos, listen to music and more — without being tied down.
USB
As long as we were including a port for charging your MacBook, we wanted to make sure it was the most advanced and versatile one available. The USB-C port puts just about everything you need in a port all in one place. This amazing port provides charging, speedy USB 3 data transfer and video output in a reversible design that's one third the size of a USB 3 port, giving you the flexibility to easily connect your favourite devices.
The capability to connect to everything you need
We gave a lot of consideration to the way MacBook connects to peripherals and power. We chose USB-C for its compact design and versatility. This single port lets you connect your charger, HDMI, Display Port and VGA displays, USB devices like external drives, and your iPhone or iPad. All of which goes to show that sometimes less really is more.
A range of accessories lets you connect virtually any device to your MacBook. For instance, the USB-C Digital AV Multiport Adapter lets you connect your MacBook to an HDMI display, as well as a standard USB device and a USB-C charging cable.
Quietly Astonishing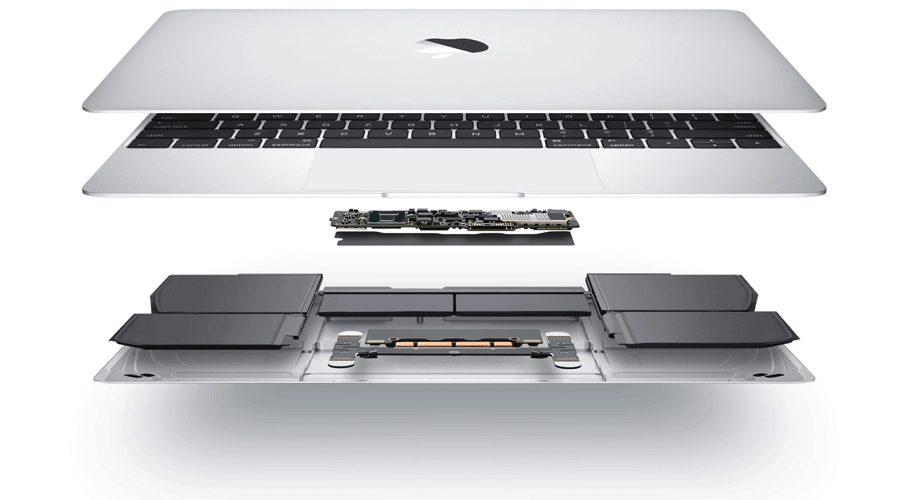 MacBook has been engineered from the ground up for silent, efficient performance. It includes sixth-generation Intel Core M processors that run on just 5 watts of power, made even more efficient by optimisations throughout OS X. Together, the processor and OS X sip so little energy that the system generates very little heat, so no fan is required to cool the computer. That means when your MacBook is working, you won't hear a thing. And the logic board on which the processor sits has been painstakingly engineered to pack all the capability you expect in a Mac into as little space as possible.
Measurably faster
MacBook features sixth-generation Intel Core m3, m5 and m7 processors with speeds of up to 1.3GHz and up to 25 per cent faster graphics. It also comes with faster 1866MHz memory. So the new MacBook is quicker and more responsive.
Battery life
With the slim MacBook enclosure, all-day battery life simply would not be achievable using traditional rectangular batteries. So they developed their own battery technology specifically designed to make use of every last millimetre of available space. The result is a terraced, contoured battery design that not only fits perfectly inside the incredibly slim MacBook, but also is unlike anything seen before in a notebook. And now, thanks to more efficient processors and improved battery chemistry, battery life has been extended by an hour.
Mac OS
Mac OS is the operating system that powers everything you do on a Mac. Mac OS Sierra introduces Siri to Mac — along ith new ways to enjoy your photos and work more seamlessly between devices.
Built-in Apps
Every Mac comes with apps for creativity and apps for productivity. It also comes with a collection of great apps for things you do every day, like surfing the web, sending mail and messages, and organising your calendar. It even comes with an app for finding new apps. Your Mac is more than full-featured, it's fully loaded.
Compare Mac models  
MacBook
from ₹ 106,900 MRP
12-inch (diagonal) LED-backlit Retina display
1.1GHz dual-core Intel Core m3 or 1.2GHz dual-core Intel Core m5 processor
Turbo Boost up to 2.7GHz
Up to 10 hours battery life1
Up to 512GB flash storage2
0.92 kg3
Available in rose gold, space gray, gold, and silver
MacBook Air 11-inch
from ₹ 73,900 MRP
11.6-inch (diagonal) LED-backlit display
1.6GHz dual-core Intel Core i5 processor
Turbo Boost up to 2.7GHz
Up to 9 hours battery life1
Up to 256GB flash storage2
1.08 kg3
MacBook Air 13-inch
from ₹ 80,900 MRP
13.3-inch (diagonal) LED-backlit display
1.6GHz dual-core Intel Core i5 processor
Turbo Boost up to 2.7GHz
Up to 12 hours battery life1
Up to 256GB flash storage2
1.35 kg3
MacBook "sixth-generation" Intel Core M processor
As expected, it includes a new Intel processor, and it now comes in a "rose gold" color option. According to Apple, the new MacBook will use a "sixth-generation" Intel Core M processor, which can deliver speeds up to 3.1 GHz. The chips that Apple is using will also have improved graphics cards performance.
The new chip will enable the 2016 MacBook to squeeze out 10 hours of wireless web browsing time, or 11 hours of movie playback.
The laptop starts at Rs. 86656 for a configuration with a 2.2 GHz chip and 256GB of storage. Users can also opt for a higher-end model with a faster chip and 512GB of storage for Rs. 106670
Like before, Apple's MacBook only comes with one port: a single USB-C port that is used not only for charging the notebook, but also for data transfer and adding an additional monitor.
For the first time, the MacBook comes in a "rose gold" color finish, a metallic color that looks a lot like pink.
"MacBook is the thinnest and lightest Mac we have ever made and it's our vision for the future of the notebook," said Philip Schiller, Apple's senior vice president of marketing said in a press release. "Customers are going to love this update to MacBook, with the latest processors, faster graphics, faster flash storage, longer battery life and a beautiful rose gold finish."
Apple MacBook vs HP Spectre
Every laptop maker wants to one-up the MacBook. Apple's Rs. 86656 ultraportable is extremely light and thin, and packs a rich Retina display and plenty of staying power into that stylish design. HP's answer is the Spectre (starting at Rs. 77984, which is even thinner than Apple's machine and boasts more ports, a full-power Core processor — no dinky Core M here — and a cushy keyboard. However, the Spectre makes trade-offs — just as the MacBook does.
Design
The HP Spectre is the self-proclaimed thinnest laptop on Earth, and at 0.41 inches.
The Apple MacBook is 0.14 to 0.52 inches thick, though it's hard to tell the difference between the two machines when they're side by side.
Ports
Neither the MacBook nor the Spectre makes room for a full-size USB port or SD card slot, but HP gives you more ports in its slim design. The Spectre sports three USB Type-C ports; one is a USB 3.1 port, and two are Thunderbolt 3, giving you the fastest speeds possible as well as support for up two external 4K displays at once. I just wish all of the ports weren't on the back.
By contrast, the MacBook has a lone USB Type-C port, which means you can't charge the laptop and plug in a peripheral at the same time without using a dongle. Plus, the MacBook's port doesn't support the latest Thunderbolt 3 spec.
Keyboard and Touchpad
This round is no contest. The MacBook's keyboard offers very little travel — just 0.5 millimeters — making the Spectre's 1.3 mm of travel feel positively cushy by comparison. There's zero learning curve with the HP, while the Apple keyboard requires some adjustment.
The Spectre's 3.75 x 2.15-inch glass touchpad is roomy and provides smooth scrolling and accurate text selection, but people who use two fingers may find the pad to be jumpy. The MacBook's 4.4 x 2.7-inch Force Touch trackpad is significantly larger and therefore easier to use.
Display
The HP Spectre's 13.3-inch display has some advantages over the MacBook's 12-inch panel. In addition to being larger, it's also brighter (359 nits versus 327 nits for the MacBook). However, in all other aspects, the MacBook's screen is superior.
Apple's display is sharper than HP's (2304 x 1440 versus 1920 x 1080 pixels), and I noticed the difference immediately while watching the new Jason Bourne trailer. I could make out more lines in Matt Damon's face, as well as more details in his leather jacket. However, HP's brighter display allowed me to make out details in his dark shirt more easily; it was a dark blob on the MacBook.
Webcam
You would think that the HP Spectre's 720p webcam would produce better images than the MacBook's 480p shooter. But you'd be wrong.
In a side-by-side photo test, the MacBook produced an image with more accurate skin tones and better detail, while the Spectre's image looked blurrier. On the plus side, the Spectre's webcam produced a brighter image and made my skin look better.
Performance
The HP Spectre benefits from a full Core i5 or i7 processor, compared to a lower-power Core m3 or m5 chip in the MacBook.
On the Geekbench general performance benchmark, our HP Spectre review unit with a Core i7 processor, 8GB of RAM and a 256GB SSD scored 7,026. That's much higher than the Core m5 MacBook we tested with 8GB of RAM and a 256GB SSD, which hit 5,906. Just keep in mind that the Spectre needs a fan to squeeze this much power into such a slim frame, and it can get noisy.
Battery Life
Endurance is not the Spectre's strong suit.
On the Laptop Mag Battery Test, which involves continuous web surfing over Wi-Fi, the HP lasted a meager 6 hours and 13 minutes, which is well below the 7:55 ultraportable category average. The MacBook turned in a much longer runtime of 9:38 — more than 3 hours longer.
Value and Configuration Options
While both the MacBook and the HP Spectre are decidedly premium laptops, the Spectre is a better bargain. The starting Rs .77984 configuration for the HP gets you a Core i5 CPU, 8GB of RAM and a 256GB SSD. In comparison, you need to spend Rs. 86656 to get a weaker Core m3 processor on the Apple with the same RAM and storage. Stepping up to Rs. 86656 for the HP gets you a faster Core i7 processor.
Apple charges a whopping Rs. 106670 for a machine with a Core m5 CPU, but you also get 512GB of flash storage to go with it. HP charges an additional RS. 16677 to get a 512GB SSD, which would bring the price to Rs. 94662 if you also opted for the beefier Core i7 chip — which is still less than the pricier MacBook.
| | | |
| --- | --- | --- |
| | Apple MacBook | HP Spectre |
| Price | 86656   to 106670 | 77984 to  83321 |
| CPU | Core m3,m5,m7 | Core i5, i7 |
| RAM | 8GB | 8GB |
| SSD | 256GB, 512GB Pcle | 256GB, 512GB Pcle |
| Display | 12 inches( 2304 X 1440) | 13.3 inches (1920 X 1080 ) |
| Ports | USB Type -C 3.5mm | 3 USB Type -C 3.5 mm |
| Key Travel  | 0.5 mm | 1.3 mm |
| Webcam | 640 X 480 pixels | 1280 X 720 pixels |
| Size  | 11 X 7.7 X 0.52 inches | 12.8 X 9 X 0.41 inches |
| Weight  | 2.03 pounds | 2.45 pounds |
Enjoy…………………
Comments
comments