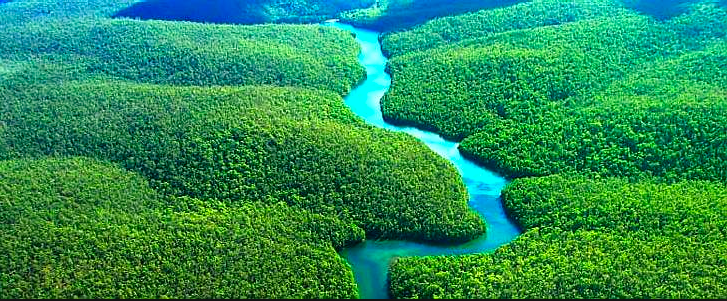 Amazon Rainforest
The Amazon rainforest is the world  largest forest that grows in the  tropical basin of the Amazon River.he forest lies in a basin drained largely by the Amazon River, with 1100 tributaries. It is a moist broadleaf forest that covers seven million square kilometers (1.7 billion acres), of which five and a half million square kilometers (1.4 billion acres) are covered by the rainforest.
The Amazon River Basin is home to the largest rainforest on Earth. The basin — roughly the size of the forty-eight contiguous United States — covers some 40 percent of the South American continent and includes parts of eight South American countries: Brazil, Bolivia, Peru, Ecuador, Colombia, Venezuela, Guyana, and Suriname, as well as French Guiana, a department of France.
Natural and Cultural Diversity
Equally impressive are the unfathomable numbers of mammals, birds, amphibians, and reptiles4 found across the biome. The Amazon is home to more than 30 million people living across a vast region subdivided into nine different national political systems.According to the Coordinator of Indigenous Organizations of the Amazon Basin (COICA), about 9% (2.7 million) of the Amazon's population is still made up of indigenous people – 350 different ethnic groups, more than 60 of which still remain largely isolated. And yet, for all of its magnitude and apparent remoteness, the Amazon Biome is surprisingly fragile and close to each one of us.
History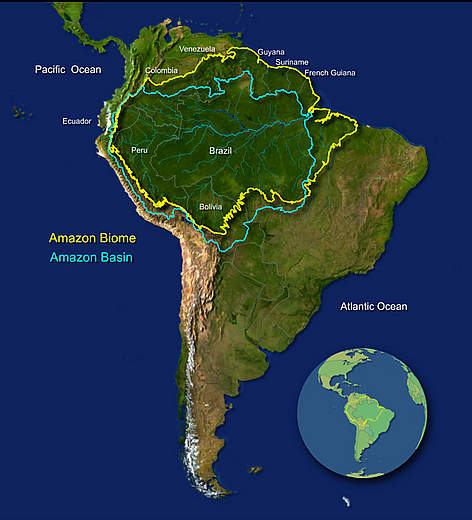 At one time Amazon River flowed westward, perhaps as part of a proto-Congo (Zaire) river system from the interior of present day Africa when the continents were joined as part of Gondwana. Fifteen million years ago, the Andes were formed by the collision of the South American plate with the Nazca plate. The rise of the Andes and the linkage of the Brazilian and Guyana bedrock shields, blocked the river and caused the Amazon to become a vast inland sea. Gradually this inland sea became a massive swampy, freshwater lake and the marine inhabitants adapted to life in freshwater. For example, over 20 species of stingray, most closely related to those found in the Pacific Ocean, can be found today in the freshwaters of the Amazon.
About ten million years ago, waters worked through the sandstone to the west and the Amazon began to flow eastward. At this time the Amazon rainforest was born. During the Ice Age, sea levels dropped and the great Amazon lake rapidly drained and became a river. Three million years later, the ocean level receded enough to expose the Central American isthmus and allow mass migration of mammal species between the Americas.
The Ice Ages caused tropical rainforest around the world to retreat. Although debated, it is believed that much of the Amazon reverted to savanna and montane forest (see chapter 3-Ice Ages and Glaciation). Savanna divided patches of rainforest into "islands" and separated existing species for periods long enough to allow genetic differentiation (a similar rainforest retreat took place in Africa. Delta core samples suggest that even the mighty Congo watershed was void of rainforest at this time). When the ice ages ended, the forest was again joined and the species that were once one had diverged significantly enough to be constitute designation as separate species, adding to the tremendous diversity of the region. About 6000 years ago, sea levels rose about 130 meters, once again causing the river to be inundated like a long, giant freshwater lake.
Why is the Amazon rainforest Important?
The Amazon rainforest has long been recognized as a repository of ecological services not only for local tribes and communities, but also for the rest of the world. It is also the only rainforest that we have left in terms of size and diversity.
But as forests burn and global warming worsens, the impact of Amazon deforestation continues to gradually undo the fragile ecological processes that have been refined over millions of years.
Ironically, as rainforest continues to disappear, scientific work from the last two decades has shed light on the critical ties that link the health of rainforests to the rest of the world.
Filtering and reprocessing the world's harmful carbon dioxide output
Trees have hidden attributes that play a key role in reducing pollutant levels. Take carbon dioxide (CO2) for example, a gas emitted from both natural and human sources. Over the last 150 years, humans have been pumping massive amounts of CO2 into the air by burning fossil fuels, coal, oil and natural gas – this is a major driver for global climate change.
Carbon dioxide in, oxygen out
Under natural conditions, plants remove CO2 from the atmosphere and absorb it for photosynthesis, an energy-creating process that yields:
Oxygen, which is released back into the air
Carbon, which allows the plant to grow.
Amazon rainforests and carbon dioxide
What forests take from the air, they can also give back. When forests burn, tree carbon matter is released in the form of CO2, which pollutes the atmosphere, and of which there are already excessive quantities.Where rainforest and savanna once stood, pastures for cattle-ranching are now appearing. Pastures teem with termites and cattle, whose metabolic activities also release CO2, although their contribution to atmospheric pollution is under much debate.With the forests gone, CO2 is no longer transformed through photosynthesis, and the crops that replace forests only absorb a fraction of CO2 compared to rainforests. Along with industrial pollution, rampant deforestation in South America and elsewhere has significantly increased the amount of CO2 in the atmosphere.
Amazon Rorest Fire Thretens Native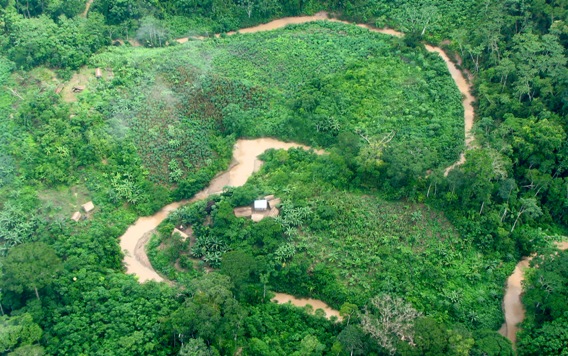 The fire broke out on September 10 in an indigenous community called Pitsiquia, in the heart of the Peruvian Amazon, said the National Civil Defense Institute.
It has since destroyed more than 19,000 hectares (47,000 acres) of forest—an area more than three times the size of Manhattan—and another 200 hectares of farmland in the Junin region, said the disaster response agency.
"We still have not managed to bring it under control," it said in a statement.
Air pollution caused by smoke is causing eye problems for inhabitants, said local health authorities.
The fire is in an extremely remote region known as VRAEM, an acronym for the Apurimac, Ene and Mantaro river valleys.
The area is known for its isolation, dense rainforest and tropical crops—coffee, cocoa and the country's largest tracts of coca, the raw ingredient for cocaine.
Authorities are worried the fire could wreak chaos on a major indigenous reserve, home to native communities that have limited contact with the outside world, and spread to the Otishi National Park nearby.
"The focus of the fire, the most dangerous part, has entered the Ashaninka reserve. It's advancing very quickly," said Jimmy Laura, a spokesman for the Rio Tambo municipal district.
"If the fire crosses the reserve, it will reach the national park," he told AFP.
The reserve is home to some 5,000 people in 10 communities.
Officials said a drought had left the region vulnerable. The fire then broke out when local farmers were burning a pasture to clear it for planting.
"Unfortunately, this practice can get out of control," said Marco Pastor, an adviser at the national parks service.
Jeopardizing a pillar of life on Earth
During the last half century, the seemingly endless Amazon has lost at least 17% of its forest cover, its connectivity has been increasingly disrupted, and numerous endemic species have been subjected to waves of resource exploitation. The economic transformation of the Amazon based on the conversion and degradation of its natural habitat is gaining momentum. Yet, as those forces grow in strength, we are also finding that the Amazon plays a critical role in maintaining climate function regionally and globally, a contribution which everyone–rich or poor–depends on.
The Amazon's canopy cover helps regulate temperature and humidity, and is intricately linked to regional climate patterns through hydrological cycles that depend on the forests. Given the enormous amount of carbon stored in the forests of the Amazon, there is tremendous potential to alter global climate if not properly stewarded. The Amazon contains 90-140 billion metric tons of carbon, the release of even a portion of which would accelerate global warming significantly. Currently, land conversion and deforestation in the Amazon release up to 0.5 billion metric tons of carbon per year, not including emissions from forest fires, thus rendering the Amazon an important factor in regulating global climate.
World's Greatest Diversity in Amazon Rainforest Plants
In general, the warm humid conditions of the tropical jungle throughout the year provide optimal conditions for plants. Consequently, one finds many more species in the tropics than in the temperate climates. Currently over 400,000 species of plants have been identified for the tropical jungle and botanists continue to be discovering new species of Amazon rainforest plants every day. Biologists found that the greatest variety in plant species in the rainforests of Ecuador. Cuyabeno Wildlife Reserve, together with Yasuní National Park may be the richest in plant diversity in the world. There are several reasons why Cuyabeno is richer in plant species then Amazon parks in neighboring countries:
Cuyabeno is still part of the lower Andes foothills, and still has species that require the lower-Andes ecological conditions;
Slow-flowing rivers and the lakes in the upper-watersheds provide sediment-poor "black-water" ecology favorable for certain aquatic life-forms while sediment-rich "coffee and milk" colored waters abound in the Amazon.
Both well-drained hills "tierra firma" ecosystems and swamp ecosystems are present in the reserve;
The reserve is situated precisely on the Equator, where seasonal fluctuations are relatively mild and where rain even falls during the "dry season", allowing species to survive that don't support several months of total drought.
The sunlight on the forest floor of the Amazon rainforest is so low, that few plant species can live there. This has resulted in the evolution of plants that may live high up on trees: Epiphytes. They can grow on trunks, branches, leaves as well as on top of other Epiphytes. Each tree is an ecosystem by itself with numerous different plant species growing in it, such as Bromeliads, Orchids, Cacti, Aroids, mosses, ferns and lichens. The guides of our  rainforest lodge, the Cuyabeno Lodge, are widely known for their knowledge about birds and other Amazon Jungle Animals as well as Amazon Rainforest Plants.
Macrolobium Swamp Forests in the Amazon
From the Andes foothills to the Atlantic Ocean, the elevation difference is only about 300m over a distance of about 3000km, in other words an average of 10cm per kilometer. Under such circumstances flooding is very common and there are many swamp forests. One of those swamp forests is the Macrolobium forest in the Cuyabeno Wild
life Reserve. Macrolobium trees are covered with countless epiphytes, which in some cases may reach a layers of up to 1m thick.
Mushrooms
With all the humidity, mushrooms and fungi are an important decomposition force in the forest, as well as a predation or a symbiotic force. On the left a symbiotic fungus that covers the entire bark of a tree, and glows in the night. Another fungus grows in a live tree, while at the right a fungus growing from the body of an ant that it killed.
Orchids
No other group of flowering plants is as numerous as the Orchids. Their number in the Amazon jungle alone exceeds 20,000 species, where they primarily grow on trees as Epiphytes. Orchid species come in many different shapes and colors, including green. They have grown to be increasingly successful plants to the horticultural sector as clients value the longer lives of the flowers, their bright colors and their exotic shapes.
Amazon River Today
Today the Amazon River is the most voluminous river on Earth, eleven times the volume of the Mississippi, and drains an area equivalent in size to the United States. During the high water season, the river's mouth may be 300 miles wide and every day up to 500 billion cubic feet of water (5,787,037 cubic feet/sec) flow into the Atlantic. For reference, the Amazon's daily freshwater discharge into the Atlantic is enough to supply New York City's freshwater needs for nine years. The force of the current — from sheer water volume alone — causes Amazon River water to continue flowing 125 miles out to sea before mixing with Atlantic salt water. Early sailors could drink freshwater out of the ocean before sighting the South American continent.
The river current carries tons of suspended sediment all the way from the Andes and gives the river a characteristic muddy whitewater appearance. It is calculated that 106 million cubic feet of suspended sediment are swept into the ocean each day. The result from the silt deposited at the mouth of the Amazon is Majaro island, a river island about the size of Switzerland.
Top Most Dangerous Animals in  the Amazon  Rain Forest
Green Anaconda
Growing over 30 feet (9 meters) long and weighing over 500 pounds (227 kilograms), the green anaconda is the world's largest snake and it lurks in the Amazon River, lying in wait for prey. Because of its size, the green anaconda is awkward on land, but in the water it can move stealthily and quickly, striking at anything it knows it can overpower — jaguars, caimans, wild pigs, deer and even humans, especially children. It coils its body around its prey and drags it into the water, suffocating it within minutes, and then swallows it whole with its large jaws. The good thing about green anacondas? They do not eat often, with a big meal able to last them months, so if they're not hungry, you're safe. If they are… you better run.
Black Caiman
The black caiman is one of the largest alligators in the world and one of the most fearsome predators in the Amazon rainforest. It does not hesitate to eat any other animal in the Amazon — whether monkeys, sloths, piranhas, wild pigs, giant otters, dogs, anacondas or other caimans. With their powerful jaws, they grab their prey and drown it, swallowing it whole whenever possible. If it is too big, they wait for it to rot a little then bite it into smaller chunks. Several attacks on humans have been recorded, although humans are usually only at risk from individuals over 13 feet (4 meters) long — the black caiman can grow up to 20 feet (6 meters) long.
Electric Eel
Imagine an animal that can generate five times more electricity than the standard wall socket and you have the electric eel. This fish, which isn't actually an eel, has three unique organs that work together to generate electricity. Often, it uses small amounts of electricity to stun its prey before swallowing it whole, but when threatened, it can release the electricity in larger amounts and can keep on releasing it for minutes at a time until it is depleted. Many humans have suffered shocks from electric eels, often while accidentally stumbling upon them, though they rarely die. Often, death only occurs with multiple shocks or when the victim is too paralyzed to move and ends up drowning.
Jaguar
Jaguars are the third largest cats in the world and the largest in South America. Like most cats, they are solitary, with both males and females hunting, particularly at dawn and dusk, feeding on deer, wild pigs, sloths, monkeys, snakes and livestock. While jaguars are the least likely of the big cats to attack humans — in fact, human attacks are rare — this big cat is still one you should be wary of. Jaguars, after all, have the most powerful bite among cats, and their sharp teeth are able to pierce through the thick armor of their prey, such as armadillos and turtles, as well as through skulls, directly piercing the brain. They can also dislocate necks with their strong jaws.
Red-Bellied Piranha
The red-bellied piranha is preceded by its fearsome reputation. Most of us know them as fish that can tear the flesh off bones in a matter of seconds. This, however, isn't necessarily true. Red-bellied piranhas are mostly scavengers, so their diet consists mainly of dead and dying animals. They also eat insects and plants. They are more likely to be preyed upon themselves, in fact, which is why they live in groups for protection. In cases where humans have been attacked by shoals of red-bellied piranhas, the victims are usually injured or are children. Also, most of these attacks occur during the dry season when food is scarce. These attacks are rarely fatal, often only resulting in multiple cuts on hands and feet.
Poison Dart Frog
Poison dart frogs are some of the most colorful creatures you'll find in the Amazon rainforest, but beware. Their bright coloration is actually a warning: "Touch me and you're dead." Indeed, poison dart frogs secrete a powerful poison through their skin, which if absorbed in large amounts, can cause heart failure within minutes. The golden poison dart frog is particularly deadly, possessing enough poison to kill up to twenty humans, or 10,000 mice! Where do the frogs get the poison? Scientists believe that they absorb the poison from insects, which in turn, get the poison from plants. In captivity, poison dart frogs have a different diet and so are not poisonous.
Bull Shark
Of the 480 species of sharks worldwide, three are most likely to attack humans. The bull shark is one of them, probably because of its aggressive, territorial nature and the fact that it often comes close to humans. It can live in both saltwater and freshwater, often preferring murky waters to feed in, which is why it is found near the shores of the Amazon River. Bull sharks eat mostly fish, but have been known to take birds, river dolphins and small mammals. And humans.
Pit Vipers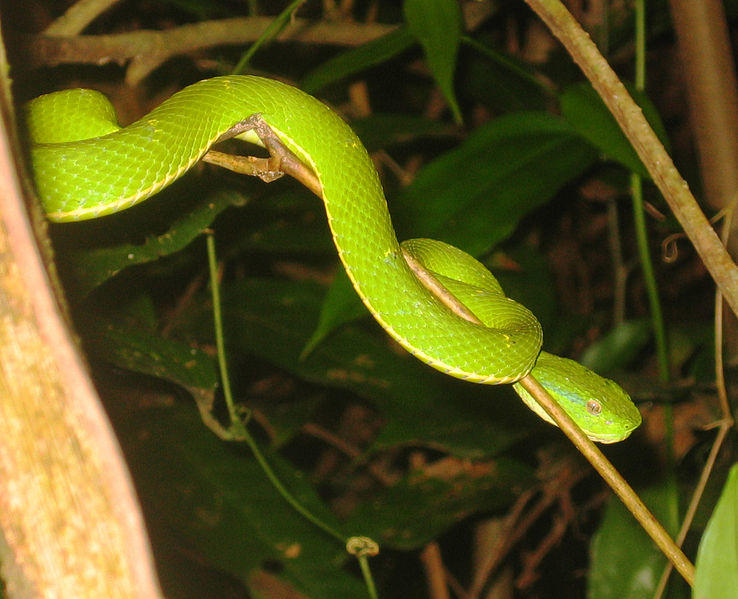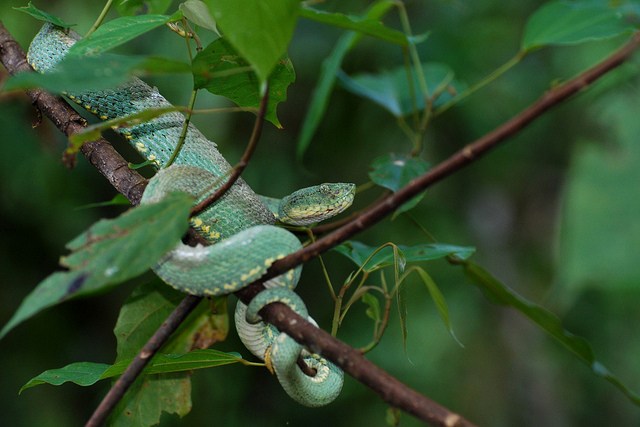 The green anaconda isn't the only snake found in the Amazon rainforest. There are several species of dangerous snakes in this part of the world, in fact, and many of them are pit vipers — venomous snakes that can grow from 1 to 12 feet (0.3 to 3.7 meters) long.
In particular, you'll want to keep an eye out for South American rattlesnakes, the colorful eyelash vipers (so named for the scales above their eyes that look like eyelashes), the fer-de-lance (which has an unpredictable temper, making it responsible for most of the snakebites in its range), and bushmasters (the longest vipers in the world).
Assassin Bug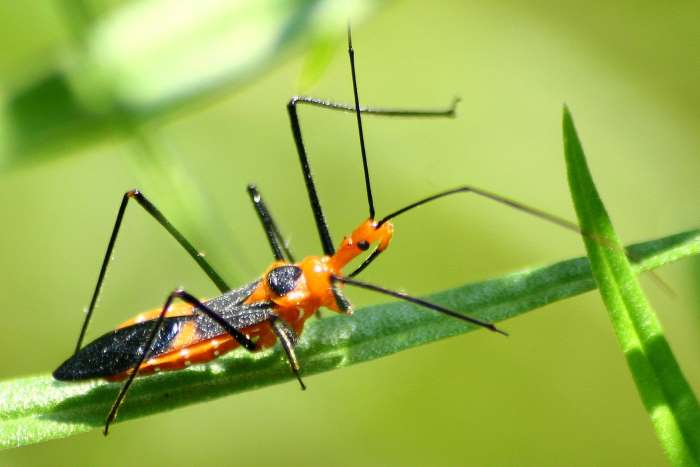 Assassin bugs are easily recognized for their proboscis — the trunk-like organ protruding from their mouths — which they use to inject their poisonous saliva into their prey, melting their organs from the inside out. This makes them dangerous to the other bugs in the Amazon rainforest, even those larger than they are. As for the danger they pose to humans, the larger ones can deliver a painful bite, while one subfamily — the kissing bugs or cone-nose bugs — can transmit Chagas disease, which results in about 12,500 deaths a year.
Harpy Eagle
The harpy eagle is one of the largest birds of prey, with claws that can grow up to 5 inches (13 centimeters) long. With these claws, it snatches sloths, monkeys, squirrels, opossums and smaller birds from the trees, as well as armadillos, anteaters and coatis from the ground. It can even carry off capybaras and deer. This means they are capable of snatching children, although there are no reported cases. In fact, they are unlikely to attack humans unless their nests are threatened.
Brazilian Wandering Spider
The eight species of Brazilian wandering spider, all of which can be found in the Amazon rainforest, are considered by some to be the most venomous spiders on Earth. Their venom, after all, can cause intense pain, which when left untreated, can cause paralysis and trouble breathing. They are nocturnal, wandering across the ground at night in search of food.
Amazonian Giant Centipede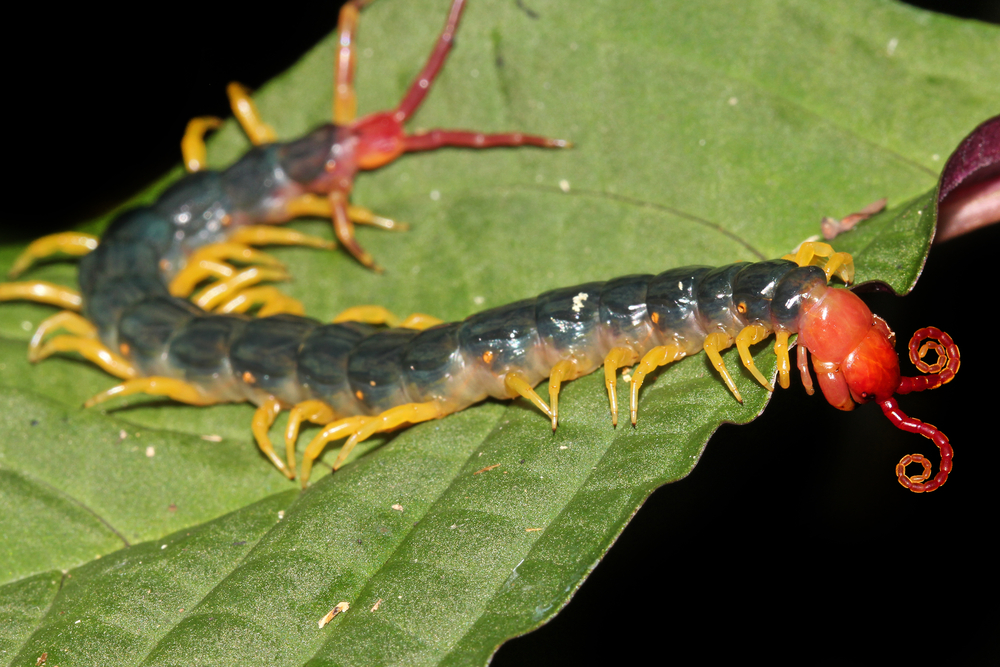 This centipede, which can grow 10 to 12 inches (25 to 30 centimeters) long, is another fierce predator in the Amazon rainforest, feeding on anything it can kill — insects, tarantulas, small birds, lizards, frogs, mice, small snakes and even bats. They coil their bodies around their prey, eating it while it is still alive. Humans, of course, can't be eaten, but if they get bitten, the Amazonian giant centipede can cause pain, chills, fever and weakness.
Bullet Ant
One of the most dangerous animals in the Amazon rainforest is actually tiny — just a little over 1 inch (2.5 centimeters) long. So why is it dangerous? Its bite is likened to be as painful as being shot, even more painful than the bite of a tarantula hawk wasp. It can also inject venom, which, though not enough to be fatal, can cause temporarily paralysis of the bitten area.
Tree Boas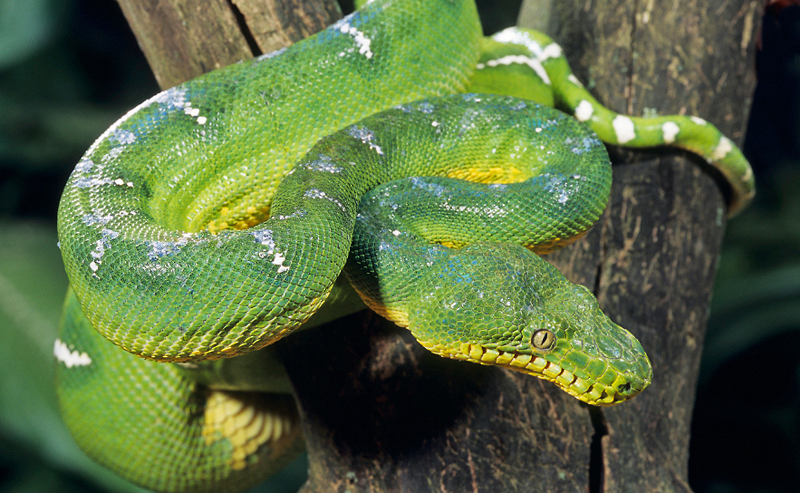 We've talked about snakes in the water and snakes on the ground. Now, there's another group of snakes to be wary of — those on trees — the tree boas. These snakes are non-venomous, but don't sigh in relief just yet. After all, these are heavy-bodied snakes that are capable of suffocating you. Also, they can still deliver painful bites, especially since they have larger teeth than venomous snakes. Examples of these include the Amazon tree boa (which is known for its temper), the bright green emerald tree boa, the shiny rainbow boa and the boa constrictor, which can grow up to 13 feet (4 meters) long.
Common Vampire Bat
Common vampire bats can be found in Mexico, and in Central and South America. Like most other bats, they are nocturnal, and they come out of their roosts at night to search for blood, their only source of food. Although they often feed on horses and cattle, they are known to drink human blood as well, drinking for as long as 30 minutes. The bite isn't painful and the blood lost isn't enough to make a human sick, but the bite site can get infected. Also, a small percentage of common vampire bats carry rabies.
Tree Boa Skull
These boas have very large teeth designed for grabbing birds in mid-flight. These boas come in a variety of colors. Some specimens can be colored bright orange and yellow, while others will be very dark brown and blacThis one-of-a-kind skull has no damage and is a beautiful representation of its species
Animals, Birds in Amazon Forest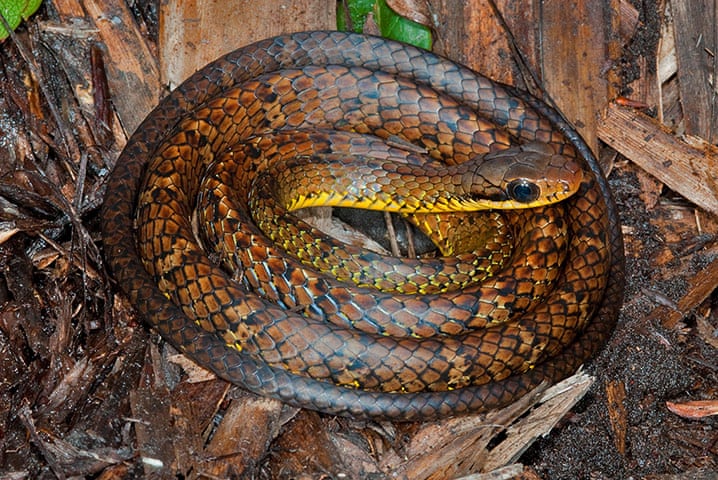 Comments
comments